Update 5.21.2012: I doubt any actual buyers interested in either a RC30 and/or RC45 are not aware of this listing by now, but just in case, the buy-it-now has been dropped again to $70k. -dc
Update 4.6.2012: With just under a day to go, I noticed the buy-it-now has been updated to $75k. Most comments indicated $60k would be in the ballpark. Maybe there's a deal in the middle. -dc
Location: Miami, Florida
Mileage: 6,975 (RC30) and 6,842 (RC45)
Price: Auction, $100,000 BIN. Yes, that's one hundred thousand.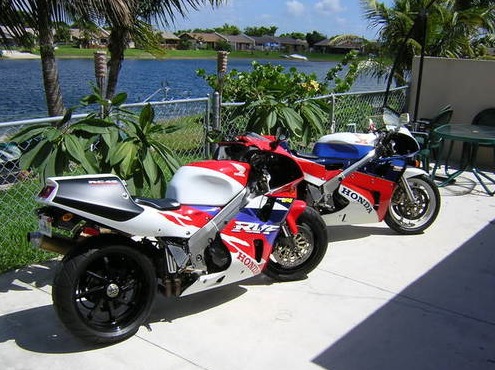 So here's a chance to have an instant Honda RC collection for your very own. Two of the greatest sportbikes ever made. Ever. You can debate sportbike greatness all day (I, for one, am happy to) and you can even debate which of these two is better than the other (also happy to participate). But you can't really debate the significance of both of these bikes. Track ready? Check. Uber rare? Check. Superior build quality? Check. Two of the most significant sportbikes in sportbike history? Check and check.
The seller's minimal description-
Up for sale r my 2 babies! i have a 1990 RC30 #5 OF #300 made…6975 miles AN A 1994 RC45 #20 OF #50 made….6842 miles,bikes r AMERICAN SPEC!!!! these R NOT EURO MODELS!!!!!

BOTH BIKES R FLAWLESS

RC30,RC45

ORIGINAL OWNERS MANUAL,TOOLS, ORIGINAL STAND,ORIGINAL BROCHURES,SPORT MAGAZINES,ORIGINAL PIPE FOR RC45 AND REFLECTORS. (ALSO HAVE A SET OF BLACK MARCHEZINIS WITH TIRES THAT GO WITH BIKES)

PLEASE DONT WASTE MY TIME! IF U LOOKING AT THESE 2 PIECES OF ART U KNOW EXACTLY WHAT THEY R!!!!!

AGAIN DONT WASTE MY TIME IF NOT A SERIOUS BUYER.

I HAVE A BUNCH OF PICS I CAN EMAIL TO SERIOUS BUYERS ONLY!!!!!!!
And a few photos, although the seller apparently will provide more-
The seller describes the bikes as flawless and if you're considering something like this, then I would assume you know both of these bikes inside and out. And while the seller will provide more photos, I know I wouldn't make a deal like this without flying to Miami to look at both of these personally. If you just happen to have come across the kind of cash to purchase a pair of bikes like this and don't know the Honda RC line well, then do your homework. This is kind of like looking at the Ferrari Daytona and Lamborghini Miura of the bike world. Due diligence will be important.
But if it all works out, then you just have to find $100 grand. That's a lot of money and I'm sure it will garner reaction from all of the RSBFS followers. I welcome the debate. The rare sportbike market is ever evolving in my eyes and I think these values will continue to climb. These are clearly collector bikes and what they're worth today is really up to how much someone will pay. I don't know how much that is, so we will see.
What I do know is we have two beautiful bikes here that I would love to own. But that's not in the cards. If you have the funds, take the first step and give this auction a look!
-RN