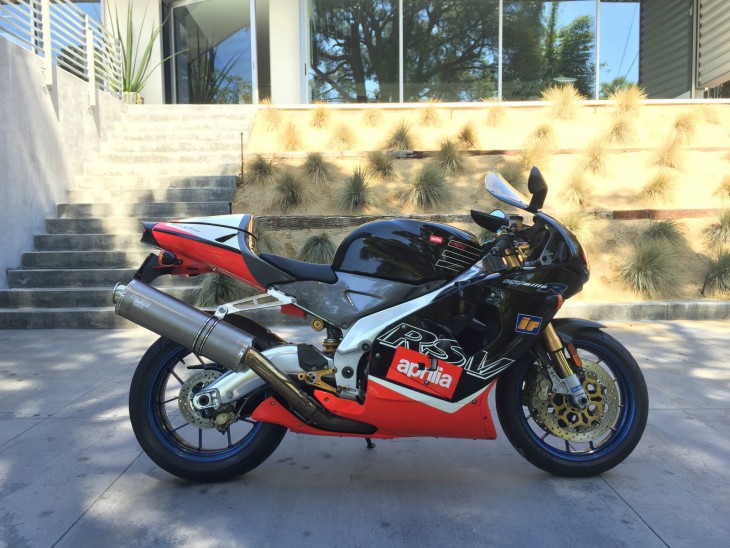 While they weren't huge sellers when new, the Aprilia RSV Mille represents one of the best bargains in the sportbike world right now, sort of a "thinking-man's Italian V-twin." Which is a much more flattering thing to say about a bike than, "Wow, that thing is pretty odd-looking." Although, as I've said before, these things have really grown on me, and they certainly look the part: there's no mistaking that this bike means business, all stealth-fighter planes and angles, with interesting details wherever you look, including the Mickey Mouse headlamp. Seriously, once you've noticed that little detail, you can never unsee it…
When they decided to create a bike to compete against Ducati on track and in showrooms, Aprilia stuck with what they knew: a stiff and very beautifully-designed aluminum beam frame that looks very similar to the one in their proven RS250. Bodywork is an acquired taste, but very aggressive and functional: Aprilia deviated from the Ducati Paradigm by creating a serious sportbike with humane ergonomics.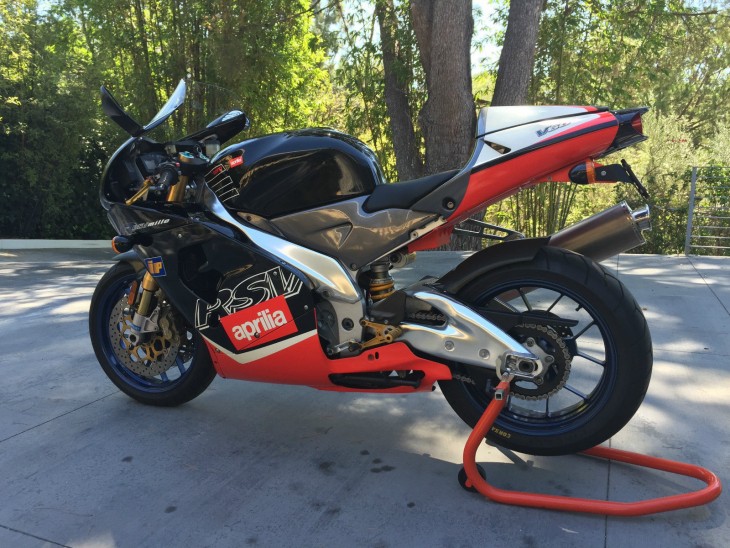 But they also deviated from accepted sport v-twin convention by using a 998cc Rotax-designed v-twin that wasn't 90°. Until the RSV, just about every sports v-twin used a 90° configuration for smooth running at higher rpm. But 90° twins are difficult to package when mounted transversely like in a Ducati or Suzuki. Ducati's L-twin is very long and hard to fit into an appropriately short-wheelbase bike. Rotated backward, as in the Suzuki, and there's little room for a functional rear suspension.
So Aprilia's twin was a 60° unit to allow optimal positioning within the chassis, while twin balance shafts took care of the smoothness. It's still a bit less refined than the aforementioned engines, but is plenty revvy, makes competitive power, and is extremely reliable as a bonus, with owners reporting very few problems, even as the miles accumulate.
The R version of the bike seen here included very choice Öhlins suspension at the front and back, along with a steering damper, forged wheels, and the expected smattering of carbon fiber bits.
From the original eBay listing: 2000 Aprilia RSV Mille R for Sale
Selling the best sport bike I've ever owned. This 2000 Aprilia RSV Mille R was the first unit that arrived at Pro Italia in 2000, and in my opinion is the finest design of the big displacement Aprilia four strokes ever made. Clean lines, narrow GP style body, very comfortable riding position, elegant round blinkers and bullet ferrari style tail lights, with no nonsense graphics and very tidy engineering of every last part. The rotax motor core and Aprilia heads make the most solid and torque-oriented motor I have ever enjoyed in a sport bike. The handling is perfectly balanced and the bike changes direction with incredible ease.

These R (racing spec) bikes were not profitable for Aprilia even with a $17,000 price tag because of the full Ohlins suspension front and rear, OZ forged wheels and other upgrades that came with the limited edition bike. 

I also had the bike modified to enable two-passenger use, so the rear subframe was changed to the pillion type, and the easy to bolt on passenger peg mounts were procured and come with the bike, as do any parts that I upgraded, which include MOTO TECH fully adjustable rear-sets, matching forged adjustable brake and clutch levers, as well as the racing exhaust slip-on and high ZeroG windscreen. 

There isn't a more comfortable and better handling sport bike out there, even 15 years later. 

The bike was just fully serviced at Pro Italia where it received new injectors (just tired from non-use). Rubber is also quite fresh Pirelli Corsas with just one ride on them. I have always considered I would keep this bike forever, but I have so many now that I am not using it at all. It has enjoyed the last many years in the garage parked in between a Ducati Paul Smart and a 1973 Moto Guzzi V7 Sport.
I like that little humble-brag at the end there. Yeah, very nice: you have exquisite taste and lots of money, although I think I'd be selling the Paul Smart and keeping the Mille as a canyon carver or track bike: the SportClassics are great motorcycles, but maybe not as focused as the RSV and certainly not as fast in a straight line.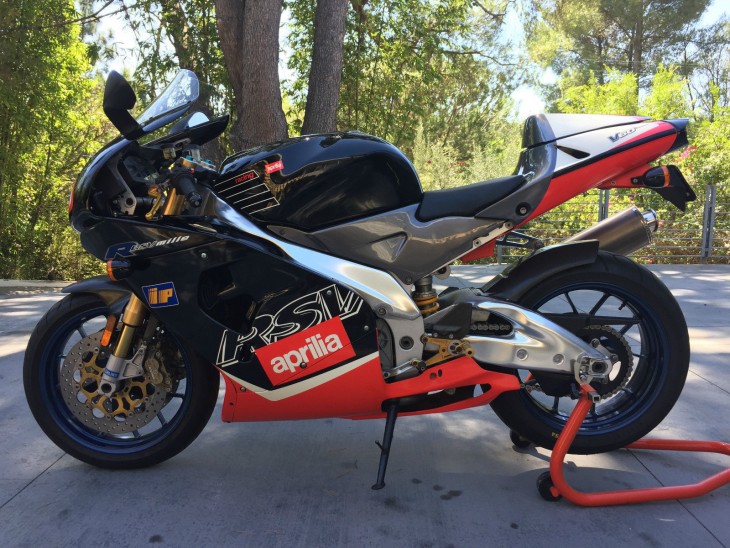 The RSV is a great package, but part of what makes them so appealing right now is their low price. This one's opening bid is $6,000 with no takers as yet. It's in very nice, well-maintained shape, and the R version is suitably collectible, but I think at this point in time the seller's being just a bit ambitious: bottom-feeder sportbikers looking for a bargain know that you can find nice examples for less, and aren't too bothered about higher miles found on less expensive bikes, since the Rotax motor is about as close as you can get to Japanese reliability in an Italian twin.
-tad