2013 is rapidly turning into the year of cool track bikes. Whether you are looking for a historic roller, a sweet silver track bike or a nearly new HRC machine such as this one, the first part of this year has been full of great choices.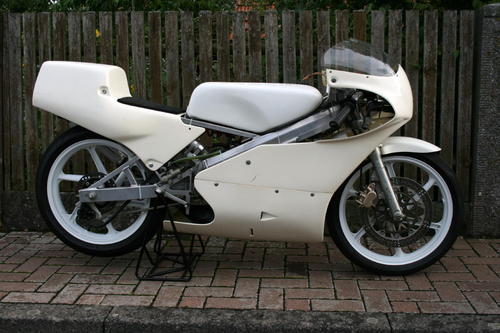 This particular bike appears to be a stock item and is listed with what is claimed to be very little use. The bike is located in Germany, which can either serve as a great vacation and European delivery program, or a possible roadblock to purchase. Here is what the seller has to say about this gem:
From the seller:
More or less bran new HRC Honda RS125R NF4 from 1991 for sale. I need to reduce my collection and I bought this bike new and it did only 1 lap on a Honda road show in 1991 for demonstration. This is all milage the bike has done on a test track. You can only visible see on the tyres that teh bike was ridden this one lap and the rest of the bike is more or less NEW and for it's age in very good condition. Bike is stored ince then dry. You would need to replace tyres and check brakes. Then this nice bike is ready to race.

Don't miss the chance to get a very hard to find collectors item for your show room.
Bike is from 1991 and genuine HRC made. Everything untouched and like it left HRC Japan in 1991.

The Honda is located in Germany but shipping to US is not a problem. wooden crate is available and internation shipping agent can be recommended. If oyu like to get a better shipping value rather then shipping only one bike, I could offer more bikes out of my collection and you can upgrade to 3 or more bikes within one shipment.
If you are intent on collecting two stroke GP bikes and are missing a '91 HRC model, then this might just get you going. If you are looking to start a collection, then perhaps contacting the seller might just be in your best interest. Apparently this individual has much more than just this RS125 to offer: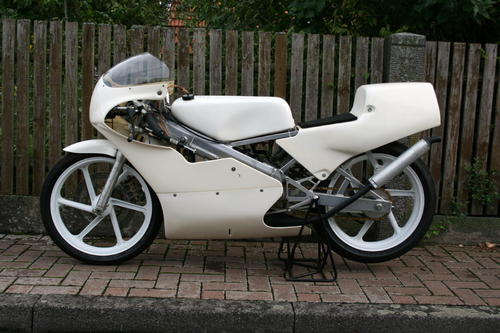 From the seller:
Let me know if you like to buy more HRC Race bikes (RS125 and RS250) and I will place them on EBAY-Motors for you to buy. Could offer for you 1994 new, 1992, & 1993 close to new Honda HRC RS125R NF4 bikes if you like.
If you are wondering how much fun you might be able to have on a 125, check out this practice video taken at VIR. If you don't think that mixing it up with other 125cc two strokes and 250cc four strokes looks like fun it is time to have your pulse checked. Note: this video is not the bike being sold here today.
This auction is going on right now, and there have been zero bidders with the opening ask of $7,950. That is not very expensive compared to what the bike went for when new, but few things depreciate faster than last year's race bike. Check out all of the details here, and then drop us a comment on this one. If you were in the market for a track bike would you go with an ex-GP machine such as this or opt for a "softer" street bike such as an NS-R? Good Luck!
MI