1999 Aprilia Cup bike for sale with less than 1,000 miles.
Price: $4,000
Location: Marysville, Ohio
Submitted to us by Mark, the proud owner of this super nice RS250 racer. Mark has submitted many bikes to RSBFS over the past year, but sadly enough this time it's his own that he has to submit.
This one is still dressed as it came from the factory in the classic Johnny Cash black. I like the black and silver version as well as any of the RS's, but I bet if you'd ask me tomorrow I would probably change my mind – again!
The RS250 has a huge following and I'm sure this one will be snatched up quickly considering it has less than 1000 miles on the clock.
Have a look and take notice to how sparkly clean it is: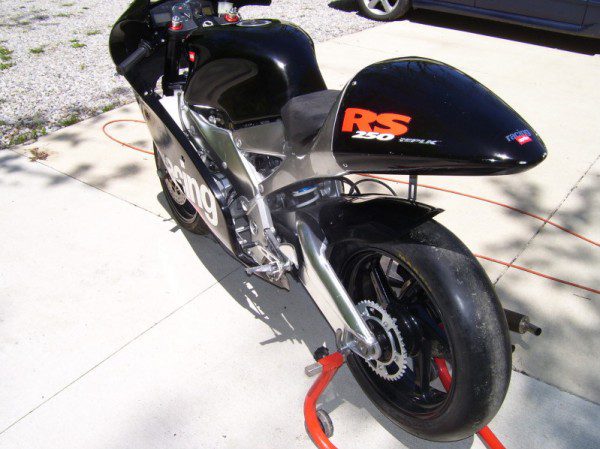 After much debate, I have decided I need to sell my RS250. I do not really want to sell but I have to many bills piling up that need to get paid.

99 RS Cup Bike, just under 1000 miles. Basically all stock, only upgrade is braided brake lines. I bought the bike several years ago from some one in Florida, it needed cleaned and some of the hardware replaced (corrosion). So I took it apart down to the frame, I have been reassembling and replacing hoses and hardware as needed. I have cleaned and refurbished pieces as needed as well. Bike still needs to be completed but all parts are with it. Body work is in okay condition, some nicks and scratches. No cracks or broken pieces. Bike does need a new chain and a new battery. Other than that it is all there and in good working condition. Bike comes with rear stand and standard spares box and manual. I am looking for $4000. Bike is located in Marysville OH.
So it's all stock, has super low miles and has been meticulously cleaned. I asked Mark about the "Bike still needs to be completed but all parts are with it." part and he replied with.
"Bike is pretty much done, I just put the front end together and hung the body work etc. for the pictures. Bike still needs a few things hung on it, all fluids and a chain. Battery would not take a charge so it needs that as well."
So I'm guessing a few hours and about $150.00 bucks and your ready to take your 55hp beast out and beat up on some 600's at your next local track day.
If Mark's bike is of interest to you, you can view his original for sale post by clicking here. There are also many high-res pictures available after you make the jump.
Good luck with the sale Mark!
Cheers!
~dd