1995 Aprilia RS250 Loris Reggiani replica for sale
Location: Cincinnati, OH
Miles: 3,620
Price: $1,650.00 with reserve in place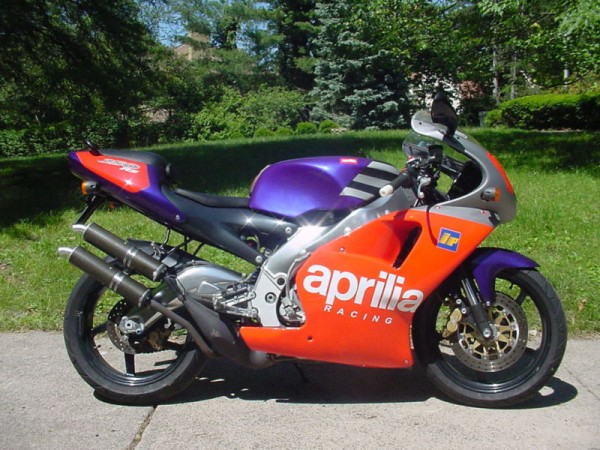 This one is just getting started on the auction site so you'll have plenty of time to research and learn if you're in the dark on these. Let me help you in case you're new to RSBRS.com.
These are rare! They are even more rare with 17 digit VINS and titles! But wait, there's more… This is a Loris Reggiani Racer Replica. Buy it! You won't regret it… I promise!
If you're looking to break in to street 2 strokes this is the bike I'd recommend and here's why. I'm 5′ 10″ on a good day and weigh in at a porky 205# on the aforementioned good day. RS250's sport something around 70hp whereas the NSR's, in stock trim only produce 50ish on a great day. Granted, the NSR's feel a little smaller to me, than my RS did, and my seat of the pants Dyno confirmed the written HP specs. Those extra 20 ponies make a huge difference for a guy like me. Another reason I recommend these is because parts are still readily available through AF1.com and those guys are easy to work with.
Having owned both an RS and NSR I think the RS fit me better, but it's hard for the RS to compete with the cool factor of a MC28 in SP trim.
I'd like to own another RS someday and this one would be hard to resist since it's only an hour away, but as it stands my bucket list has a few in front of it.
From the seller:
I am the original owner since it was imported from Japan.
This is not a converted cup bike.
This is Loris Reggiani replica, very rare.
All the street equipment is present and operational.
Stored indoors every winter.
It runs great and handles fantastically.
There have never been any mechanical issues with the bike. No rebuilds, engine has not been torn apart. The bike is all original and perfect.
Wait a second… I thought the bike was original and perfect??
There are three issues with the bike:

#1 There is some scratching mark on one Logo and left side of front mirror, due to had low speed drop on the left hand side. It can be replaced and parts are available from AF1 Racing, but I didn't get around to having it done. I tried to photograph the affected area the best I could. Otherwise the bike is immaculate, all repaired. It has been well cared for and loved.

#2 The bike needs new tires. Fair amount of tread left, but they are getting hard.

#3 Battery! Other than the above noted issues, the bike is perfect. Runs awesome, looks PERFECT.
Ah okay, those aren't much to speak of and I probably allowed too much space, but full disclosure is always a big plus in my book.
More from the seller:
Extra parts included in this auction:

Two keys
A complete set of Service and Repair Manual
User and Maintenance Manual
2 pairs of FERODO Front Brake Pad
4 pks NGK BR9ECM Spark Plugs
One pair of Footrest
Front Mirror Base Kit
Gear Lever rubber
Rear Stand Bush
A complete set of Racing Bodywork
Racing bodywork? Extra levers? Extra rear sets? Maybe headed to the track at one time, but didn't make it? Nothing a quick message to seller wouldn't clear up.
Hopefully, this one goes to someone who'll love it and give it a proper flogging from time to time.
to get in on this rare Ape and let us know if you pick it up.
Cheers!
dd