1991 RGV250 VJ22 Titled on Ebay
Now we are talking, something without valves, something that eats a little of the ozone layer away with each ride.  This is a 1991 RGV250 even though the Ebay title says 1990.  Let me get you bidding right away: yes this bike is titled. Now you can take a breath and read on.  I like what the seller has done with the bike.  He has upgraded the power-valves for you, which had a problem of grenading on the early RGV's, it's got a nice set of Tyga rear sets and a nice set of Tyga pipes.  He also resisted the urge to spray the bike in Lucky Strike colors which I've rarely seen done correctly.  It also has the banana swing arm that so many people like.  Honda sued them for patent infringement shortly after this model came out and the banana arm was gone by 93.  The mileage may seem a bit high but you have to remember these bikes are getting up there in age and if it has been maintained I wouldn't sweat the mileage.
From the seller:
up for auction is a 1991 rgv250 vj22. this bike has fresh top end and the power-valve replacement upgrade that faulted the factory models. it has new tyga pipes and silencers, tyga rearsets and a 1500 dollar paint job . the bike runs perfect, and everything even the oil injection works. it has clean calif title and registration that is current. it is the new zealand model that retains the 17 digit vin. new tyga windscreen the bike runs like a scolded dog, pics speak for themselves. brand new tires dunlops chain and sprockets.and the miles are 22000 kilometers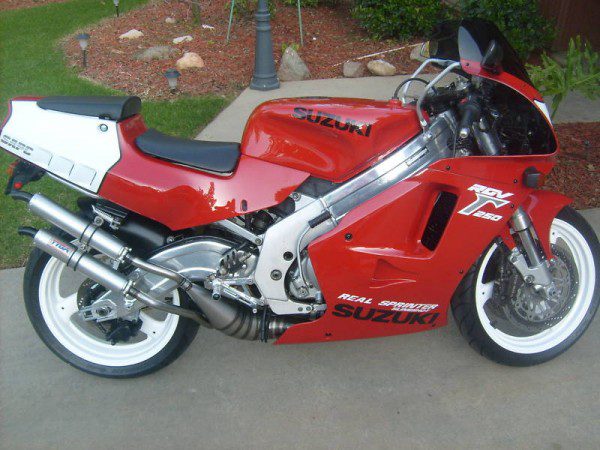 I can sum this bike up on one word: tasteful.  If you've been on the market for an RGV I suggest you take a good look at this one,  it's got a lot going for it.  Check out the bidding .  If you aren't up on RGV's or have questions about them I highly recommend visiting RGV250.co.uk as it is a wealth of information on every model of RGV.   Someone buy this thing; it is worth it just for the amusement of pulling up to a stoplight and having the guy in the car next to you yelling that your bike is broken because it is smoking.
IK