Double Take:  Another 1993 RGV250 W/Telefonica Graphics
In the span of just two weeks we've had two 93 RGV's appear for sale in Telefonica colors and both are on the west coast.  I had to go back and look at the old post to see if this was possibly a resale of the first bike for sale.  It is not.  Cali residents take note, it has that precious California title and registration, pollute away!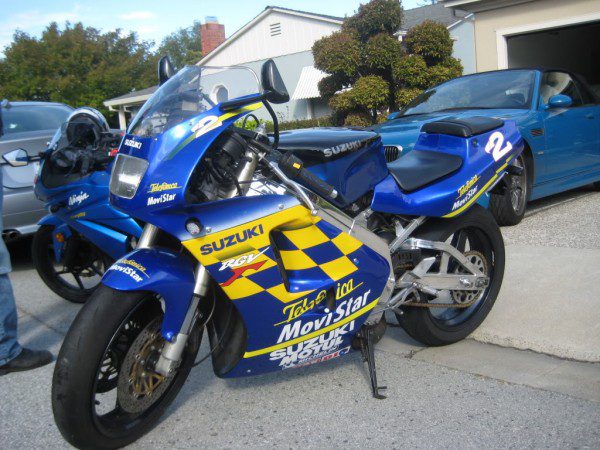 At first glance it sure appears to have everything and a little more to enjoy a RGV.  The Jolly Moto pipes are a nice touch and the Dymag wheels couldn't have been cheap.  One thing that caught my eye right away was the swing arm.  Either this is an earlier 1991 model or a 91 banana swing arm was put on the bike.  That is an extremely common mod for RGV's since everyone loves the look of the earlier swing arm.  The other thing I noticed was no mention of if this is a restricted domestic model RGV or a full power export model.  I'm just guessing here but since it has the Jolly Moto pipes on it, I'm going to say it is currently at full power spec.  Generally you have to have the bigger carbs and full power CDI to get aftermarket pipes to work properly.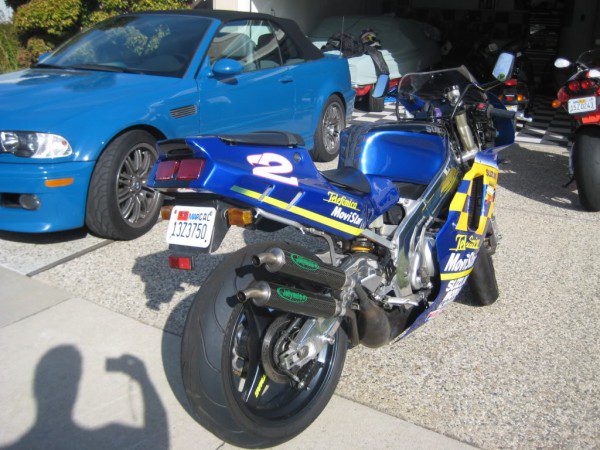 From the ad:
93 RGV 250 street legal 2-stroke registered in california. This bike is extremly rare! It is fun and handles better than almost anything out there. This is a v-twin GP bike never sold in the US . Comes with many extras, Ohlins rear shock , Dymag magnesium wheels , Jolly Moto pipes, steel braded brake lines, 2 extra sets of plastics , extra sprockets stock wheels, stock pipes, and factory maintanance manuel. Please no low ballers , don't ask how to get yours registered. no free rides , Serious inquiries only has appx 11000 miles. I dont ride her much and have other projects I'd like to work on.
So how much overtime do I need to pull to ride away with this thing?  The seller is asking $7,500.  That is definitely on the high side considering what I've seen for sale lately.  Everything is more expensive in California, isn't it?  In my opinion the CA title would bump the price up some but would only matter to a California buyer, as other states aren't as restrictive.  The wheels are a nice touch as are the pipes.  The problem is that in this price range buyers are usually looking for stock and extremely low mile bikes.  Also as good as any respray may be it usually detracts from the price of a bike.  As usual it is a decision though.  For that price, do you want a bike that is legal, in good condition and has some nice upgrades or do you want to hold out for that bike that has been sitting in someones garage for years that has been untouched.  That could possibly be a long wait.  This RGV  is ready to go and can be found on the Bay Area Craigslist.