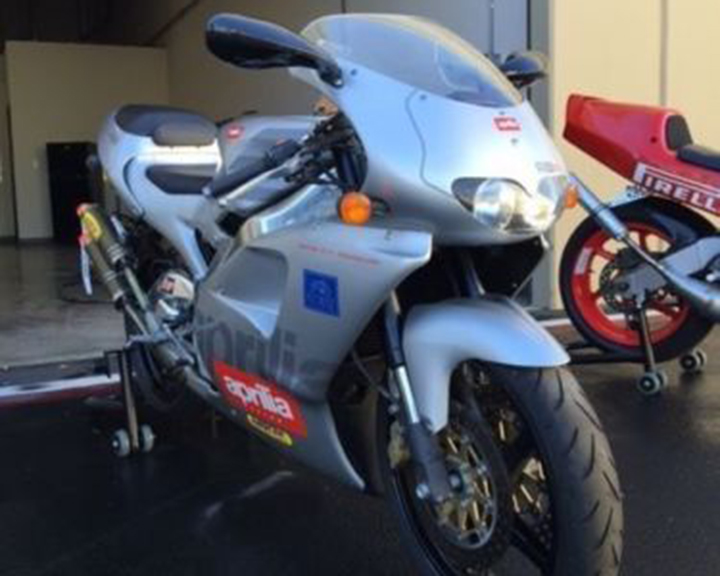 A mix of sleek styling and proven Japanese power, the Aprilia RS250 was the Italian company's entry into the hotly-contested quarter-liter sportbike class battles and intended to take the fight to Honda's NSR250, Yamaha's TZR250, and Suzuki's RGV250. The monochromatic style was a far cry from the vivid speedblock and tiger-stripe designs of the Japanese competition and has aged very well, and I bet plenty of folks would think this is a new, or nearly new machine.
The RS250 borrowed its 249cc liquid-cooled two-stroke v-twin from Suzuki's high-strung RGV250, retuned for more power. Weight was competitive, at around 300lbs dry so the claimed 60hp made the bike plenty quick, with typical two-stroke power-delivery and serious agility. A sculpted beam frame provided a stiff foundation and the asymmetrical "banana" swingarm kept the bike's expansion chambers tucked in close to the bike for maximum cornering clearance. If those brakes look familiar, they're the very same Brembo units that stopped just about every other Italian sportbike of the period and are plenty powerful, considering those bikes were at least 30% heavier than the little Aprilia…
I happen to prefer the earlier bodywork seen here, but later bikes have plenty of style as well, although their very 80s-looking dash is an acquired taste… Unfortunately, it's a little hard to see in the low-resolution photos that accompany the listing. The bike does include something that's a bit of a Holy Grail for RS250 fans though: a California license plate.
From the original eBay listing: 1996 Aprilia RS250 for Sale
Starts and runs may need some minor tuning. Have a sticker kit not perfect a few of the stickers are wrinkled thanks to FedEx. Have a rear seat cover that is purple. Arrows pipes, Toby steering damper.  

CA PLATE !!
Bidding is up to $5,000 with the reserve met and just 24 hours left on the listing. The photos are pretty poor, which is a real shame since miles are low and, aside from a couple of minor scuffs, it appears to be in good cosmetic condition. I wonder how much more interest there would be in the bike if the seller had bothered to include a few decent pics and maybe a short video of the bike, along with a better idea of what "may need some minor tuning" might mean.
-tad