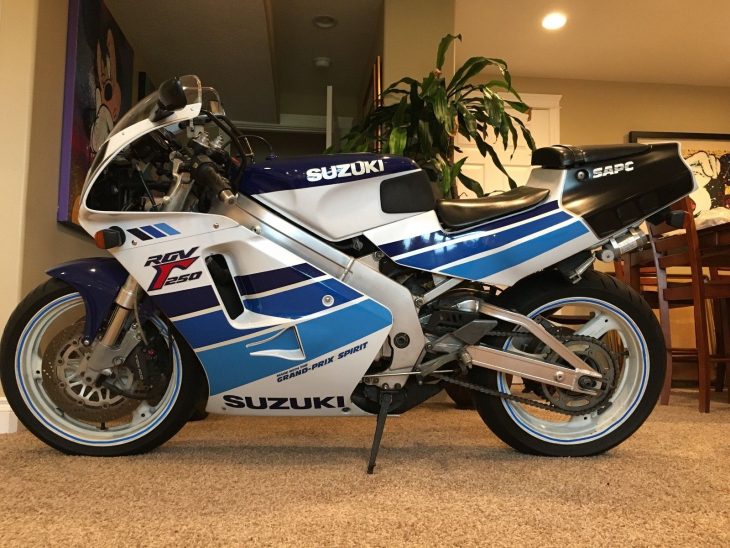 eBay has been awash this summer in rare and exciting two-and four-stroke quater-liter bikes from Japan, a testament to the collector market for these bikes, which are neither common nor terribly easy to import. This 1990 Suzuki RGV250SP is at least the third of its kind we have posted this summer, and it is offered out of Utah with no reserve.
The RGV250 Gamma is known as one of the fastest and most powerful 250cc two-strokes of any era, clearing 60 horses in de-restricted form. The SP version, like the one listed here, meant adjustable suspension and a close-ration gearbox operated via a lightweight dry clutch. In full-bore trim, these things were capable of a top end past 130 mph and a 0-60 time that put it close to middleweight four-stroke territory.
This RGV250SP is the last of its kind in the Utah collection of our buddy Gary, who seems to have a limitless supply of very nice, road-ready grey market mounts. This one is in very good, but not perfect shape and sports an aftermarket exhaust system that sports carbon fiber mufflers. The fairings are all clean and original, but the bike has some scratches, grime and marks.
From the eBay listing:
Up for auction to the highest bidder with NO RESERVE is a 1990 Suzuki RGV250 SP model with only 6140 kilometers (3815 miles). This SP comes with a dry clutch and fully adjustable suspension. Bike is in mint condition with only a few scratches, scrapes and handling marks. This RGV has an aftermarket exhaust with carbon fiber mufflers. All fairings are 100% genuine Suzuki OEM. This bike rips and runs just like the day it was new. Comes with new engine fluids and new battery. Tires should be replaced with new rubber.

This is my last VJ22A, don't miss out! Bike comes with Utah title and is titled as a street bike for road use. $500 deposit due immeadiatly after auctions end. Remaing balance due in 5 business days by check, bank wire or cash in person. Text 801-358-6537 for more photos or questions.
The auction is a no-reserve affair, and bidding is already up to $5,000 with less than two days left.