Not your stock Goose.  This Guzzi has a known history and a number of modifications that have made the engine a bit hotter than stock. The sport 100 was a nice bike but of course the V Twin was always underpowered compared to the competition.  Guzzi had a tremendous racing heritage but by the mid 90's has lost their place.  Having said that this is a good handling bike that will be fun.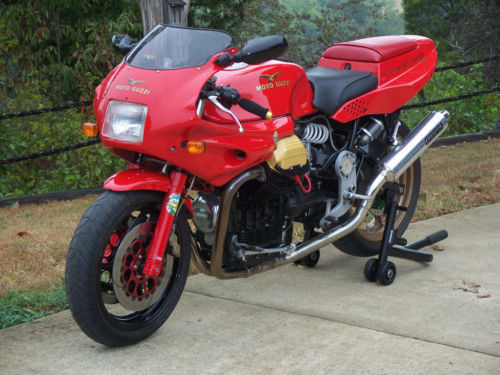 The seller shares the following:
Looking for the trickest Guzzi Sport 1100 on the planet?  This bike was ordered brand new from Action Sport Cycles in Ft. Lauderdale, Florida in 1995 by my friend, Richard.  After a six month wait, his bike finally arrived and he took delivery.  He has owned it ever since and it has been babied beyond belief.  Through the years he has done the following mods:  The motor was removed and the heads were sent to Charlie Rice in Amsterdam, who is renowned as one of the world's foremost Guzzi engine guys.  He re-shaped the combustion chambers, did some mild porting, installed stainless valves, and did a twin-plug conversion.  Twin-plug Dyna-Coils were used.  The crank was sent to Falicon and they gave it their "SuperCrank" treatment.  It was shaved, polished, and balanced and Carillo rods were installed.  A mild Rennsport street cam is now spun by a gear driven valve train (which replaced the cam chain and sprockets) and titanium pushrods were installed along with higher compression Ferracci pistons and rings when the motor went back together.  The bore remains stock.  The clutch came from Moto-International.  It's beefier than stock but still has a nice, easy pull.  To take advantage of the motor mods, the carbs were replaced with a pair of Keihin FCR41's with K&N filters, and the stock exhaust was replaced by a beautiful stainless 2-1-2 system by Rennsport.  The bike sounds great but is not too loud.  The carbs are jetted for our Middle Tennessee altitude and this motor is totally dialed in.  All these mods were made with the intention of making a strong, reliable, tractable street motor and the results are amazing.  Way stronger than a stocker but very fun, predictable, and reliable.  By the way, look at the motor pictures… the carbs are not drooping downward.  That's the reverse slant Keihin designed into the carbs.  They are mounted correctly.   The suspension/wheels/chassis were all left stock.  The front rotors were replaced by a set of Italian Discotelli cast iron floating rotors.  The original Brembo calipers are still in place.  The White Power shock and Marzocchi forks are fully adjustable with the left fork handling compression while the right one handles rebound.  The front Michelin has about 90% left and the matching rear has about 70% left.  The original Rosso Red paint is still gorgeous and in excellent condition.  The only flaws are a small mark on the front fender and some mild pecking on the lower forks.  I could have painted those pieces but if I were buying the bike, I wouldn't want anything touched.  I'll let the new owner to make that call.  Richard installed a Sargent seat cover with the tri-colore patch and painted the front wheel black and the rear gold because he digs 'em like that.  I do too.  This bike has never been down, never raced, and has never seen a track day.  Richard was 42 when he ordered this bike in 1995 and has treated it responsibly and maintained it meticulously.  It has lived inside since new and has only had synthetic oil in it since break-in.  The shaft drive has been lubed every six months.  Included are the owner's manual, shop manual, every receipt for every dollar he's ever spent on the bike, including the original sales receipt, both keys, and the original tool kit. All the original pieces (carbs, pistons, cam, stock headers, air box, etc.) go with the bike.  Naturally, he has a clear title.  This is a rare opportunity to own a very special one-owner, collectible machine that has been babied and documented.  These don't come along very often.  Lastly, there weren't many of these Sport 1100's built… this is the 17th one.  And this one looks much better in person than it does in the pictures, which isn't usually the case.  I am always honest and accurate with my descriptions and plan to keep my 100% feedback rating.  Please feel free to call Rusty at 615 430 6252 with any questions.  Thanks for looking and good luck!
You can look at the eBay auction yourself after the link.
This is a great bike which will probably be a bargain for someone.  Picking a price can be tough s this will be rare with all the work which makes it a bit special.   I do wonder if the starting bid at $6500 is a bit high but am happy to be proved wrong.
AS