When it comes to imports, the 400cc welterweight class is the gem of the grey market set. With decent power at stratospheric redlines, these lighter, smaller sport bikes can run rings around middleweights (and even the big bikes) when the going gets tight. Sized for normal people, one need not be a practitioner of human origami in order to fit. Rare in the United States, yet more reliable than the buzzier two strokes that receive the lion's share of import press coverage, every stable should house at least one of these 400cc scalpels. And this Japanese home market 1WG model FZR400 in super rare blue might just be the one you need.
Unlike the rest of the Big Four, Yamaha actually imported the 400cc four stroke 1WG model into the US. US bikes began with 1988 the model year, although they were otherwise identical to the 1WG spec of the earlier Japanese models (the EXUP exhaust valve being a mandatory EPA fitment for CA bikes). US bikes showcased the red/white livery of Yamaha racing, and by the close of 1989 the party was pretty much over stateside. Often derided as the most common of the 400cc offerings, the FZR did offer real performance: Genesis DNA is evident in the engine configuration; liquid cooled cylinders tilted at an extreme angle to aid weight distribution, the four valve heads, four carbs with straight shots into the intake ports, and the four into one performance exhaust. On the chassis side, an aluminum "Delta Box" perimeter frame showcased the sporting intent of this model. If you didn't know better, you could easily mistake a naked FZR400 for a FZR600 or 1000. These are not starter bikes or toys – these are very capable road and track motorcycles that come by their reputation honestly.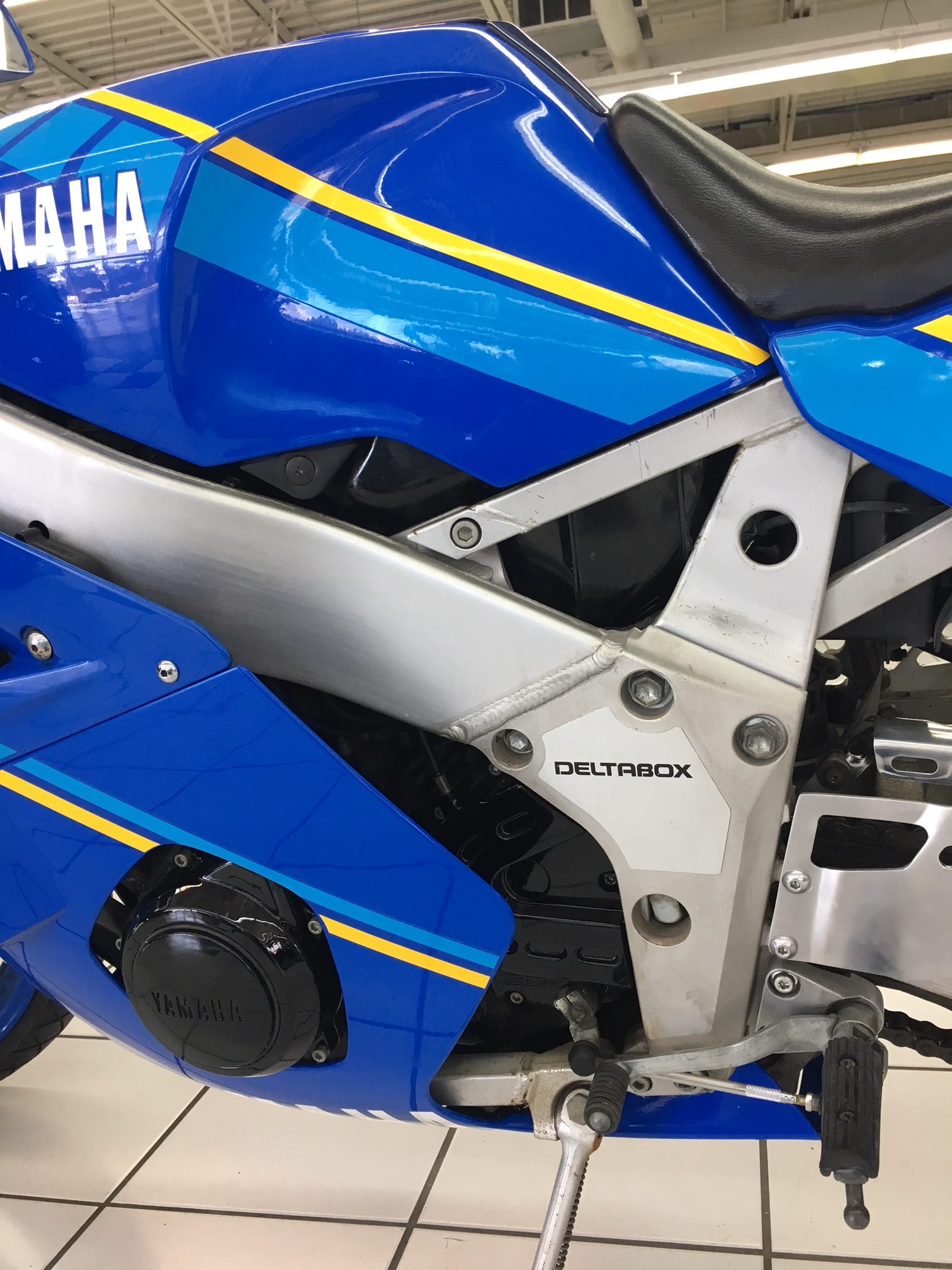 From the seller:
1986 Yamaha FZR400 1WG.
Bike is minty. Rarer color. JDM bike. All fairings and components are 100% genuine
factory Yamaha. Bike is 100% stock. I have freshened it up a bit. I have replaced
the front master cylinder with new OEM. Engine covers (caps) have been replaced with
new OEM. New fuel petcock. New fork seals, new battery and new engine fluids. All
fairings, exhaust, and components not mentioned are original to the bike. No rust in
the tank. Runs and rides like new. Will install a new set of tires for the right
customer. Comes with Utah state title and is titled as a street bike for road use.

Asking $6900
Email Gary for details: rmurangemasters@aol.com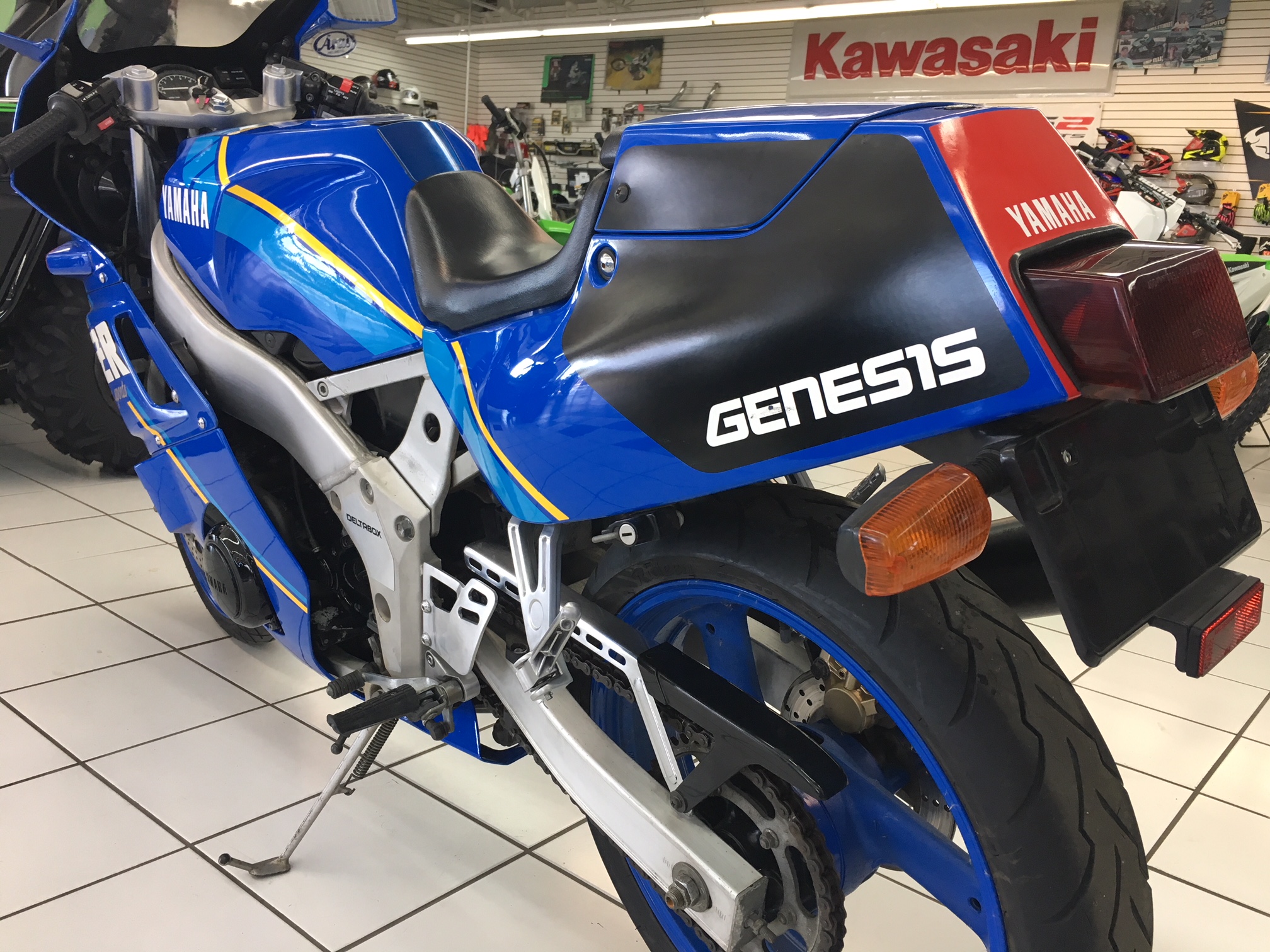 This particular FZR is a Japanese home market model and comes to us from well known collector and RSBFS follower Gary. You have seen many bikes in his collection pass through these pages (he has what must be the most lusted-after living room furniture we have seen). Feedback from those who have conducted business with him has been positive – he is an avid rider and collector. That shows in the presentation and condition of the bikes offered. This specimen appears to be very, very clean. Mileage appears to be approximately 6,150, based off of the odometer reading on the KM clocks. Strike a deal and this blue beauty rides off into the sunset with a fresh set of rubber, ready to attack the canyons.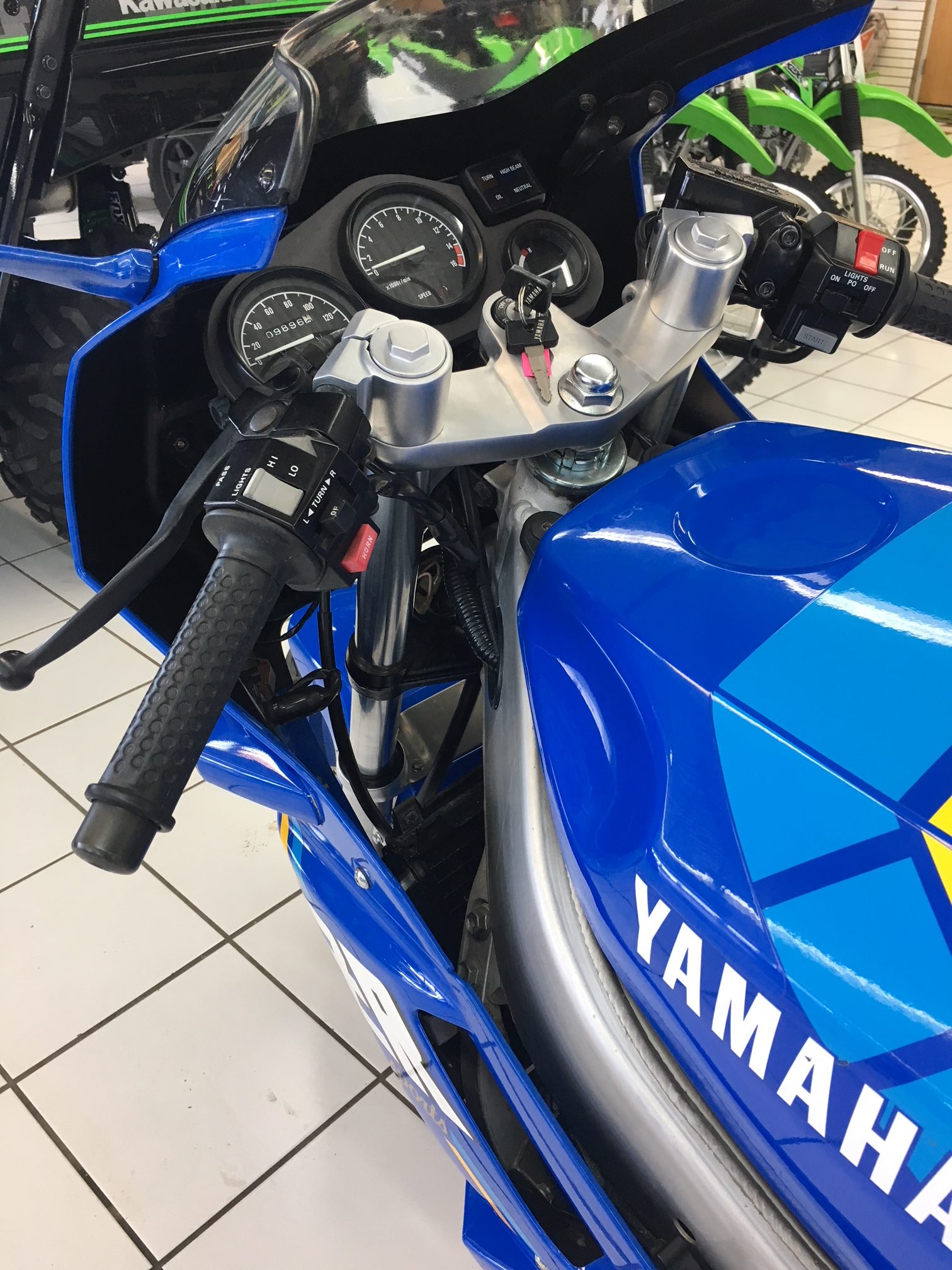 FZR400s are interesting from a collector perspective. In some ways the FZR is almost passe – another mass-produced sport bike from the Big Four. But by the numbers it tells a very different story. It used to be that the unloved FZR400 was a bargain basement bike, picked up for a song and thrashed wildly on the street and track. Those days of "nearly free" Fizzers are behind us. The word is out and the market has spoken. Even officially imported US bikes are rapidly rising in value; we have seen asks approaching $10k. Now it is optimistic to expect a 1WG to approach the same velocity of appreciation as, say, an RC30, but there is no doubt that we are seeing a rise in pricing for FZR400 models. Some use is evident, but this particular example looks to be in fantastic shape for a model going on 32 years young. This bike is undeniably rare in color and form for US buyers, and is looking for a new home at a reasonable $6,900. Shop around a bit – but if you are looking for the right FZR400 you will be hard pressed to find another like this. Interested buyers should contact Gary directly. Good Luck!!
MI