Update 2.20.2018: SOLD! Congratulations to buyer and seller! -dc
Update 2.12.2018: The GSX-R712 has been kept warm all winter in the living room and is ready to ship and run at your house this spring. Price has been dropped to $9,750.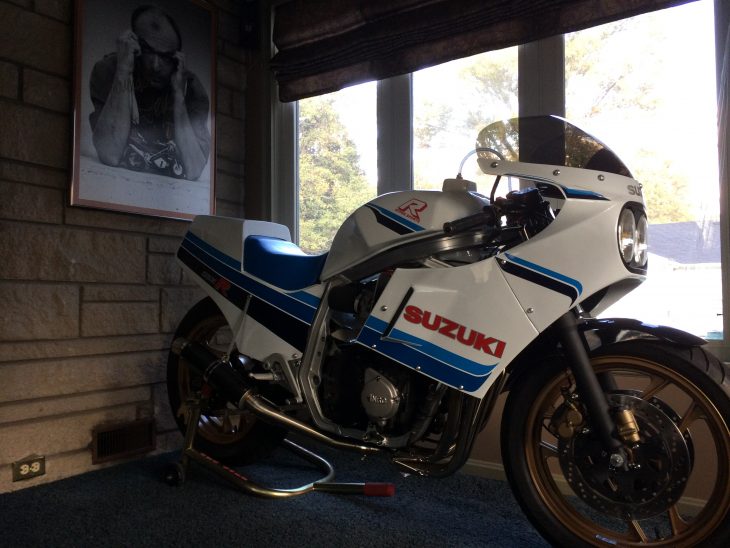 ---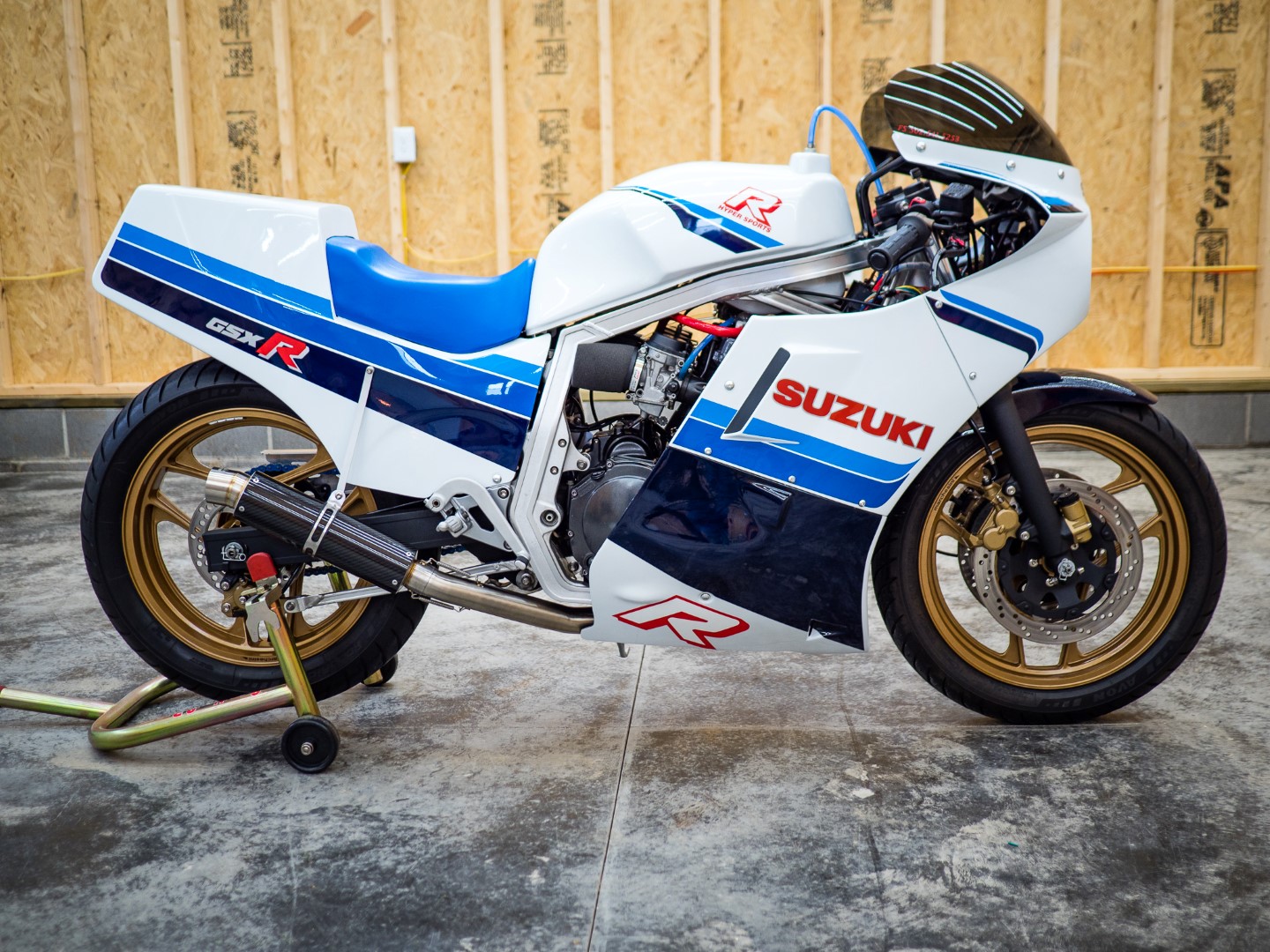 The 1980s were a watershed era for sport bikes. This was a period of constant escalation between the Big Four manufacturers out of Japan. Amidst the fighting came many new innovations and a quantum leap in performance. And none epitomized the arms race quite like the revolutionary GSX-R from Suzuki. A winner in the showroom and a clear favorite for amateur and professional racers alike, the air/oiled cooled GSX-R was a definitive game changer for riders everywhere. Fast forward 30+ years later, and while the 80's era GSX-R is still striking, performance has not kept up with modern machinery. That is where this owner stepped in, creating a vintage 80s hot rod with performance enhancements to bridge the gap. This is an amazing build that we know RSBFS readers can appreciate; this one-of-a-kind machine has the stance and the history to give it serious street creds, but with updates to back it up in the canyons.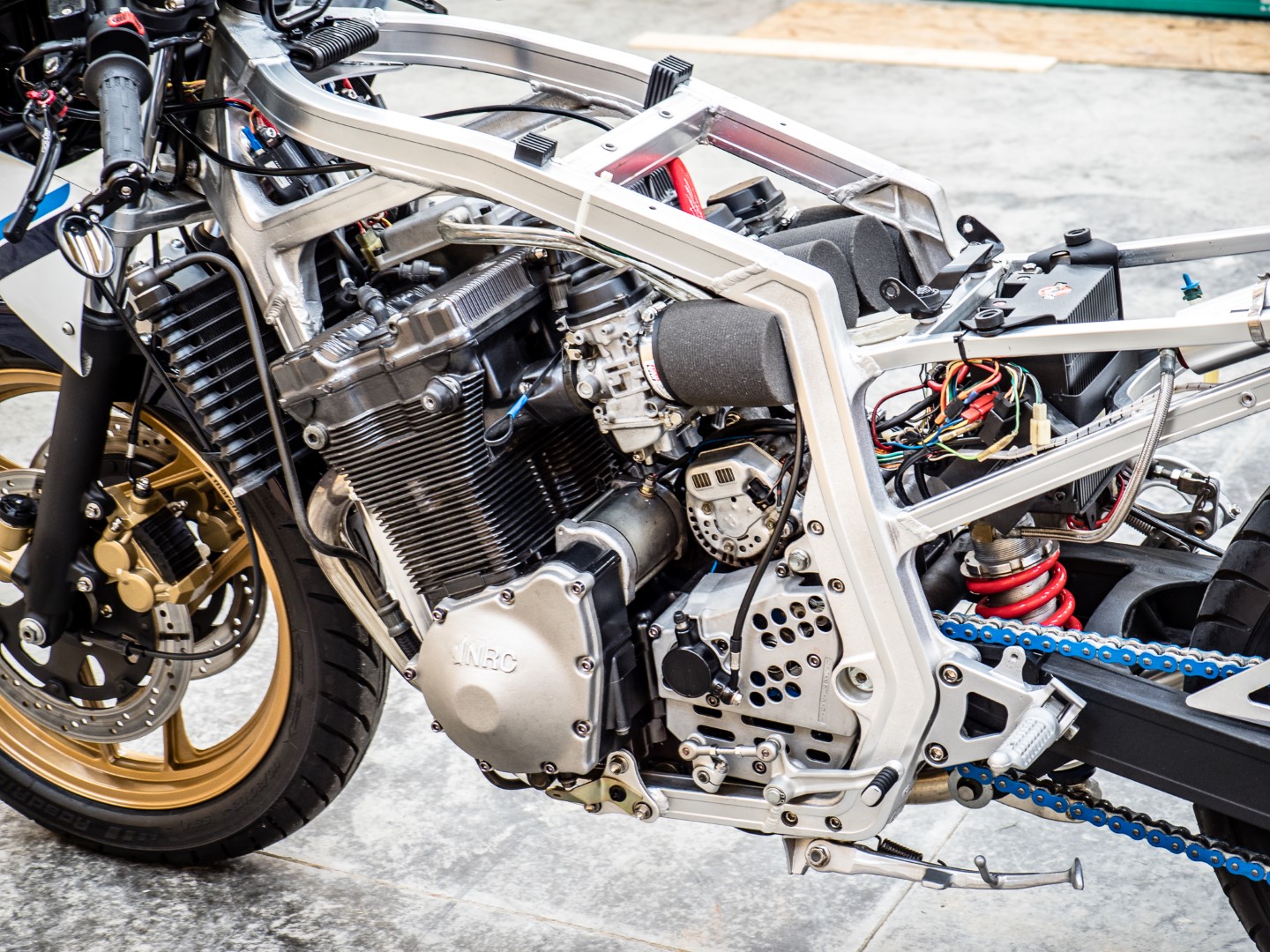 So how do you build a GSX-R712? Start with a good 1986 example of a GSX-R750 - well regarded as the best chassis of the day. Remove the 750cc engine and replace it with a second generation GSF1200 Bandit motor. Purists will note that the 1200 Bandit was an evolution of the GSX-R1100 engine, which makes this a perfect fit from a lineage perspective. Once that epic change has been completed, you then turn your attention to, well, everything. Rebuild the front end with new and upgraded components. Work over the swing arm and rebuild everything connected to it. Replace and upgrade braking components. Anything still stock must be completely refurbished. With the mechanicals in perfect shape, you then turn your attention to cosmetics. This is where little changes can make a huge impression. Source new lightweight bodywork and make subtle alterations to clean up the classic lines. Dress up the wheels and powdercoat to suit. Apply paint and graphics that act as an homage to the original, but modernize as well. Then step back and behold the glory of what you have created: a GSX-R712.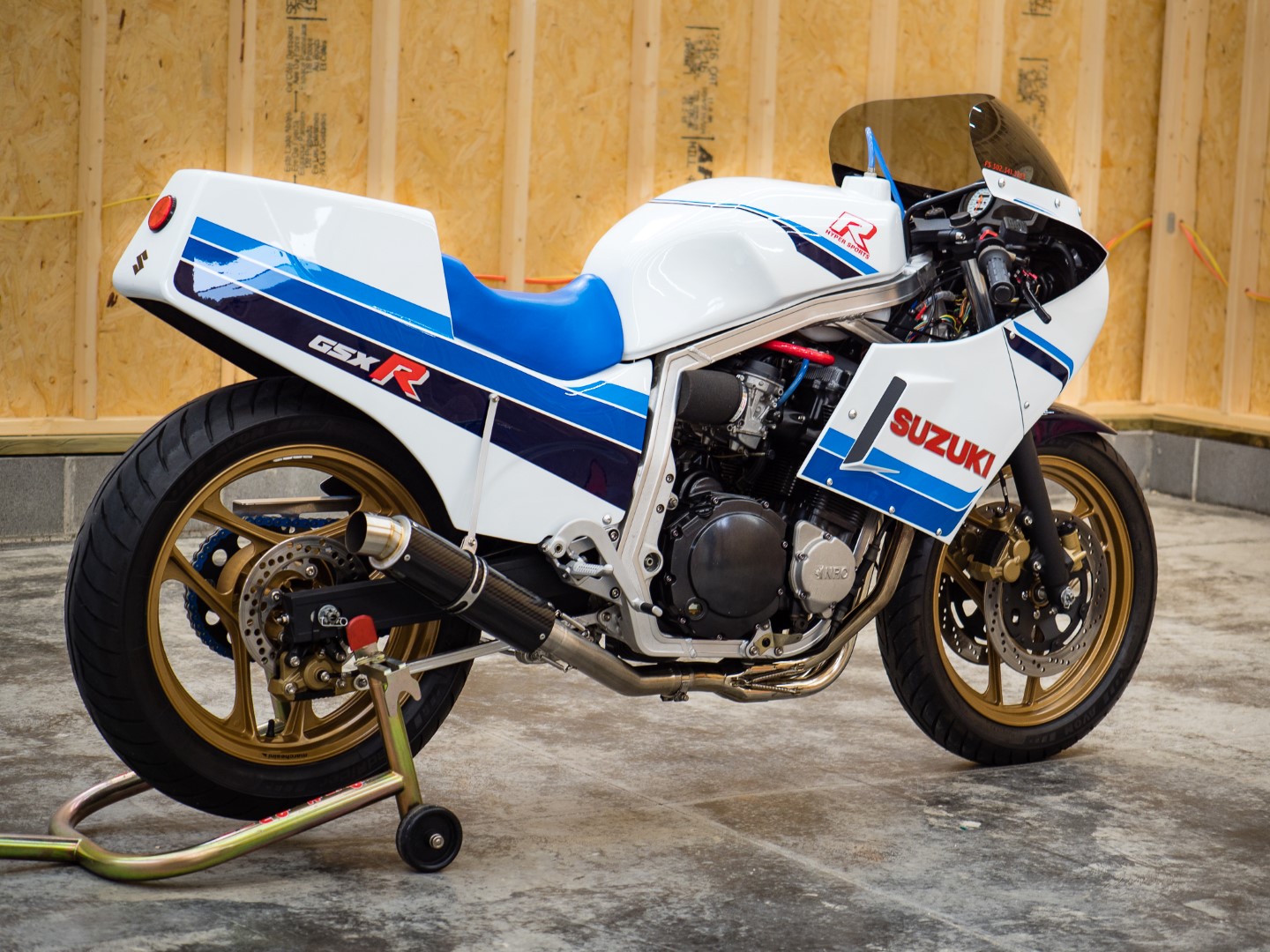 From the seller:
1986 GSXR750 complete Moderation 396 lbs semi wet
• Probolt Titanium hardware throughout 97% moto
• GSRX1100 rear wheel & casting markings removed
• wheels powdercoated Vegas gold
• new sealed wheel bearings
• custom billit wheel spacers
• Avon Roadrider tires
• forks serviced with new seals & bushings, powdercoated text black
• steering head bearings serviced
• clip-ons powdercoated texture Black
• performance fork springs, ..90
• swing arm powdercoated texture Black, new bearings complete
• Fox Shox serviced by Cogent Suspension
• 500lb spring powdercoated Red
• all calipers powdercoated with new seals and boots, titanium bleeds
• custom HEL brake lines front, rear and clutch
• rebuilt clutch slave cylinder
• new Brembo master cylinders, Front brake & clutch
• new CRG adjustable levers & mirror and adapter
• rear brake rotor SV lightened
• Pit Bull 520 chain conversion, EK chain Blue
• new LTD replica chain guard
• new NRC engine covers
• gauges fully restored inside & out, Perfect
• new Shorai battery LFX14L5-BS12
• Gen 2 Suzuki GSF1200 motor
• new Suzuki fuel petcock
• new Suzuki headlamp relays
• Stage 3 Dynojet
• Uni pod filters
• Delkevic SS header
• Danmoto Carbon Fibre muffler
• Air Tech light weight body custom made, thanks Dutch
• Probolt Aluminun body fasteners
• RD decal set, installed by Adam Stevenson @ AccuGraphix
• Jarrell Paint works Paint & prep work
• Zero Gravity smoke windscreen
• gas cap cerikoted
• super light led tail light
• seat pan modified, lightened
• Mikes Upholstery recovered seat, Blue
• TrailTech switches
• abbreviated wiring harness

Price $10,250 $9,750


---

For More Information:
Contact Edward Hessel at stathome@bellsouth.net
Text or call: 502.541.5253
---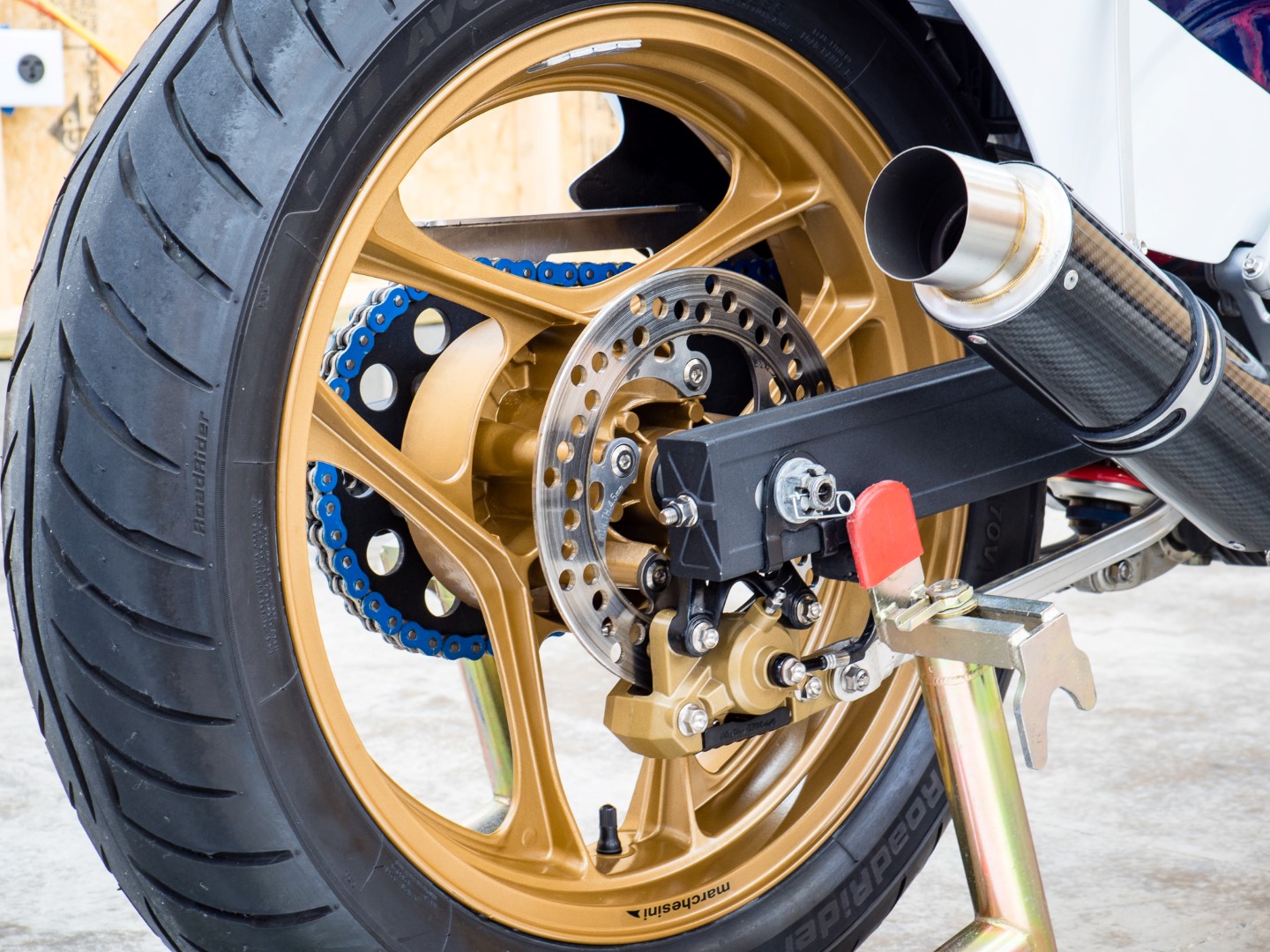 Bikes like this amazing GSX-R Rod do not come along often. This is mainly because this is a very expensive, time-consuming process requiring patience and know-how. Most riders lack both the cash and the skill to create something this stunning, but would not hesitate to drool over it (and lust for one). A bike this good makes a personal statement that tells the world that you have great vintage taste and yet you also worship at the altar of performance. It is also likely a losing proposition for the seller; I could easily see $10k worth of parts in this rocket, not counting paintwork or specialized labor.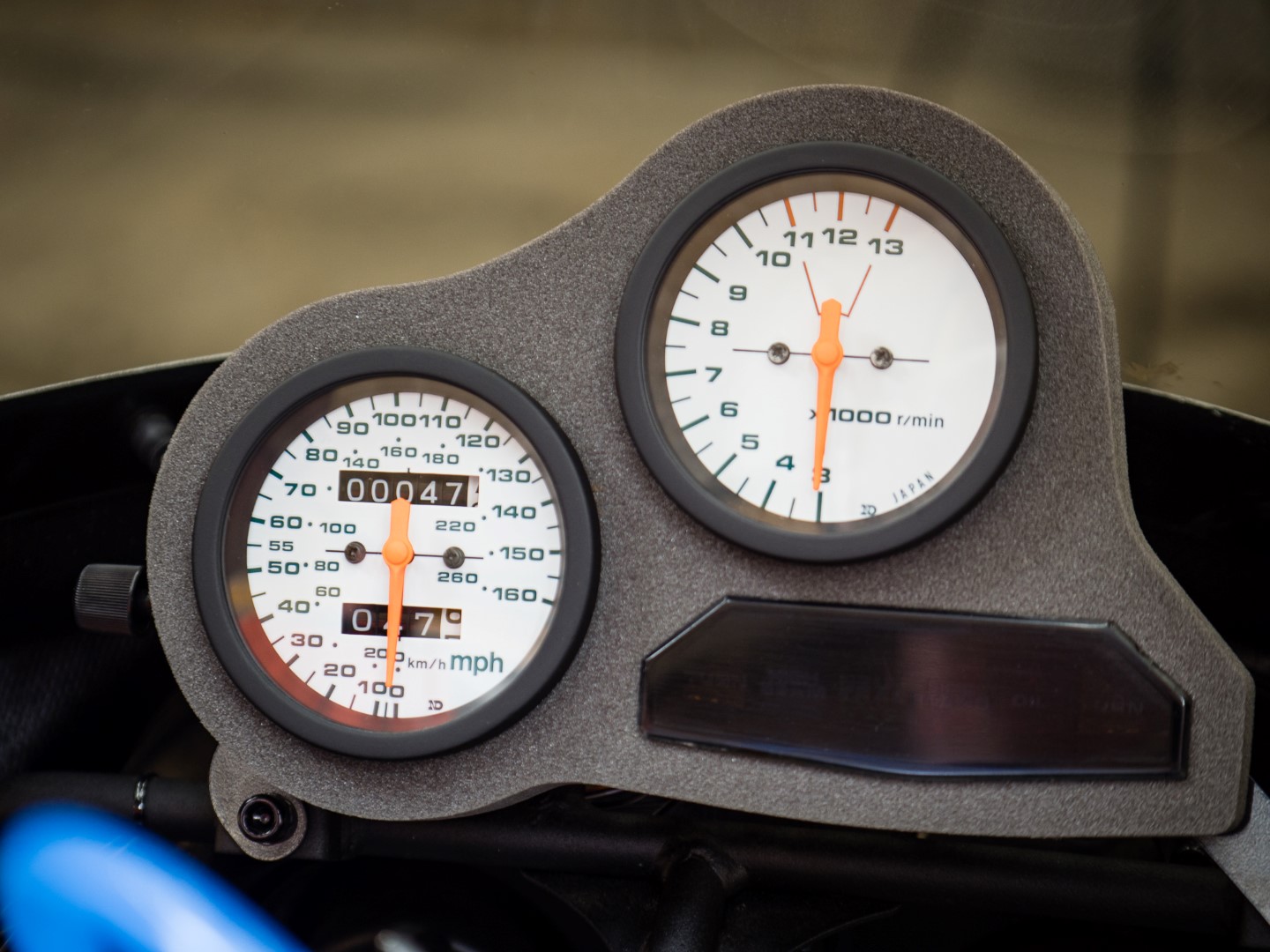 Slab-sided Gixxers are HOT right now - we see both collectable as well as pretty rough examples on a semi-regular basis. And we see the occasional Limited Edition unicorn - with prices in the stratosphere. This particular example takes the basic slabbie form and uses it as the foundation for a real hot rod superbike. Think of it as a higher performance slabbie with the cache of an L.E., but without the price tag. There is no doubt that this is a special bike - something the entire RSBFS staff agrees upon. The conversion is super sano, the lines are amazingly clean, and yet the whole package retains the classic looks of the original GSX-R. Check out the large number of very high-res pictures. I dare you not to fall in love with this bike. Once you do, reach out to the seller (stathome@bellsouth.net). You cannot build this bike for the asking price, and you will never see another like it again. Good Luck!!
MI