For Sale: 2000 Bimota DB4RS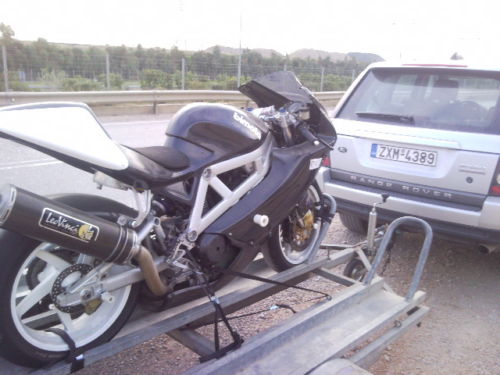 From the far away region of Greece comes this (potentially) fantastic Bimota DB4 race bike. I say "potentially" as there is not a great deal of information available on the bike – but if all works out this could be a very significant bike indeed.
The stock DB4 utilized an air cooled Ducati 900cc L-twin, which produced approximately 80 HP. The good folks from Rimini wrapped the torquey two valve twin in a lightweight, oval-shaped aluminum perimeter frame for a claimed dry weight of 165 kilos (or about 364 pounds). Check out the specs supplied by the seller below on this race-prepped model – 140 kilos (about 308 pounds) and 95 ponies at the rear wheel. That certainly sounds like a potent package!
From the seller:
BIMOTA DB4RS MADE FOR WINNING IN THE ITALIAN CHAMPIONSHIP IN SUPERTWINS.WINNER IN VALELUNGA WITH ALESSANDRO TOMASSONI AND OTHER RACES .BIKE WEIGHT 140 KILOS ,95HP ON THE WHEEL.MAX REVS 8.500 , 1040CC.

MOTOR FULL NCR WITH SUPERMONO CRANKSHAFT , CARILLO, FBF PISTONS , NCR CAMS , MENON LARGE VALVES ,EVR ECU , 2 LAMDA SENSORS ETC..

FRAME NO 007 FROM VERLICCI STRENGTHENED FRAME AND SWINGARM ALSO MORE LONG

MARCHESINI MAGNESIUM WHEELS BREMBO BRAKES ARC 6 PISTON CALIPERS , PAIOLI AND FG SUSPENSION.

FULL CARBON DREAM CARBON FAIRING AND TANK

BIKE IN EXCELLENT CONDITION , NO CRASHES
The list of tuners and suppliers on this bike is very significant: NCR, Carillo, FBF, Menon, Verlicci, Marchesini, Brembo, Paioli and FG – not to mention the LeoVince exhaust as pictured on the bike. With 1040cc worth of torque, and the light-nimble handling of the modified Bimota frame, there is no wonder that this bike powered Alessandro Tomassoni to victory.
In my research, I was not able to find any bespoke DB4 "RS" designated models (so perhaps our knowledgeable RSBFS readers can chime in), but Bimota certainly did go racing with the DB4 – and Tomassoni ended up winning the 2000 Championship. Here is a picture below of Tomassoni at speed:
I also found this news report regarding the inaugural win of the Bimota DB4 in the SuperTwins cup. From the archives:
Monday 08th, May
A successful debut for the Bimota DB4 I.E. in the Formula Twins European Cup 2000.
A new great international success for Bimota. A few days after the amazing win in the Superbike, a new win yesterday in the Formula Twins European Cup 2000. The Italian rider Alessandro Tomassoni, on the DB4 Electronic Injection, tuned by the Rimini-based team "Bimota GRB", dominated the first round of the Championship held at the Italian circuit of Vallelunga. Pole position and win with more than 8 seconds ahead of the followers: a peremptory win, achieved among 34 riders from all countries and several twin-cylinder bikes, including an official Buell. The Championship formula allows any kind of modification and therefore it's contested by most of the best tuners. Let's reward the GRB team which, in two months only, tuned up a very powerful DB4 I.E., also thanks to the precious co-operation with Fast by Ferracci. The second round of the Formula Twins European Cup 2000 will be held at Rijeka, on July 9th 2000.
History shows that Alessandro Tomassoni went on to win the championship that year. His success was never far from twin cylinder machinery, as he was also very successful in the BMW Boxer Cup series as evidenced below (Tomassoni is bike #4).
This rare race Bimota with what appears to be a stout racing history is available now. The bike is located in Athens, Greece, and the opening ask for the auction is steep: $24,000 (Range Rover not included). Interested parties would be wise to conduct additional research, acquire more pictures of the bike, and obtain additional history. All signs point to some pretty remarkable hardware and progeny, but you can check it out yourself here. What do you think?
MI