Thought this might be a re-paint when the eBay listing popped up, but one was on the street a couple of days later in living color.  Parked in the overlap between the UJM and hooligan universes, this Z1000 has high miles, great cosmetics, and a rather low hurdle to ownership.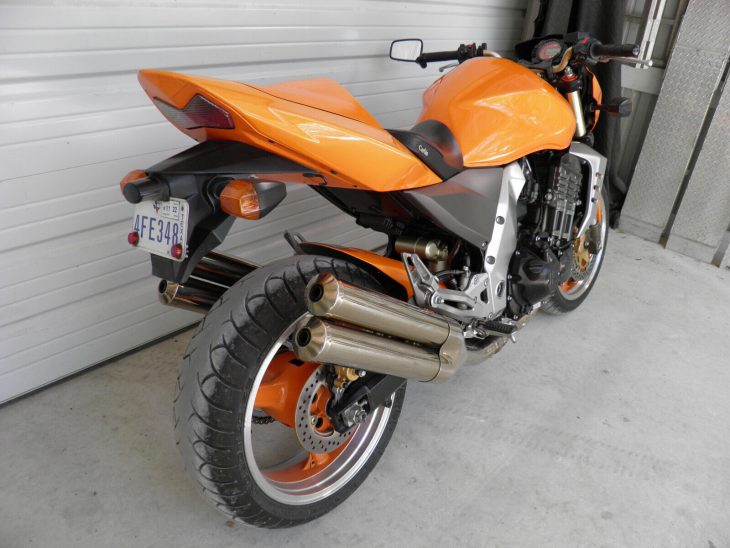 On the leading edge of the super-naked segment, Kawasaki re-hosted the ZX9R engine, with a 2.2 mm overbore and 11.2-to-1 compression.  127 hp was the result, with two-stage 38mm throttle bodies making throttle response extra snappy.  Handling was sharp for a liter as well, thanks to the snug 1420 mm wheelbase and 24-degree rake of the steering head.  Stylists grafted the seat fairing from ZX6R, giving the Z1000 a riding position in line with its intent and making an angular call for the rest of the fairings and exhaust to answer.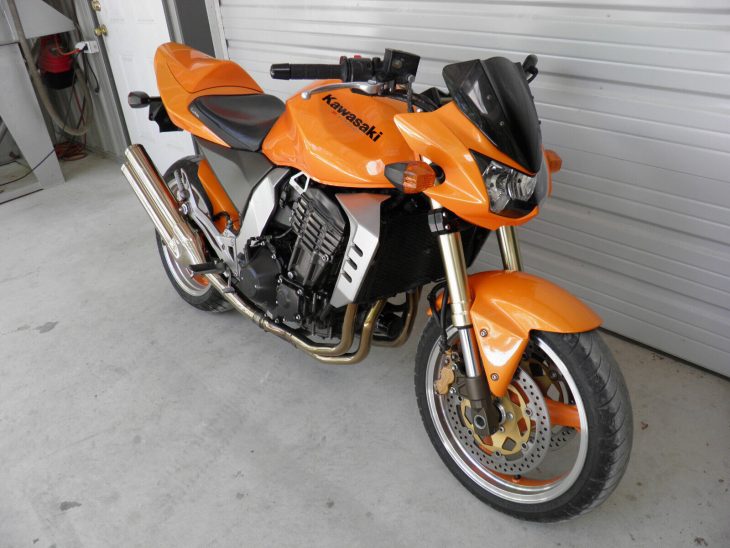 A motorbike mechanic won the grand prize of a 2003 AMA membership drive, and has garaged, cared for, ridden and polished the exhausts on this Z1000 extensively.  Condition looks excellent overall, with just an isolated imperfection.  A small plaque commemorates the AMA origins, and the owner has these notes in the eBay auction:
I have been the only owner of this bike. It starts right up and runs great. The wheels are straight and tires good. I am a professional motorcycle mechanic, the bike has been garage kept and well maintained it's whole life. It is a little more orange than the photos show. Has a new battery. The fuel tank is not rusty. The exhaust has no scrapes or dents.
There is a scratch on the right top muffler. There is the slightest ding on the top left on the tank, very light. There is a very small round chip on the same side of the tank.
Comes with the owners manual, with a maintenance log, and a Kawasaki factory manual. There is a K&N in the air box. The original rear seat comes with the bike. 
This bike was the Grand Prize for the 2003 American Motorcyclist Association (AMA) membership drive.
All those miles account for the low buy-it-now, but a newer rider will have to try and not make the wrong mistake with the performance that engine and chassis offer.  At the end of the season some fresh tires will give the Z1000 a new-bike feeling for next year.
-donn