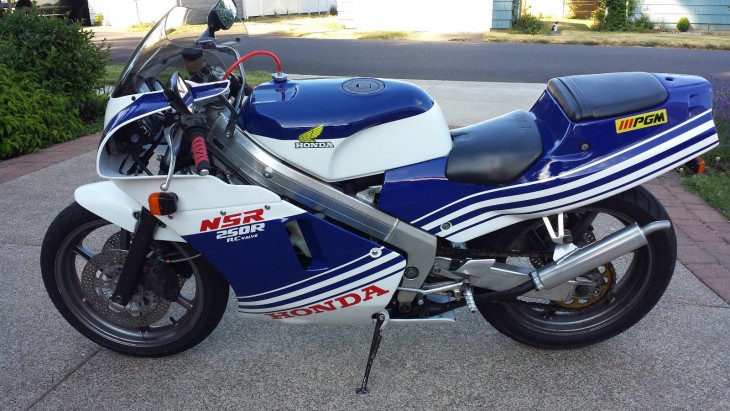 The Honda NSR250R should be on everybody's bucket list of bikes to own and ride before they die.  There's nothing that makes you feel like you're living your GP dreams quite like screaming to redline and feeling that 2-stroke powerband change your perception of 250s in an instant.   While 45hp might not seem like a lot (OK, it's not)… there's much more to this bike than just horsepower.  For starters, the NSR tips the scales at just 315lbs wet.  So next time you're at the gym, pick up 135lbs and realize that's how much LESS the NSR250R weighs than a typical 600cc sportbike.  With it's light weight, attention grabbing powerband, narrow frame and short wheelbase, you begin to understand why these little 250s are a force to be reckoned with when the roads get twisty.  And then there's the sound… that glorious, glorious sound.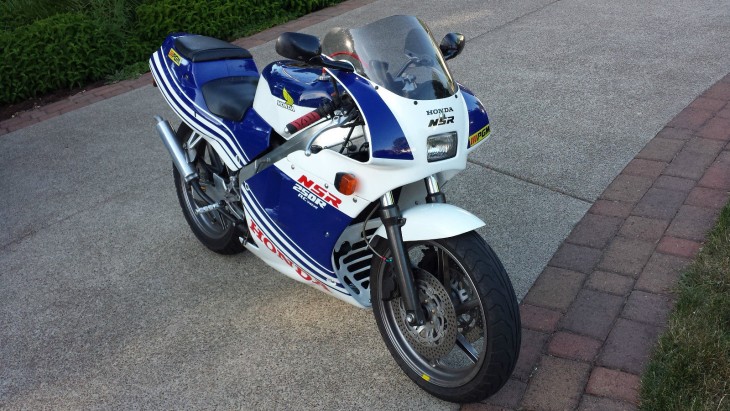 The MC18 model here is the second generation of the NSR250R and it saw significant improvements.  The carb is 4mm larger and the engine management is improved for better throttle response over the earlier model.  Honda also moved the engine forward and lower in the frame which makes directional changes that much quicker.   The fact that these little gems were never officially imported into the US means that customs paperwork and titles can sometimes be an issue… but all of the hard work is done here.  The seller states that it already has a US title, has new fairings and comes with a generous assortment of spares.  So if you're looking for a hassle free 2-stroke 250, now might be the time!  You can check out the auction here: 1988 Honda NSR250R on eBay
From the seller:
Very clean Gray Market Street Legal 250ccTwo-Stroke Sport Bike. Imported from Japan in June of 2000. All stock. Runs, idles, rides and stops as it should. Very strong pull when it hits the power band. No damage, rust or corrosion anywhere. All new fairings and paint on tank. Also includes original fairings and many spare parts including brand new brake pads, extra rotors, calipers, fork assy, speedo and more (see photos). The spare parts are included with the sale.