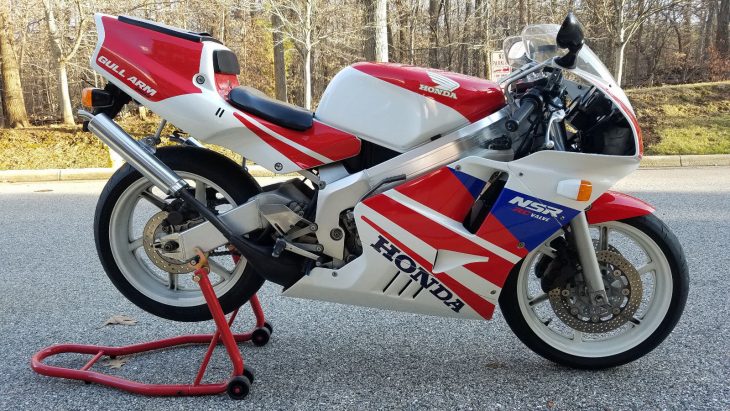 The flood of grey-market imports shows no sign of abating and prices, although they haven't been increasing at the same rate as they were, also show no signs of actually decreasing anytime soon. What's the appeal of little two-stroke sportbikes like this Honda NSR250R? Well, power may not be all that impressive on paper: just 45 claimed horses for the restricted versions available in the Japanese market, although they can be derestricted and easily tuned for more power, depending on your budget and willingness to get the thing rebuilt when it blows up…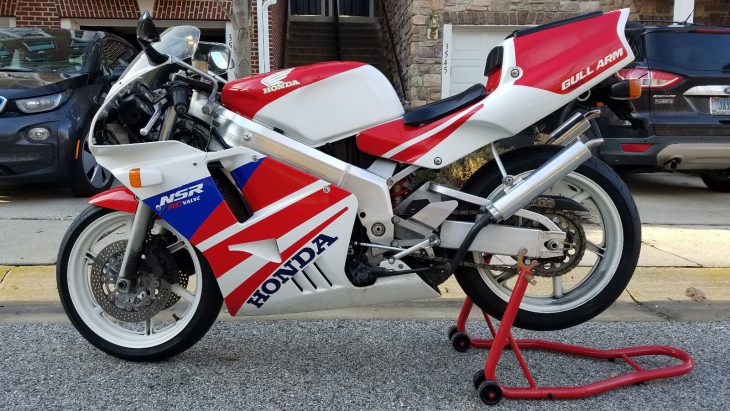 But 50 or 60hp in a sub-300lb package means agility undreamed of by modern machines, and they're packed with all sorts of technology that was cutting edge at the time. And the peaky little powerplants require skill and involvement to use properly, and they make you work a bit for your speed. Sure, it's cool to run your favorite canyon road in one gear on a large-displacement four-stroke, but your left foot will never get bored riding one of these little things…
Even though these are now much more readily available here in the US, it can be tricky to find really nice examples. They aren't seen as particularly rare or exotic in their home market and were bought and used for their intended purpose: canyon and trackday hooning by aspiring racers emulating their GP heroes. They had cutting-edge technology, but were always relatively affordable, and 80s and 90s Japanese build quality meant that, even when well-maintained, they can get a little scruffy around the edges.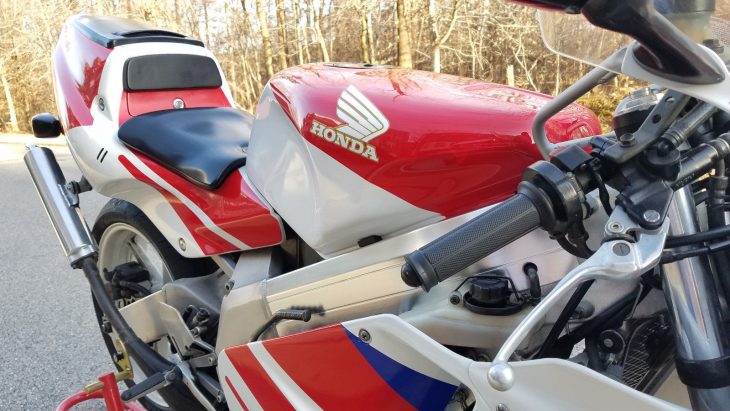 Many of these we've featured show signs of surface corrosion that often leads commenters to claim that the low miles must be a lie, but a bike stored outside, even under cover, in a salt-air environment leads to just that kind of deterioration, and many "original" bikes will need some cosmetic attention if you want their looks to match their mileage, now that these have graduated from "cheap thrasher" to "exotic, two-stroke collectible." Luckily, that doesn't seem to be the case here.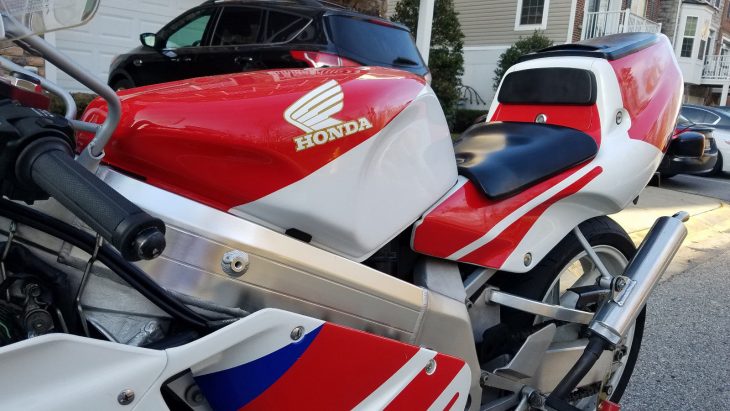 From the original eBay listing: 1991 Honda NSR250R MC21 for Sale
1991 Honda NSR250R MC21 that is a blast to ride with all the intoxicating noises and smells you only get with a 2-stroke. 22,467 kms (13,960 miles). All original except for the front fender, re-painted OEM fuel tank and rear-view mirrors. A great running bike (see YouTube vid) and very well sorted cosmetically considering its age. The bike does has some scratches and touch-up spots here and there as one can expect for being 27 years old and having traveled half-way around the world. The frame is in excellent condition with little to no pitting or corrosion marks. Fuel tank is also in excellent condition with fresh paint and is rust free inside.

All fluids are fresh and fork seals were replace in Jan 2017. Tires are Conti Sport Attack 2s were also replaced in Jan 2017 and have only 1,500 miles on them. Battery is new as of Jan. 2017 and was on a Battery Tender when bike was not in use.

This NSR250R was imported legally and comes with a VIN matching Maryland State title and 3 keys.

Sold as-is and buyer is responsible for shipping or pickup. I will assist as much as I can if shipping is needed and can recommend a couple shippers I have worked with.

Please email with any questions before bidding. While I am certain the buyer will be happy I want to make sure all questions and concerns are dealt with before hand.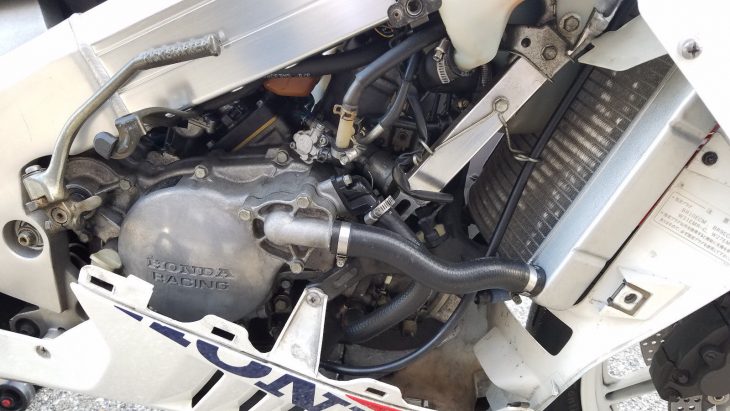 This NSR250R has managed to avoid that particular problem and, aside from some pretty minor wear, looks to be in excellent condition. A couple bits are, as the seller mentioned, repainted, but there's no shame in that on a bike nearly 30 years old. The seller includes a nice video of the bike being started and running, which is always nice. With a clean title, the $7,250 asking price seems pretty fair, but there are no takers as yet and there is very little time left on the auction.
-tad