Team Green had their own take on the retro revolution, and offered a look back to the early 1980's AMA championships.  Despite the resemblance, the ZRX1100 was thoroughly up to date for the mission.  Today's has lower mileage, and looks excellent even in the bright sun.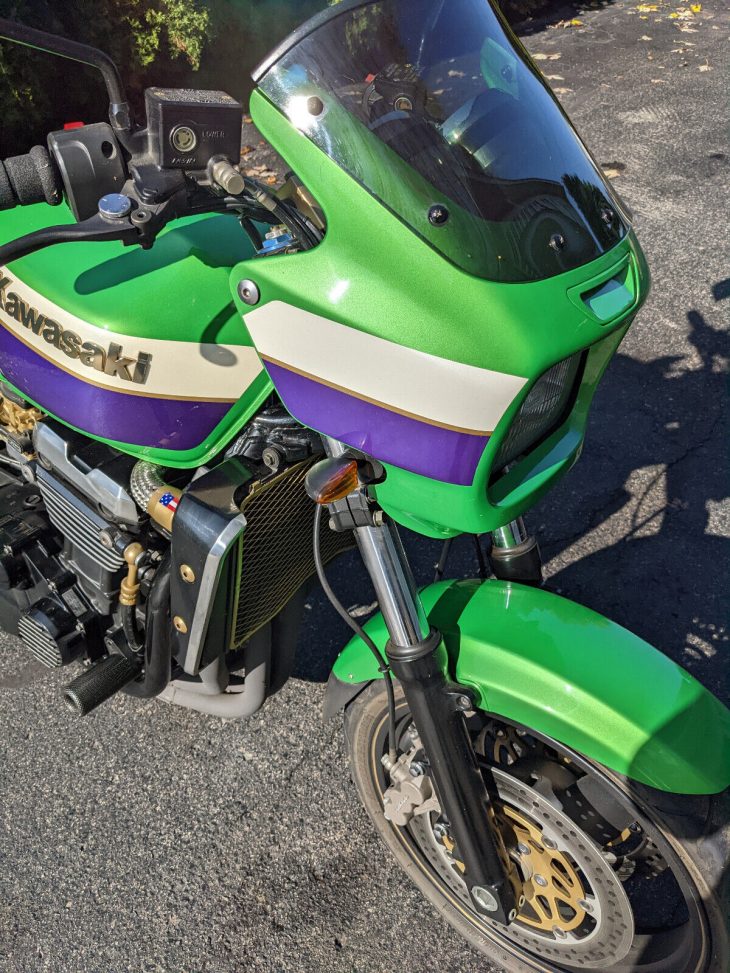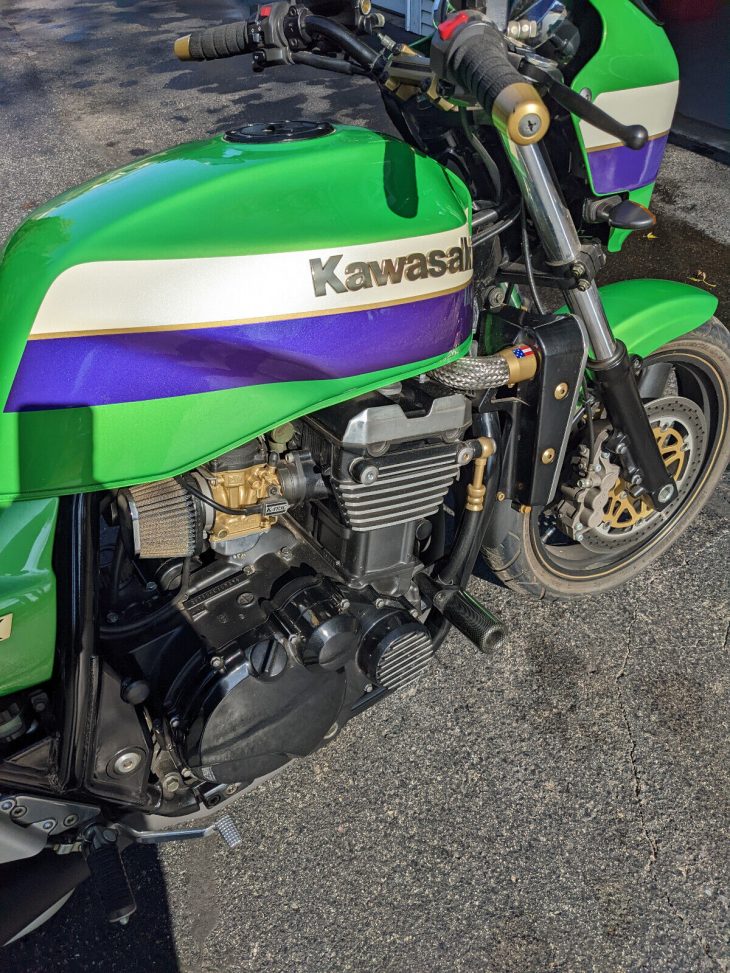 Kawasaki designers wanted to keep as many elements of the ELR as possible, and saved the bikini fairing, finned engine, low seat and dual shocks at least.  The polished cooling fins are largely cosmetic, since the 106 hp mill is water cooled, but the cam profile combines with the 36mm carburetor size to maximize the torque curve.  A budget steel frame and 5-speed transmission are more modern designs, and the tubular fabricated swingarm echoes the chassis.  42mm right-side-up forks and remote reservoir KYB shocks offer full adjustment, and the 6-pot Tokico brakes got raves.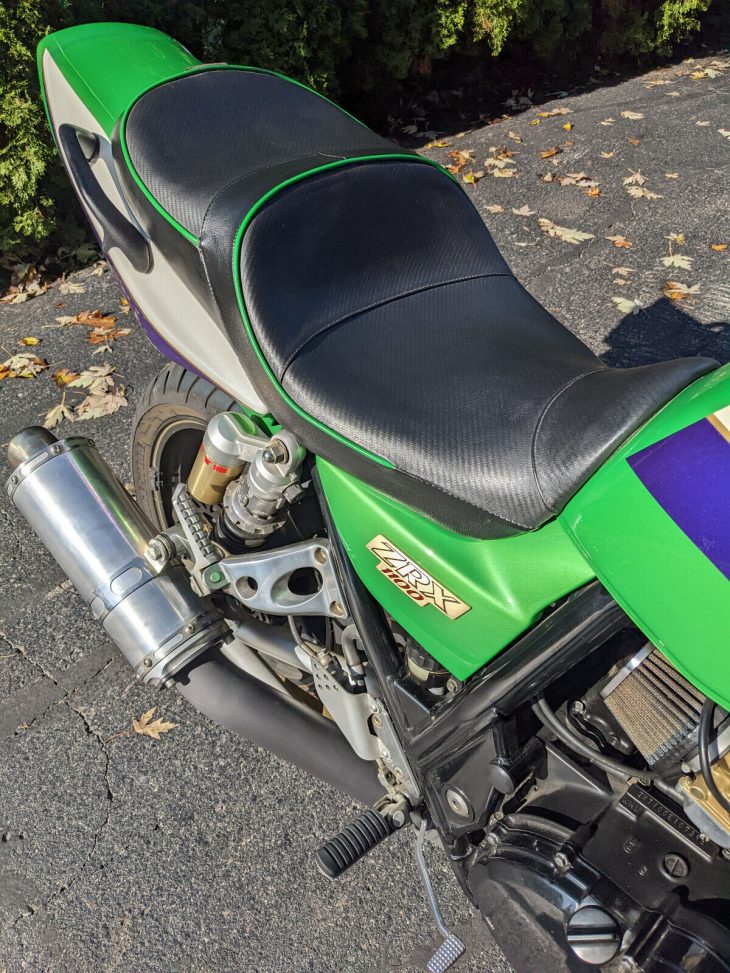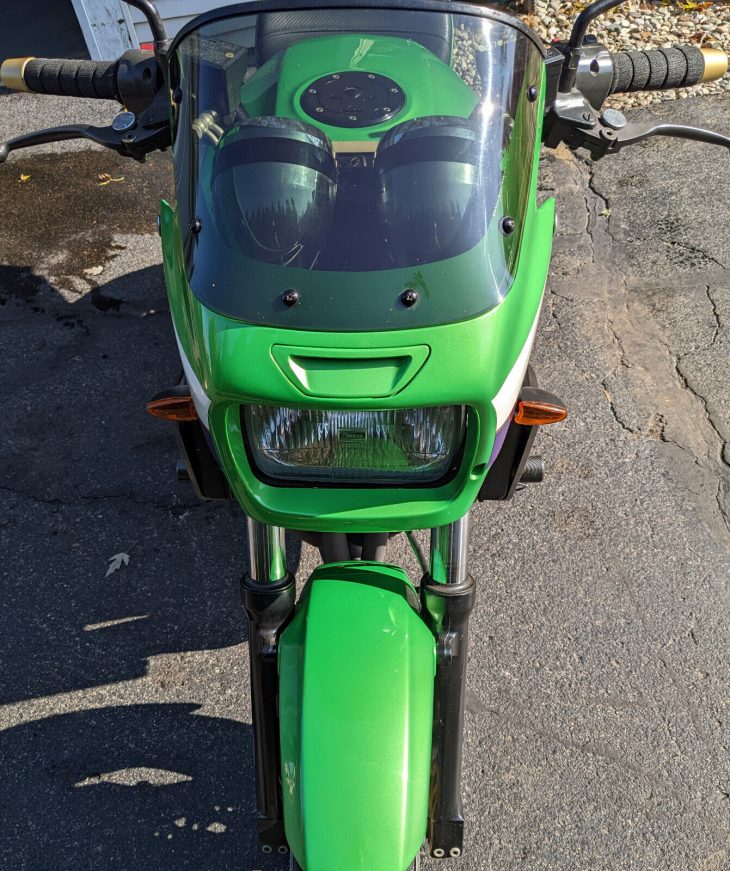 The long term owner has added a few gold highlights to the usual brake carriers and shock reservoirs, and deleted the rear fender and a good portion of the muffler.  Might just be the sun, but the tire dates could be verified before taking a big handful of right wrist.  Otherwise it's very tidy and seems to be ready for a late afternoon blast out of suburbia.  Comments from the eBay auction –
Time to let her go, I have owned it for 10 years, stored in a heated garage and typically only a Sunday driver. Super clean, not a scratch on it and well maintained, low miles for a 23 year old bike (13,000). I'm sure if you are looking at this you know the history of the Eddie Lawson replica and significance of the features on this bike. Looks great in the garage, I always get tons of complements, if you are looking to add a ZRX to your collection this is a good one.
No real surprise that even without considering the commemorative paint, the ZRX looks almost as good and rides rather better than the ELR from fifteen years earlier.  It pays homage in many ways, but acknowledges the march of time in others.  Not sure their race engineer – Rob Muzzy – from the early championship days, would have it any other way.
-donn