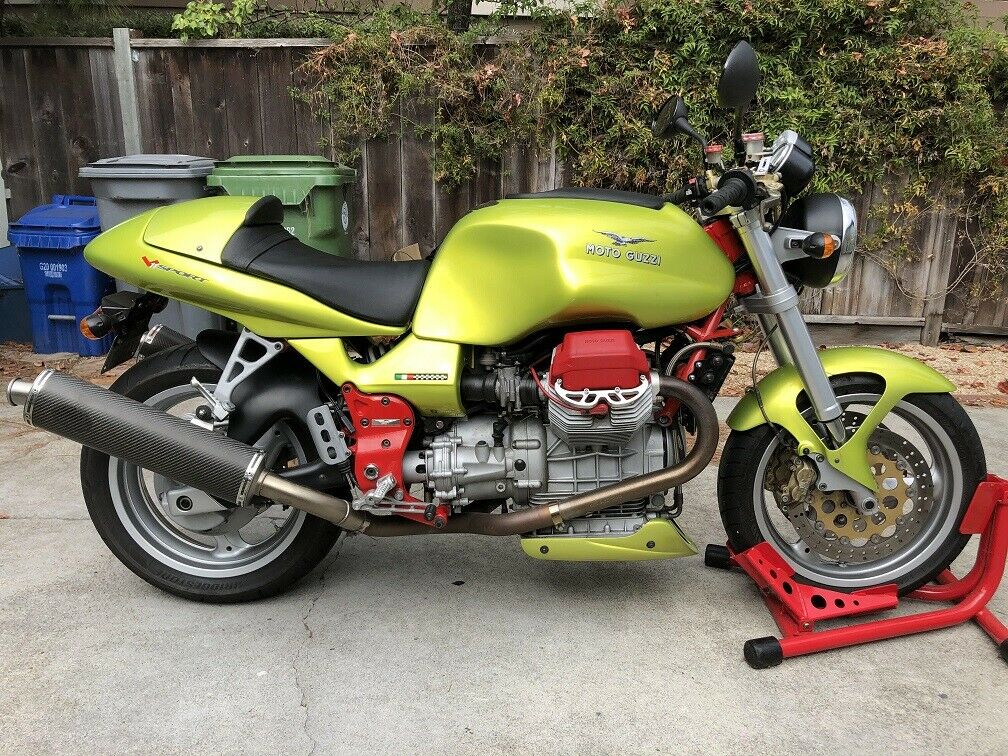 The Moto Guzzi V11 Sport is one of the world's most unique motorcycles – and we're not just talking about the color here. Born from a more simple age, yet tastefully updated to modern specifications, the V11 offers all of the Guzzi DNA you desire yet provides for an experience more inline with current times. Still air cooled with funky across-the-bike v-twin cylinders, lots of crankcase webbing visible, a unique chassis with colored side plates and shaft drive, the V11 is a Guzzi you can live with. If you can live with the color. Do you want proof? This clean example shows 31,000 miles. It is a rider. It is a Moto Guzzi.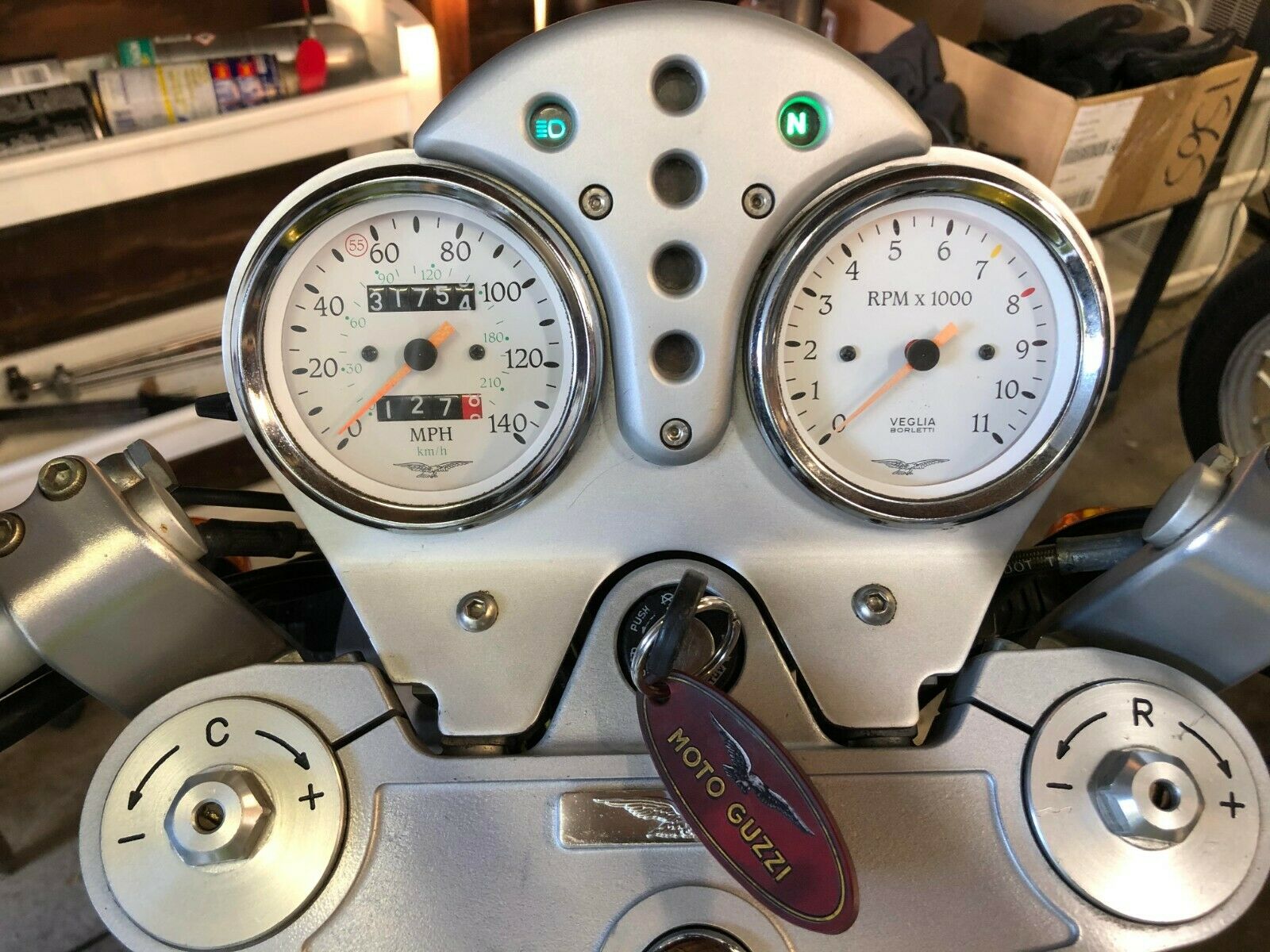 From the seller:
Offering my Moto Guzzi V11 Sport for auction. The V11 marked a new direction for Moto Guzzi, using the engine from the venerable 1100 Sport which was showing its age. Guzzi enlisted Luciano Marabese to design a new bike around the 1100 engine when the company was in a state of flux. Before the Cafe Racer craze came into vogue, Marabese created a great cafe racer bike. Important here is Marabese not only dictated shape but also color: while the bike was offered in different shades, this lime green with the red accents was the color Marabese dictated as the proper color for the design. It's the color that caught my eye when I first saw the bike in 2000.

Now 18 years later, I had an opportunity to purchase and ride one, but for me my time has passed for a bike like this. It's a serious sport bike posture, and I'm too old to enjoy it for very long. As much as I love seeing the Mean Greenie in my garage, it's not a great bike for me.
More from the seller:
Some bikes are their own thing, and this is one. If I were to try to describe riding it, I'd have to say it's a Hot Rod. Meaning it's not about handling, or braking, or precision. Hot Rodding is about the engine, pure and simple. Guzzi is sometimes considered the Italian Harley, and there are some parallels, but I'd say Harley pales in this comparison. This is a very distinctive bike, a badass, and it's all about the engine. Something about the new chassis brings out something altogether different from the bike the original engine comes from.

My V11 comes with a complete Mistral exhaust, and an ECU flash to accommodate. Other mods are a tail tidy, (the license plate is still out at the end of the tail, not too far under the sub-frame), a Hyperpro steering damper and valve and spark plug covers done in matching red to the frame and 'pork chops'. All OEM parts come with the bike but buyer must pay for its packaging and shipping. Recent maintenance includes a full valve service only a few hundred miles ago.

Good luck, you won't be sorry if you win this bike. It is all that.
The very best part of this particular V11 is the price: the current bid is just over $1,500 at time of writing, and there does not appear to be a reserve set. That is a lot of Italian quality for not a lot of dosh – although we will have to watch this one to see where it goes. The bike looks more reasonably clean than the mileage would suggest, and some desirable modifications. Not too hot-rodded, not too far from stock, and still in presentable condition, this Guzzi has just been broken in. It is not perfect, but that also makes it authentic. If you are a Guzzi fan, you know that these power trains are bullet proof and good for many revolutions of the odometer. Outright performance will not be on par with a Japanese multi, but if you are in the market for a hyper-cycle then M.G. is not likely on your shopping list. Check it out here, drool over the pictures and watch the video. Green is the new black, and has never looked better. If you have the hankering for that V-twin throb but don't want a potato, you could do far worse than a V11 Sport. Good Luck!!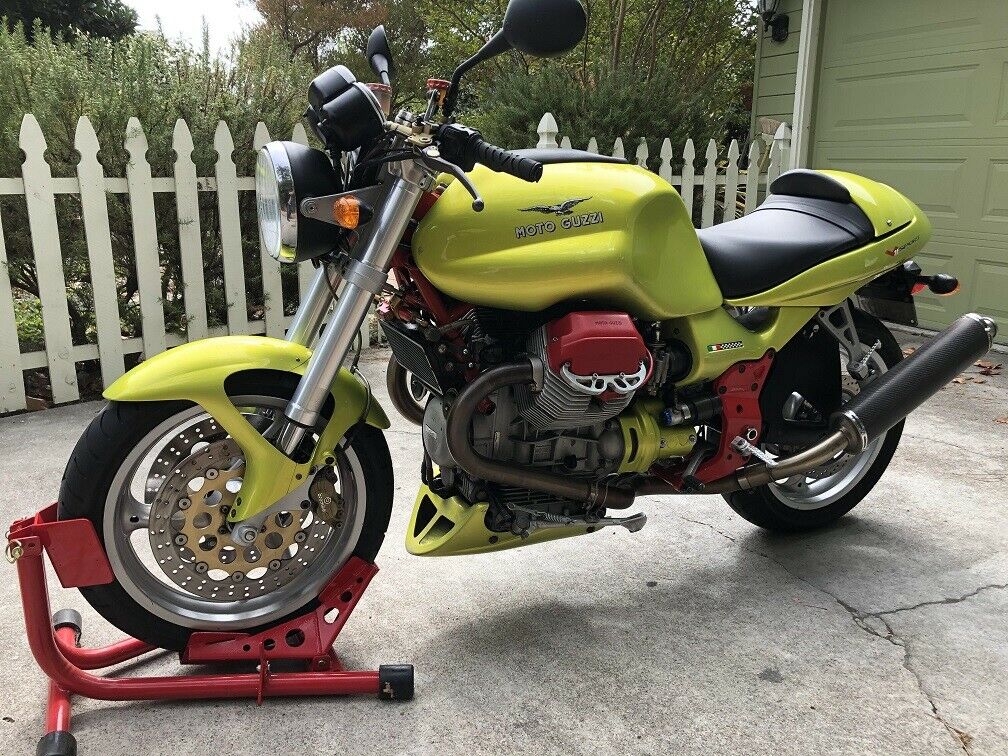 MI