Update: This bike is mislabeled in the ad as an MC28, but is actually an MC21. Thanks for the heads up in the comments Mick!
I know the blog has been going 2-stroke mad, but with so many exmaples coming out for sale can you blame us?! Check out the latest in this 1994 Honda NSR250R For Sale in Seattle for $5500: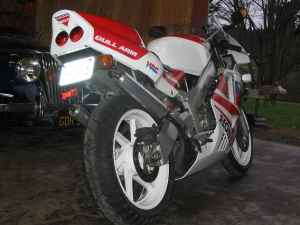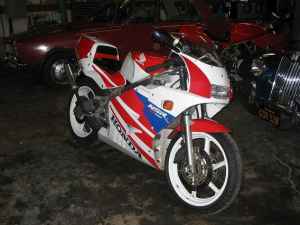 quote from seller's listing:
Rare Honda NSR 250r sport bike, Watercooled, twin cylinder, two cycle, Aluminum frame , very light and powerful. the best handling bike I've ever ridden, nice original unmodified condition, Fresh motor, runs great, Grey market bike, washington title , road legal
According to this NSR250 historical site, the MC28 has the following updates:
On November 11, 1993 the all new MC28 model NSR went on sale in Japan as a 1994 model. It was completely different than previous models and changed peoples thinking about two stroke technology. The new Proarm NSR's as they became known in Japan were the ultimate 250 bike for the street. They had PGM IV technology which allowed more accurate1994 NSR 250 R – 57K for more control of the carbs, smooth operation and perfect driving manners unlike past two stroke bikes. The all new Memory card replaced the standard key and made de-restricting the bikes very difficult. The 1994 lineup saw three types of NSR's for sale once again. There was the standard 250R type model in fighting red and Ross white. They were sold with a regular wet type clutch and non adjustable suspension. They were priced at 680,000 Yen.
A very significant bike, with a title, and in the PNW! I may have to consider selling my 93 Ducati 750SS if these super rare and available bikes keep popping up!
dc