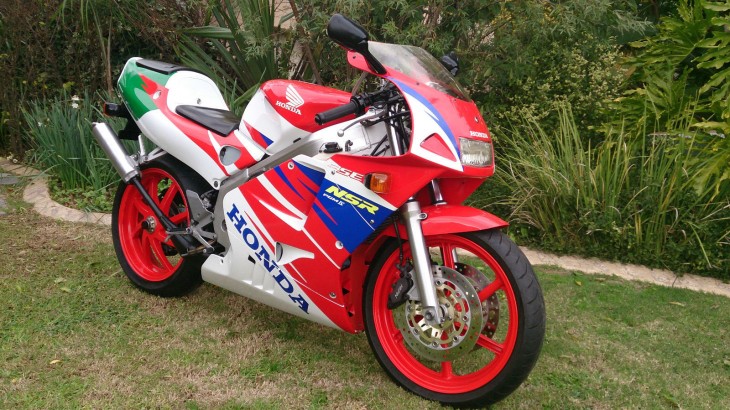 The NSR250R was the road-legal version of Honda's NSR250 race bike, and includes the requisite lighting, mirrors, and speedometer/warning lights generally required for use on the street. Detuned for road use, the 250 two-stroke v-twin produced about 45hp, but could easily be de-restricted for significantly improved power. With as much as 60hp pushing a sub 300lb, typically featherweight stroker sportbike, these are not learner bikes and pack razor's-edge handling and power delivery no one weaned on sporty, small-displacement four-strokes is likely ready to handle, and include some very high-end features like that sexy single-sided swingarm and an aluminum beam frame.
With a crackling, popping exhaust that sounds evil and crude at idle and just plain evil at full-chat, two-stroke sportbikes like this require commitment to access their relatively narrow band of performance, especially on the road, and their addictive high-strung manners make them favorites of budding racers and wannabe track heroes the world over, and their motorsports legacy makes them the favorite of race fans and collectors.
Often, these show up on RSBFS in race-replica livery like the classic "Rothman's" blue, white, red, and gold or the more familiar "Repsol" colors. This particular example is decked out in very period jagged and garish Honda paint that may make some feel nostalgic and others vaguely nauseous…
From the very sparse original eBay listing: 1996 Honda NSR 250SE MC28 for Sale in South Africa
Standard original condition. Collectors item.
Shipping can either be arranged by seller or buyer depending on the buyers preference. 
With three days left on the listing and no takers as yet at the $8,500 Buy-It-Now price, it might behoove the seller to include more information and some additional pictures if he/she decides to relist it. While this looks to be complete, it's hard to tell from the description if it's a runner or not. Depending on how this shakes out in terms of price, this might be a great, useable example of the breed
As it's coming in from Cape Town, South Africa, make sure you check with local laws before bidding if you plan to register it for road use. Otherwise, put that road-equipment in a box in your garage and hit the track!
-tad