Orlando, FL – 3,600mi – $8,995,000 BIN
It's not everyday that you come across something as truly special as this bike right here. To find the actual bike that Valentino Rossi rode to his 13th consecutive MotoGP World Championship up for sale, let alone in the U.S., is something to behold. Valentino Rossi, most commonly referred to as "The Doctor" (a neurosurgeon in his down time), rode this machine to dominance, winning every race in 2009. This prompted former racer, Casey Stoner to denounce his Ducati as the 'worst bike ever', eventually switching to Honda, then quitting because he could never be as good as Rossi.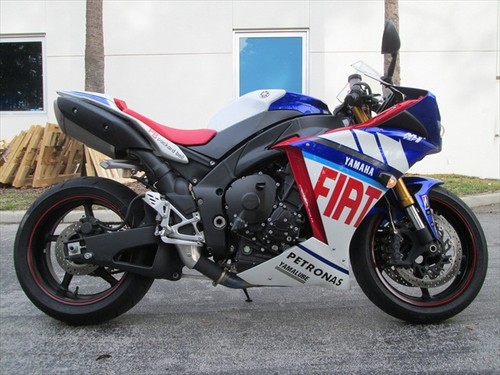 MotoGP bikes put our roughly 300hp. The YZR-M1 was rumored to crank out even more with 400hp derived from is 1000cc two-stroke turbocharged V-twin engine. It was also rumored that Rossi used a secret nitrous oxide system that helped propel this bike close to 275mph! Watch out! In order to make this bike street legal, the seller has fitted it with lights and turn signals.
The bike currently has 3,600 miles, which is of course the exact amount distance to run each race on the MotoGP calendar, further proving that this bike is the real deal. I still don't know how this bike ended up for sale in Orlando, Florida, but I don't care as it is a part of history. Now is your chance to own the fastest bike ever produced that was ridden by the greatest racer in history! Check it out!
-JS