Boy, you guys must be a real pain in the ass. This poor seller is advertising another bike to sell and people spot a fender of interest in the background. So after emails, knocks on the door and a few of you hiding in the garage, here it is. I might have embellished that story a little bit but you get the idea.
The purists will spot that it isn't original. It has had a restoration and I'll let the seller tell the story:
HELLO.WELL HERE IT IS MY 1986 GSXR750 LIMITED.I AM SELLING A FEW OF MY BIKES.I WASNT REALLY SELLING THIS ONE BUT SOME PEOPLE WITH GOOD EYES HAVE SEEN IT IN THE BACKGROUND IN PICTURES OF MY OTHER BIKES AND WANTED TO KNOW IF I WANTED TO SELL IT.THIS IS A RESTORED BIKE BY ME AND SOMETHINGS ON IT ARE NOT EXACTLY BACK TO OEM AND IM SURE SOME PEOPLE WILL ASK WHY I DID THIS OR WHY I DID THAT.I DID IT BECAUSE I PERSONALY THINK IT EITHER LOOKS BETTER OR HANDLES BETTER OR STOPS BETTER.THATS WHY SOME THINGS ARE NOT ORIGINAL.THAT BEING SAID THIS IS A VERY CLEAN EXAMPLE OF A 1986 LTD.I BOUGHT THIS BIKE A FEW YEARS AGO FROM THE OWNER WHO HAD IT FOR 19 YEARS AND HE BOUGHT IT FROM THE ORIGINAL OWNER WHO OWNED A MOTORCYCLE SHOP AND IT WAS NOT RIDEN ONLY DISPLAYED.I HAD THE BIKE SHIPPED TO MY HOME IN LAS VEGAS AND I WAS AT WORK AND MY WIFE CALLED ME AND SAID THE BIKE WAS HERE BUT THOUGHT THAT THEY SENT THE WRONG BIKE.IT WAS NO WHERE NEAR THE BIKE I BOUGHT FROM THE PICTURES.THE PICS I RECIEVED MUST HAVE BEEN FROM WHEN HE FIRST BOUGHT IT AS THE BIKE WAS IN VERY SAD SHAPE.I DIDNT WANT TO BUY A BIKE TO RESTORE BUT THIS BIKE WAS TO BAD TO JUST LEAVE IT LIKE IT WAS.I STRIPED THIS BIKE DOWN TO THE FRAME AND BUILT IT UP TO THE BIKE YOU SEE IN THE PICS.THE BIKE WAS PROFESSIONALY REPAINTED BACK TO ORIGINAL COLORS BUT EVERY DECAL ON THE BIKE IS NOW PAINT.THE PAINT IS STUNNING.THE WHEELS ARE POWDER COATED THE BRIGHTER BLUE NOT THE DARK BLUE LIKE THE ORIGINAL BECAUSE I LIKE THE BRIGHTER WHEELS(THE PURIST WILL FROWN ON THAT)THE REAR SHOCK WAS REPLACED BECAUSE THE WHITE POWER THAT CAME WITH IT WAS SO CORODED AND RUSTED AND LEAKING THAT IT WAS PRETTY MUCH SHOT.THE BRAKE LINES WHERE DRY ROTTED AND WHERE REPLACED WITH STEEL BRAIDED LINES.THE AIR FILTERS THAT WHERE ON THE BIKE WHERE K&N AND IN VERY SAD SHAPE TO NOT USUABLE SHAPE SO WHERE REPLACED UNTIL I FOUND A GOOD ENOUGH AIRBOX TO PUT ON(HAVE YET TO FINE A CLEAN ONE)THE EXHAUST WAS ALREADY ON THE BIKE WHEN I GOT IT AND IT IS THE YOSHIMURA DUPLEX SYSTEM WITH THE BOOST CANS ON THE DOWN PIPES.VERY NICE EXHAUST AND IF YOU WERE WANTING A TOP OF THE LINE AFTERMARKET EXHAUST BACK IN 86 THIS WAS ABOUT AS GOOD AS IT GOT.THE MILES ARE VERY LOW AND WHEN I BOUGHT THE BIKE IT READ 735 MILES.I HAVE NO REASON TO BELIEVE THAT THIS IS NOT THE AUCTUAL MILES.THE OWNER WAS IN SCHOOL TO BE A PILOT WHEN HE BOUGHT THE BIKE AND IT WAS RARELY RIDING AND WAS SITTING FOR LONG PERIODS OF TIME AND WAS BASICALLY GIVEN UP ON.I WOULD SAY THIS BIKE SAT FOR 18.5 YEARS OF THE 19 HE OWNED IT.WHEN YOU HAVE INSECTS MAKING THERE HOME ON THE INSIDE OF THE FAIRING CORNERS OF THE BIKE IT HAS BEEN SITTING FOR ALONG TIME.THE TIRES HAVE 600 MILES ON THEM AS THEY WERE REPLACED BY ME.THEY ARE BRIDGESTONE BT016R RADIALS.THE TIRES THAT CAME WITH IT WERE MICHELIN HI SPORTS AND IF YOU CAN REMEMBER THAT FAR BACK THEY HAVENT MADE THAT TIRE IN PROBABLY 15-20 YEARS.THE CHAIN WAS REPLACED BY ME AS THERE WERE NO MORE O-RINGS LEFT ON IT.THEY WERE JUST GONE.THE BIKE WAS PURCHASED IN ALABAMA AND IT IS HIGH HUMIDITY AND HIGH RUST.JUST IMAGINE LEAVING A BIKE IN A GARAGE OR SHED FOR 18 YEARS AND YOU GET THE IDEA OF HOW BAD IT WAS WHEN I RECIEVED IT.I HAVE GONE THROUGH EVERY BOLT AND BRACKET AND SPACER AND EITHER THEY WERE REPLACED OR POLISHED.I HAVE OVER 300 DOLLARS JUST IN OEM ORIGINAL NUTS BOLTS AND 1/4 TURN FASTNERS.I THINK THAT THE PICTURES TELL YOU HOW CLEAN IT IS.IM SURE THERE ARE MORE ORIGINAL LTD'S OUT THERE BUT YOU WOULD BE HARD PRESSED TO FIND ONE AS CLEAN AS THIS.EVEN UNDER THE REAR FENDER I CAN EAT OFF IT.ITS THAT CLEAN.IT IS STORED IN THE HOUSE AND STARTED ONCE A MONTH.THE PRICES OF THE LIMITED'S ARE RANGING FROM 10K TO A SUPER CLEAN ALL ORIGINAL THAT WENT FOR 22K A FEW MONTHS BACK.I PERSONALY THINK THAT MY BIKE WOULD NOT BE LOOKED DOWN ON EVEN NEXT TO AN ALL ORIGINAL LTD.IM 43 YEARS OLD AND ME AND THE WIFE HAVE PURCHASED A NEW HOME AND IM HAVING A SHOP BUILT SO THE WIFE CAN PARK HER CAR BACK IN THE GARAGE. THATS WHY IM SELLING A FEW OF MY BIKES.IF YOU HAVE ANY QUESTIONS PLEASE FEEL FREE TO CALL OR WANT ANYMORE PICS I CAN TAKE THEM.THERE IS NO WARRANTY WITH THIS BIKE AND ALL SALES ARE FINAL.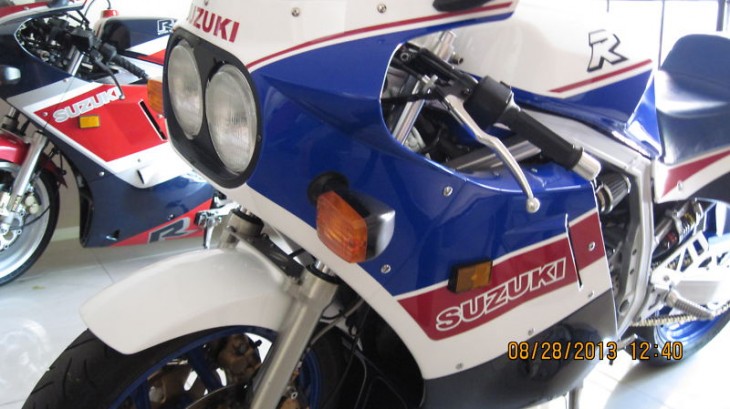 I guess the seller didn't learn his lesson about including bikes in the background of his photos.
It has been a nice summer for buyers interested in GSX-R750 LTD's.  You have had your pick of museum piece examples to nicely modernized bikes.  The good news is that there is no reserve so get serious with those bids.
Ian