Some lucky rider bought-it-now last night but still worth a look !  – Donn
Would that it were so all venerable GT's could be shared among a group of like-minded owners as this 1983 LeMans.  With 50K-ish miles, it still looks sharp and raring to go.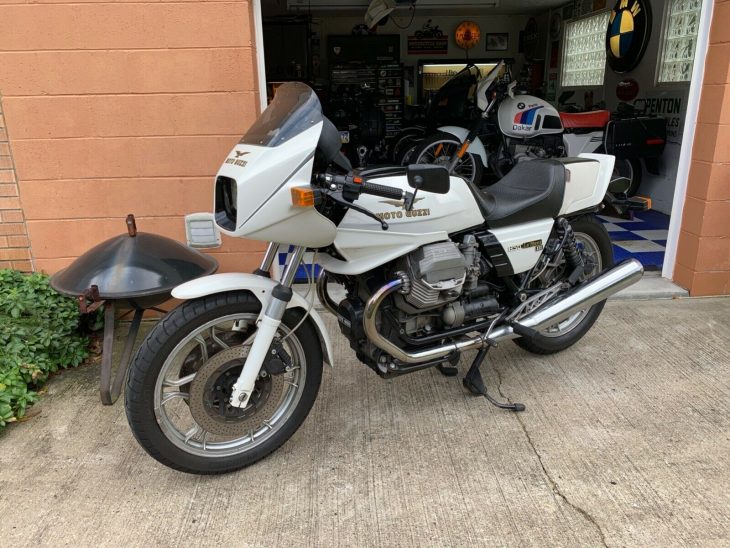 LeMans fans were left asking in early 80's while Moto Guzzi re-designed their 844cc engine to meet emission regulations, and though the CX100 liter was available, the LeMans III's return was eagerly awaited.  The angularized heads had bigger valves and more efficient cooling, and 36mm Dell'Orto carbs whispered through an intake silencer.  76 hp were on tap, with a single-disk dry clutch and of course shaft drive.  Suspension preload was air-adjustable though damping didn't change, and the linked braking system worked better than most of its type.  Guzzi designed the modern fairing in their factory wind tunnel, and reviewers loved the way it cut through a cross-wind.  A large white tach dominates the binnacle, which relies on warning lights for everything else except MPH and Volts.
This example has been among friends, knowledgeable fans who took excellent care.  The paint and pipes look excellent, and I'd expect updated shocks as well.  From the eBay auction:
This is the last series for the 850 cc motor.  This particular bike has been sold and bought among a group of Pittsburgh area Moto Guzzi enthusiasts who are all aquainted with each other since it was new.  The odometer shows 12,000 miles but it actually has about 50 K on it, the odometer was replaced a number of years ago.  I have the original bill of lading from Italy from 1983.  I've owned the bike since 2005.  I had this serviced at Westmoreland Moto Guzzi before it went out of business a few years ago.  The dealership installed a new clutch assembly and I had them go over it back in 2007. The bike has a lighter flywheel than stock, clip-ons, newer tires and a new battery.  The Corbin saddle was added a number of years ago before I purchased it.  I installed lighter throttle springs, but I have the originals also if you really feel the need to exercise while you ride.  It was painted by a pro in 2009.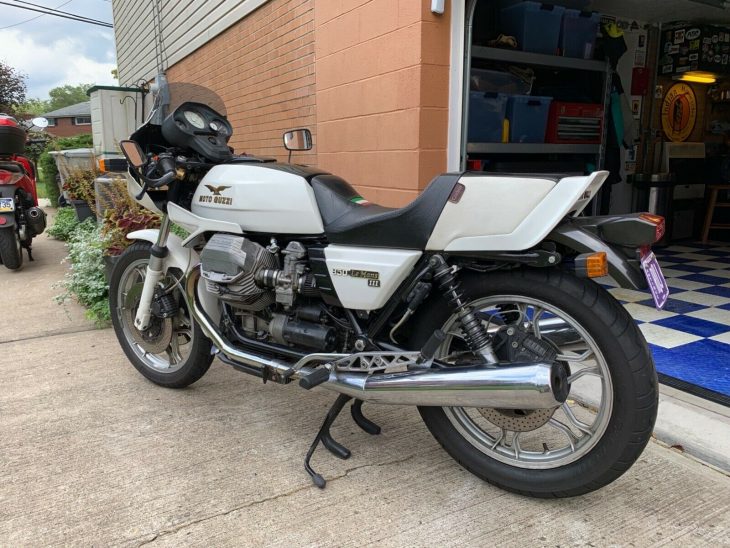 While Moto Guzzi re-grouped, several new players nailed down the mass-market, and the company segued into a niche sort of fan base.  Having relinquished the sporty ideals, the LeMans still provides a classic GT sound and enough fury.  Lucky for this particular bike to have fallen into the hands of these owners, and fortunate for the next rider as well.
-donn