Update 10.2.2013: Current bid is over $71k reserve met! With 7 hours to go, where do you think this one will finish? Leave a comment below! -dc
I didn't think it could get much better than the Yoshimura/Honda CB750 from two weeks ago. Once again I'm proven wrong.  Before you is the Holy Grail to Kawasaki collectors, a KZ1000S1.  Basically the homologation special of the day with the 30 or so made not being made available to the general public.
Straight to the engine porn! Here is the story:
If you're one of the Chosen Few, you can now obtain the unobtainable; from the May 1982 Cycle magazine S1 review article. 29 of these motorcycles were imported for AMA superbike racing in 1982, dealer cost was $10,999.00. No retail price was listed. Several ended up being shipped out of the country. It is also my understanding that some were disassembled by Kawasaki to sell as parts. How many I do not know. So here is your chance to own a very rare motorcycle that is in excellent condition and that has a history, even if it is short. This particular bike was purchased by Grayboy Kawasaki in Peoria Heights, IL. The owner of the dealership at that time had a team running the Grand National circuit in dirt track. This bike was purchased by the owner to go roadracing with national expert rider (33) Dave Hebb of Canton,IL. His roadracing number was 93. This bike has one sprint race and two practices from one weekend of racing at Indianapolis Raceway Park in Clermont, IN. I'm not sure what happened after that, because the bike was put in storage at the dealerships warehouse until I purchased it in October of 1985. The bike was nevered titled until I purchased it from the dealership. So by the title, I'm the original owner. I have had the bike in a climate controlled storage (my house) since 1985. The cylinders were oiled and the engine was rotated over ever so often when in storage. It still has the original Dunlop Racing KR133 slicks mounted on the Dymag magnesium wheels. Also included is the factory spares kit. I also purchased some extra parts back in the mid eighties that are included. When I purchased the bike, my intentions were to license it and ride it on the street. But instead, I kept riding my 1984 900 Ninja because it was such a great bike. So I never got around to making the S1 street legal using Eddie Lawson replica parts. Spares kit includes left and right front brake rotors, rear brake rotor, three sets of front brake pads, two sets of rear brake pads, front axle, two pistons and rings, gearing, chain, staking master links , special tools, two sets of different rate fork springs, sprocket cush drive, assorted jetting, shorter velocity stacks, throttle cables, clutch cable, o'rings, oil seals, fork seals, etc. and two parts catalogs. I tried to show the condition of the vehicle with the photos. I changed oil and filter, put in 3 gallons of fresh Phillips 66 (111 octane) race fuel and started the bike before listing it here. The engine sounds as good as the day I purchased it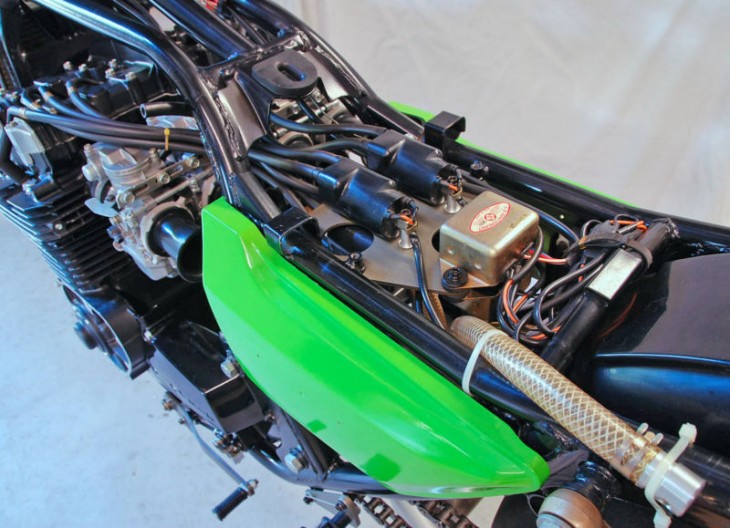 KZ1000R.com claims the only documented sale of a KZ1000S1 was back in 1997 for $40,000.
It has the look of just put a number plate on and race but it is far from stock: braced swing arm, extra frame bracing, Mikuni flatsides, Lockheed brakes, magnesium wheels etc, etc.  I saw someone on a message board mention they used an ignition or CDI off a KX80; interesting.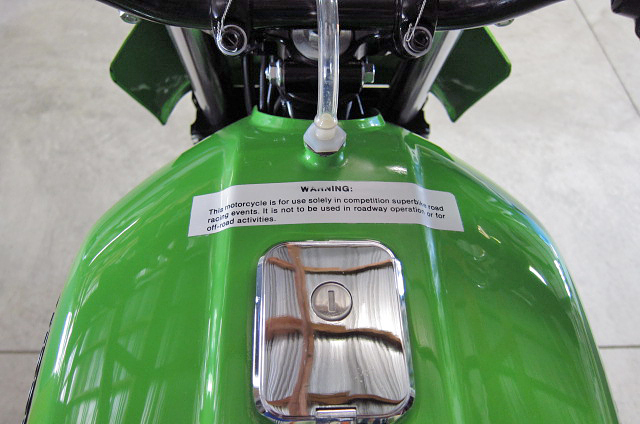 Does anyone really pay attention to these stickers?  I doubt this one will ever see any pavement or tarmac again.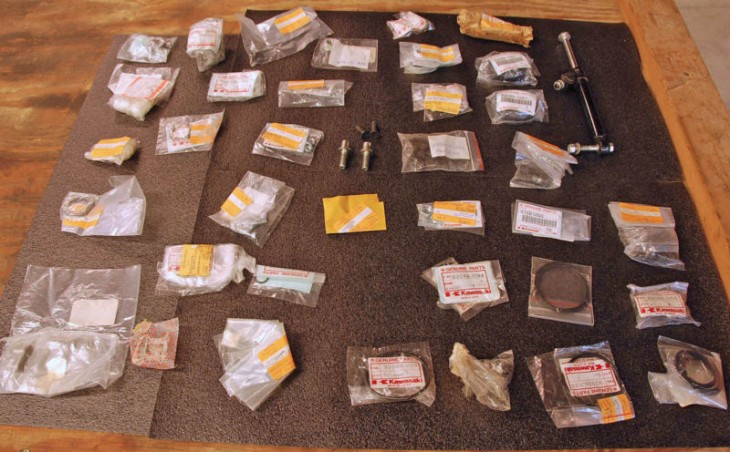 I would imagine some of those items are as rare as the bike.
Well,  the Yosh/Honda CB went for $30,100. Apparently the last known KZ1000S1 went for $40,000 back in 1997. What is the take it price home for this one?
Check the back account before placing a bid here.
Ian