Update 8.24.2018: The Goose has been SOLD! Congratulations to buyer and seller! -dc
Rather than the bloated KZ1000P CHiPs workhorse, Mad Max's not-so-distant future police bike was more of a café racer with lights.  And a siren.  This owner gave a down-on-its-luck Z1000 LTD a makeover right up Goose's alley.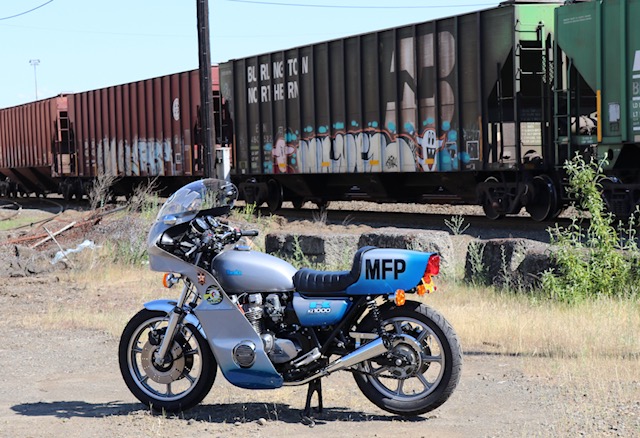 1980 Kawasaki KZ1000 "Goose" Tribute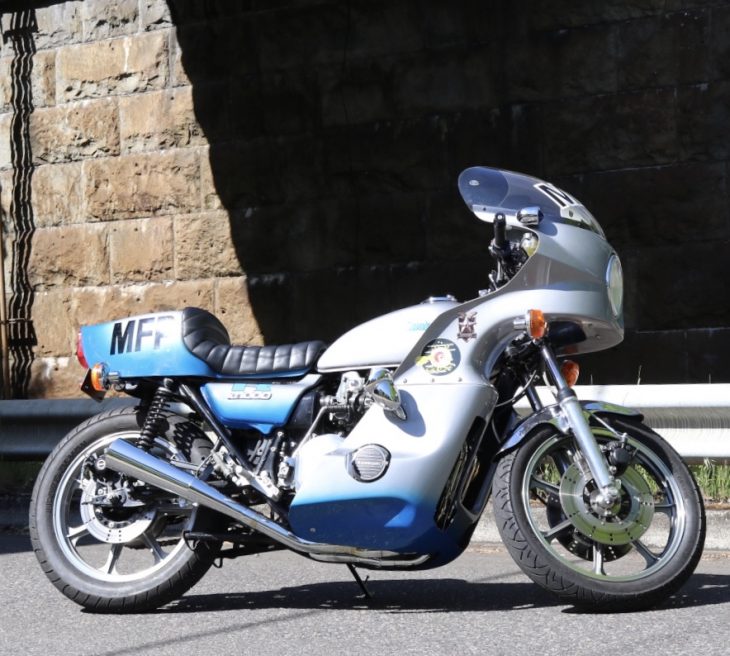 The LTD turns out to be a nice choice for the Main Force Patrol build, with its slightly smaller and more responsive Mikuni carburetors with accelerator pump.  The 1015 cc's on the stock machine made 86 hp and 61 ft.-lbs. torque, though the PMC exhaust fitted here may release a few extra ponies.  Most of the LTD's other attributes are cosmetic, except for the 16-inch rear wheel which has been corrected to an 18.  Elsewhere it's standard Z1000 – endless torque, three big stainless disk brakes, and just a hint of secondary vibration.
Owner / builder Dave kept an eye on usability during the work, though it is the spitting image of the movie machine.  Airtech's decision to manufacture the bodywork was a key motivator.  The chassis and drivetrain were gone over, and only altered in terms of the imported PMC exhaust.  Execution is sanitary and graphics are spot on.  Bespoke rearsets led to rear brake updates and handlebar controls were modernized.  Dave says  this about the work:
Many components have been upgraded in the process and in and effort to make the bike as close to the film version as possible.

First off the 16" LTD rear wheel was tossed in favor of the correct 18" variety. This was sourced from a 1984 GPz 750 and completely refurbished with new bearings, spacers, paint, polish and clear coat.

The existing rear brakes were worn out and not worth saving, so the rear caliper is now a 1985 KZ1000P,  connected to a rear master cylinder from a 1996 ZX600, as required by the custom, billet rear sets from PDM Fabrication.  

The exhaust is a very rare, PMC 4-2 crossover system from Japan, that is a flawless recreation of the system that was on the movie bike. It also sounds brilliant. The carbs have been completely gone through, cleaned thoroughly and jetted properly for the exhaust and airbox combo.

Front wheel is the correct 19" factory mag, completely refurbished as well and sporting new bearings and spacers.

As stated, all the body work came from Airtech and was painted locally by Anthony at Bridge City Cycles

The matching Airtech seat pan was covered by Shelby Schafer and is a perfect fit over the tail section.

All the handle bar controls are 1996 ZX600 parts.  This isn't screen accurate, but the quality is so far ahead of the vintage stuff, it's worth it to have a slight inaccuracy. Also with a nod towards modern technology, the front master cylinder is from a 06 Yamaha R6 and the clutch perch is from the same ZX600.
The "Max" movies launched a fan cult that continues almost forty years on, and there are kits of MFP bodywork to fit 1/12 scale models of the Z1000, as well as Jim "Goose" action figures.  But this one you can actually ride.  Restoration and upgrades have resulted in a much safer and better-running Z1000.  It's sure to be the hit of any show, though younger riders might have to google MFP.  Dave asks $12,000 for the Goose tribute.
-donn