During the 1980s and early 1990s, the vibrant quarter-liter two-stroke class saw the NSR, RGV, and TZR go at it with knife-fight-in-a-phone-booth intensity. Notably missing from much of the action was Kawasaki. It didn't help that Kawasaki didn't start building a two-stroke sportbike until 1988 and abandoned the class in 1992, before the other Japanese manufacturers and, as a result, the Kawasaki KR-1S is a bit of a holy grail for two-stroke fans in the USA. They're really nearly impossible to find in any market, as Kawasaki produced less than 10,000 examples in total, and they were obviously never sold here in the US.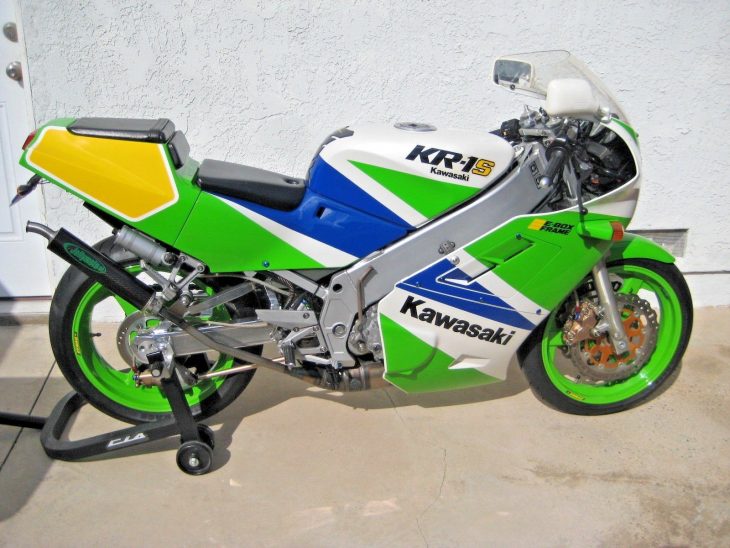 If all you've done is glance at the spec sheets of the class competitors, you could be forgiven for thinking the bikes in this class were pretty much the same, with two-cylinder, liquid-cooled two-strokes, aluminum beam frames, six-speed gearboxes, and a suspiciously identical 45hp output. In fact, sometimes only a catchy acronym for the power valve gives the manufacturer away, although KIPS, ATAC, SAPC, and YPVS all performed basically the same basic function. But period road tests and two-stroke enthusiasts claim that each has a distinct character that seems line with corporate sterotypes: Honda's NSR was sophisticated and refined, while Suzuki's RGV was a bit of an unruly wild-child, fast and a bit fragile. But although Kawasaki joined the party late and left early, they left an indelible impression and their KR-1S was claimed to be the fastest, the easiest to tune, and have the hairiest handling of the bunch.
The KR-1S was powered by a liquid-cooled 249cc parallel-twin with a 180° crankshaft that also drove a balance shaft to improve smoothness, and put power to the back wheel through a six-speed gearbox. The "S" model seen here featured wider wheels at the front and rear, and tested top speed of 139mph. An "R" model was also available, but is nearly impossible to find, with fewer than 200 built. Interestingly enough, last month's Practical Sportbikes features an article that discusses the rebuild of a KR-1R in detail.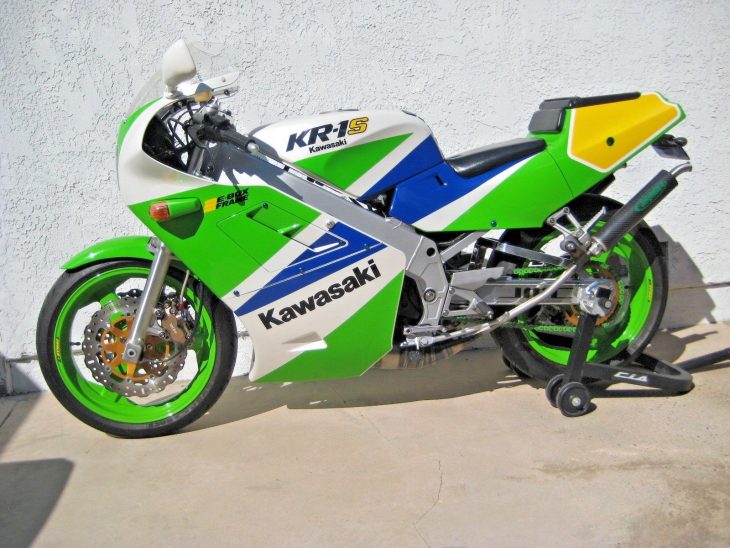 Like yesterday's ZX-7R, this KR-1S is slathered in green, white, and blue graphics that suit the bike's brash personality. Happily, the seller also includes images of the bike with the fairing removed, as it shows off the very slick aftermarket expansion chambers and another odd detail: the engine sits almost entirely below the frame! That of course keeps the bike relatively narrow, but seems strange that most of the engine is suspended beneath the frame, rather than nestled between the frame spars.
From the original eBay listing: 1990 Kawasaki KR-1S for Sale
1990 Kawasaki KR1S C2. I am relisting and selling another bike out of my prize collection. Journalist called the KR1-S the most exotic and fastest of all the 250 2 stokes of that era. This KR1S is a UK model. Which means UK CDI power box, mile per hour speedo. Non-restrictive. Always been in street bike form. Not a converted back race bike. This is truly a rare bike. Unlike NSR's, TZR's and RGV's and even Aprilia RS's that come up for sale now and then, you very rarely see one of these for sale. I have owned this bike for over 10 years. I have spent many of thousands of dollars on upgrades. I mean many! I installed a pricy set of Dyna mags magnesium rims. The old KR1S aluminum rims came with a 17" front and an 18" rear. These are 17" front and back. Light weight magnesium and make sporty tires more available. I have put on a set of Michelin pilot sport tires. Green D.I.D.  O-Ring chain with gold aluminum sprocket. Beautiful high end custom steering damper. Then I had made a JMC fully braced swingarm with eccentric adjustment. Beautifully polished. I was told at the time that this was the only top braced swingarm that JMC has ever made for the KR1S. I installed a huge custom made "Pace" radiator made for the KR1S. This radiator is huge, and solves the problem of any overheating. If anything I have to tape of part of the radiator when its cool out. But a nice position to be in. Silicone radiator hose are used. Then I purchased a nice new set of Jolly Moto pipes with Carbon silencers. Bikes sound great and pulls better. I had the rear shock rebuilt and the shock spring powder coated green to match the bike. Front forks have been recently rebuilt with all new bushings, oil and seals. Rebuilt both the front and rear calibers with new stainless pistons, bolts, and seals. I had them powder coated too. Custom made steel braided brakes lines with aluminum fittings. They look like new. I also installed new light weight disks front and back.  Have a fortune in light weight titanium, stainless, and aluminum bolts throughout.  All the lights and switches work. The bike has 16,600 miles on it. So a far as I know the motor has never been touched.  I had plans to rebuild the motor and including all the parts to do it.  I have everything needed to build it included. But now I have gotten old and don't have time for this project. I have tuned it up, changed all the fluids. Adjusted the power valves, etc. Bike does still run strong but mileage is getting up there for 28 year 2 stroke. The original bodywork on the bike is not too bad for its age but not perfect either. I had a few tabs and small cracks repaired. The tank has a couple tiny little chips, but is in remarkably in good shape for its age. No dents. The tank is clean inside without rust. The body panels have a few scratches and touched up spots.  Still not all that bad for its age either. Please refer to the pictures for more details. I am including the stock rims with a brand new fresh powder coat on them. The stock pipes, radiator, manuals, and various other parts as seen in my list and pictures. Lots of stuff.

The following is a list of some of the parts that are included with the bike, but not complete. No much to list. Please refer to pictures.

4 brand new piston sets, including, rings, pins, clips, and small ends
Complete set of crank seals and crank bearings, plus new rod sets. Everything needed to completely rebuild the crank like new.
3 gaskets set, plus one extra head gasket
New Water pump part set
New carb sets including floats
Power valve seals
New billet aluminum power valves and power valve wheels
1 extra new front disk
Numerous new seals and bearing that go into the motor
Stock pipes in good condition
Stock swingarm with fresh paint and new bearings and seals. Like new
Stock radiator in excellent condition
Stock wheels with fresh powder coating, sprocket,  and cush drive

All the old wheel bearing, wheel spacers, front and back disks, sprockets, brake lines, and caliber parts. The old original nuts and bolts that were replaced with titanium and stainless, aluminum

Bike comes with a current California registration and title!  Has all the correct serial and engine numbers, but is listed as a 1980 instead of a 1990. You might think that wow I am asking way too much for this bike? I say "find don't buy it then". What I can say how often you see one of these for sale in this condition, with all these extras and titled too? Try to find another? These bikes are only going to increase in value as time passes. Plus I am including thousands of dollars in extra parts.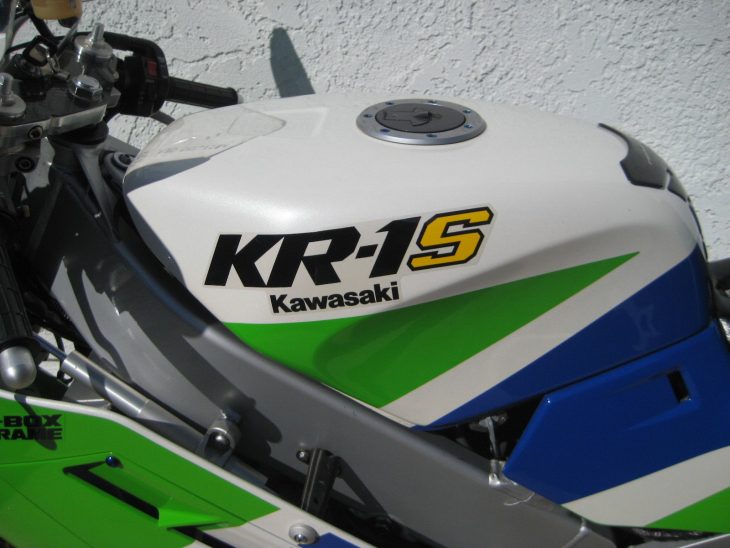 So the $17,500 asking price is big money for a two-stroke sportbike, but I'm betting it will find a buyer: if that California title is valid, I know a couple folks who'd love to snap it up, and it's really not all that far off what folks have been asking for pristine NSR250s recently. It isn't completely stock, but all of the upgrades described by the seller are clearly intended to thoughtfully boost performance and handling. All-in-all, it's one of the coolest bikes we've posted recently.
-tad