This post is for two early edition Suzuki GSX-R's, a 1100 and a 750.  Both are in good but not perfect condition, have the desirable blue and white bodywork and similar mileage.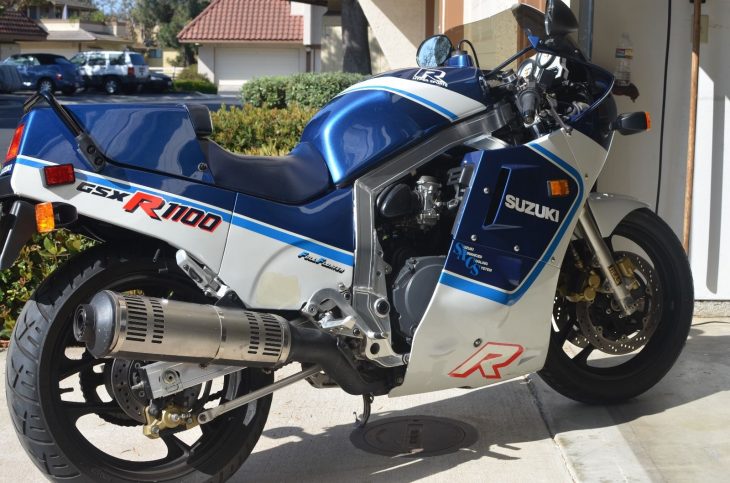 ---
The first bike is a 1987 GSX-R1100…a big beasty of a sportbike responsible for more than one type of skidmark for anyone willing to sling a leg over.  While the smaller displacement 750cc sibling is considered to be the first affordable, modern racer-replica suitable for daily road useage, the bigger GSX-R model actually sold better than its 750cc sibling.  This was in large part due to its being less effort to use on the road/less peaky and also because, well, "more POWAHHHH!!!" is always a big seller.
This particular GSX-R1100 is the first year "slab-side" version prized by collectors.  Condition is not perfect but all parts appear to be OEM with the exception of the windscreen (and the seller indicates he has that available).  Oddly there appears to be some front fairing damage that has been fixed via a set of 'stitches' which is not something I have seen before.  Also I can't really tell from the pics but the frame looks a bit shiny – perhaps some polishing has occurred.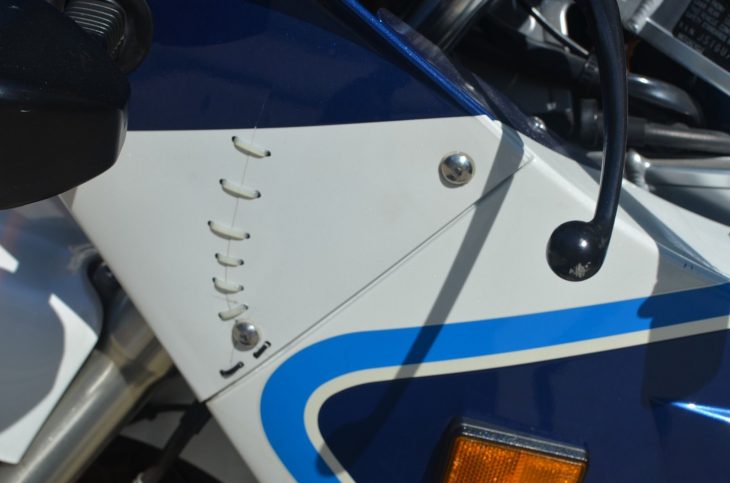 Mileage is a respectable 14,186 in the pics and the seller indicates he has owned the bike for about 7 years.   The seller does indicate some idle issues which are probably due to gummed up carb needles.  Other general service info isn't provided so I would expect fresh fluids and tires to be needed.
---
The second bike is a GSX-R750 edition from a year earlier with similar mileage.
The 750cc GSX-R750 was initially the more desired of the the series, in part because the 750cc configuration was the dominant configuration in racing at the time.   Like the 1100 earlier in this post this one looks to be in good condition but not perfect with some bodywork issues, bits of rust on the exhaust canisters and fork oxidation.  Also the condition of the brake lines/front fairing area make me think that despite what the seller says this bike wasn't always garaged or perhaps was originally owned somewhere damp.
As for maintenance, the seller indicates a bit of rough running but on the plus side, it has fresh tires, battery and brake fluids and all parts appear to be OEM with the exception of some handgrips.
Here are a few more pics of the 750cc edition.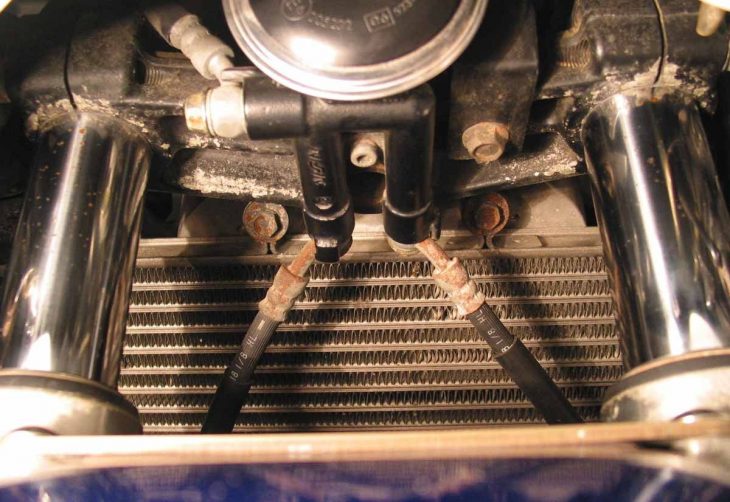 So, what are these worth?  Both have opening prices in the $5,000-$6,000 USD range which seems a bit high but not preposterous, especially given both bikes location in California where prices tend to be higher.   Finding first gen Suzuki's that have not been modified is getting to be tougher and tougher – you are more likely to see something like this which while cheaper, would probably end up costing more if the intent is to put it back into completely OEM condition.
From a collectors standpoint, the market for these seems to be demonstrated by the similar pricing of these two so I would not expect either of these to appreciate in price much.  Personally I think the 1100 would be more fun but both will probably appeal more to the nostalgia-oriented rider or restorer than the investment oriented collector.  Then again, market values can change fast so if a late 1980's GSX-R is on your list for your dream garage, maybe a trip to California to check both out would be in order.
-Marty/Dallaslavower