Location: Visalia, California
Mileage: 42,000
Price: Auction, currently $3,850
Update 4.26.2012: Previoulsy posted on March 1, this bike sold for $4500 but is back on eBay. Links updated. -dc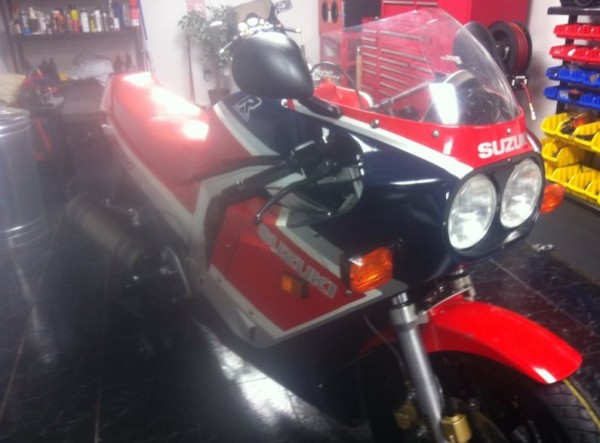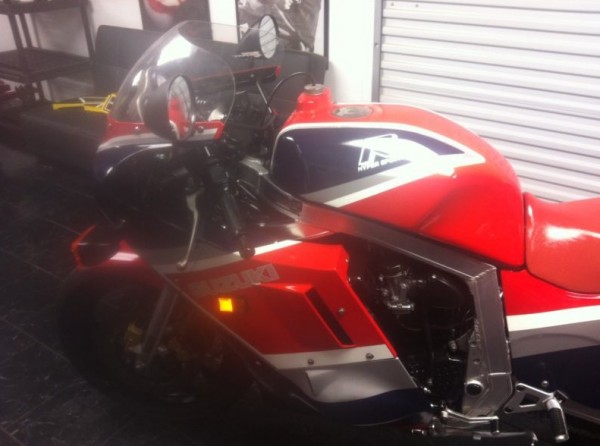 So everybody knows that I'm particularly fond of the Suzuki GSX-R. And we really haven't had an early one in a while here on RSBFS. Well, here's one. 1986 is the first year of the 1100, a bike that took things up a notch or five when it came out a year after Suzuki shocked the motorcycling world with the GSX-R 750. The 1100 was the same chassis, but with a bigger air and oil cooled 137hp monster of a motor. And a bulletproof motor at that. This bike is legendary.
The pics are a little fuzzy but here they are-
And from the seller-
here we have a 1986 suzuki gsxr 1100 rare british color scheme it has the 530 chain conversion with brand new chain and sprockets, the tank is dent free completely and is in near perfect shape other than some clear coat peeling on the stripe portion. the other panels are in good shape not perfect but not poor a nice example of a 26 year old bike. it has brand new bt45 bridgestone tires and new rear brake pads. the rear grab rail comes with the bike not pictured on it. the bike has not been down at all other than the left lower fairing has a silver dollar size rash where it bubbles out to cover the crank shaft. it has 180 psi compression in every cylinder. all stock bike please call larry with questions. other than me this is a one owner bike included with the bike is the original sales contract. fresh tune up as well plugs, oil carb and valve adj
The seller mentions the minor mods to the bike and some small cosmetic issues. Photos show a pretty clean and original bike and while the mileage is up there the engines in these, as mentioned above, are pretty bulletproof. Many a GSX-R 1100 motor went into many a drag bike. So if the bike has been maintained, you should have something you can ride as you like for quite some time. Who knows where the price goes on this one, but I would suspect between $5k and $6k. We'll see.
So another early GSX-R 1100 up for grabs. They ain't gonna make any more of these, so if you've been looking, it might be time to pull the trigger. To start the squeeze on that trigger, make the jump!
-RN