Honda's lightweight RVF400R has had a bit of a resurgence here on RSBFS lately, suspension updates making it the ultimate small V-4.  Here's a Houston edition that looks unfettered and super clean.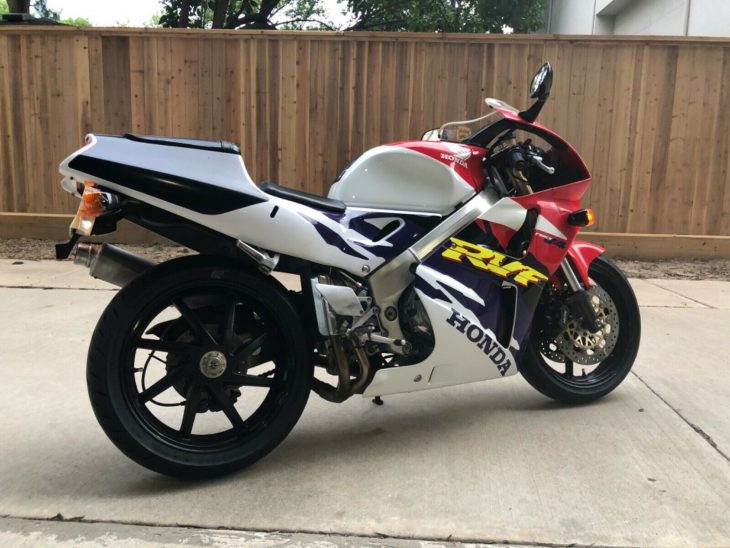 Honda couldn't do much to improve the 399cc's power and stay within the law, and the chassis dimensions, remain the same as the VFR400R.  Still carburetted with four 30mm Keihin's fed by the fresh air tubes from in front of the mirrors.  The tires got a little wider and are both 17's, and forks are now upside down, with a hair less trail than the VFR.  Bodywork was modernized, with fox-eye headlights that were more Fireblade than RC45.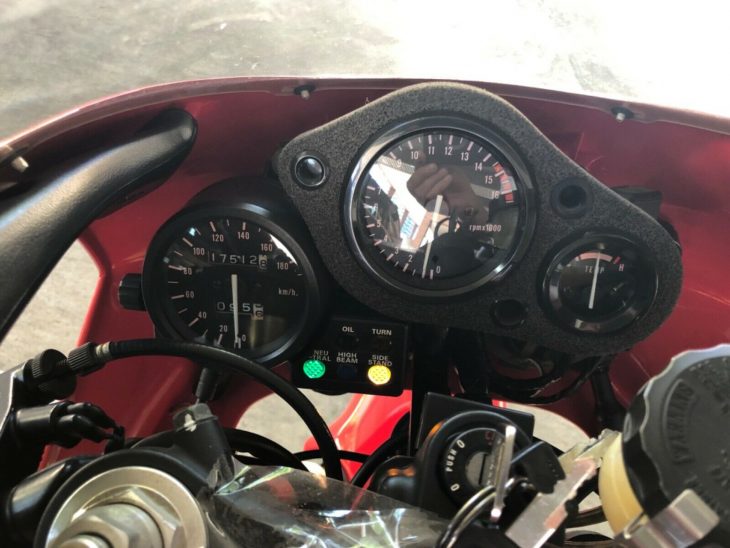 Just a little history on this RVF, though it evidently hasn't been ridden on the road by the seller.  Very sharp for almost 11,000 miles and a quarter century.  From the eBay auction:
Excellent condition all stock original condition with few minor blemishes from normal use.  It have 17,520 Kilometers runs and shifts great with smooth and powerful V4 Honda race engine.  Those are rare superbikes and this bike was imported from Japan and I did not ride it much since it was part of my little Honda collection and it was never abused, red-lined, raced or tempered with.  I changed the battery (Yuasa) changed oil (fully synthetic) and new Honda filter.
Can't take anything away from the current small-sport singles, some are even racier and lighter, but lack the symphony of gear-driven cams, 360-degree crank and 14,500 rpm redline.  No fairing mounted speakers required for these tunes, just a twist of the wrist.  Without the usual wear and dirt, the buy-it-now per pound is pretty high, but might be worth pursuing.
-donn