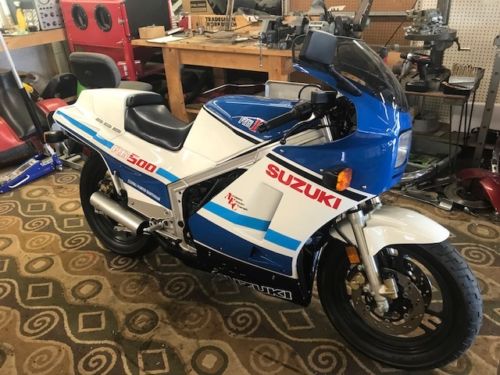 For a very brief period in the mid-1980s the Grand Prix racing fans were able to sample two machines of singular purpose: Yamaha's V4 RD500LC/RZ500 and Suzuki's wild, square-four powered RG500Γ "Gamma." Each was intended to showcase the style, performance, and feel of a two-stroke GP motorcycle in a road-legal package, although they went about it in different ways. Of the pair, Suzuki's was closest to the true spirit of a "race bike for the road" and is generally considered more valuable than the Yamaha, although the RD/RZ has its fans as well, and prices for both are steadily climbing.
Part of the reason the Gamma is so desirable is that Suzuki never made that many of them in the first place, the other is that it might be one of the most authentic race replicas ever made, with a twin-crank, two-stroke, square-four engine that wasn't shared with any other motorcycle in their lineup. Although, like the similarly exotic Desmosedici that shared no parts with its MotoGP inspiration, Suzuki's powerplant merely aped the configuration of their 500cc Grand Prix machine, but was more much more road-oriented. So it may not have exactly been a detuned race bike, but it's as close as you're likely to get.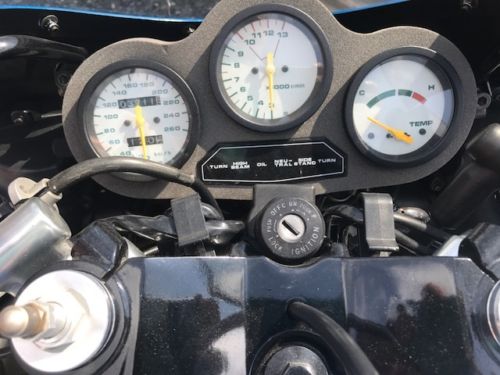 With around 100hp pushing almost 400lbs wet, the RG500 isn't the quickest thing around at this point, and it wasn't even the fastest thing going in 1986. But it was lightweight for the time, and the whole package was so exotic: two-stroke sports twins were the order of the day, so a twin-crankshaft, square four cylinder with the same eye-opening power delivery, only even more so, must have made the RG feel like it rolled right off a race track, with an experience of speed and agility that far outstripped the measurable performance.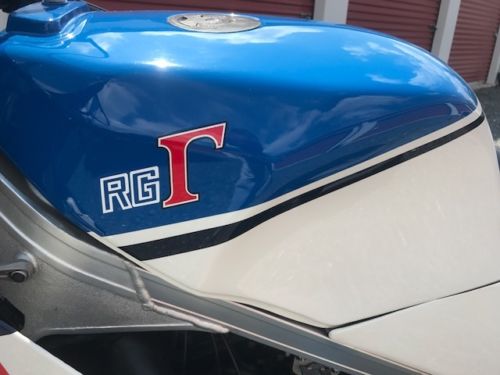 If you're searching for a Gamma, today's example is about as good as it gets, unless you're looking for one that's been modified with more modern suspension, brakes, and wheels.
From the original eBay listing: 1986 Suzuki RG500Γ for Sale
Up for auction is my 1986 Gamma. This bike is completely stock with only 3,711 original km or roughly 2,300 miles. This bike has never been rebuilt, is all original and is by far the nicest Gamma I have ever seen. The bike has lived inside my house for the last five years. Originally a Canadian bike stored in a climate controlled environment I imported the bike legally and it now has a Maryland state title.  I just trailered it to the shop for a new battery and fresh plugs and it starts right up on the first or second kick.

 In the time I have owned the bike I can't make myself ride it. Its just too nice. It really belongs in a museum or in someone's private collection or take it to shows which I have done. First place winner every time. Unless you find one still in a crate somewhere you'll not find a nicer Gamma anywhere.

I'm willing to work with the buyer as far as shipping but cost will be their responsibility. I can also take as many pictures as you need and am willing to talk with any serious buyers. I also have another RG 00 with 8000km and a California title in amazing condition as well that is going to be auctioned next.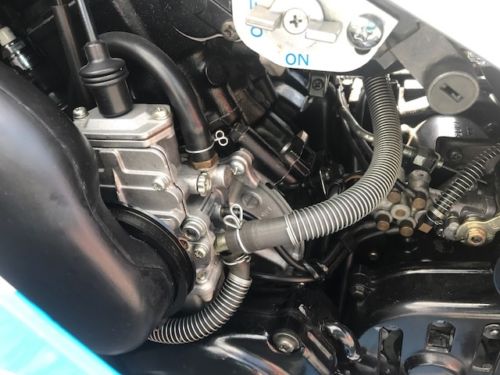 Gammas are perennially popular, and only going up in price these days: the starting bid for this one is $30,000 although there are no takers yet. Many are in nice condition as a result of those increasing values, but these are thirty-year-old motorcycles and a large percentage have been restored or modified at this point. As they say, "it's only original once" and this one is claimed to be that. Certainly, most have far more than 2,300 miles on them. Gammas are very cool bikes, but this example is sadly very likely to end up in a collection, instead of being properly thrashed on a track or canyon road.
-tad