Yamaha's FZR1000 brought a lot to the table.  It was a bike that did a lot of things well.  It was lighter than the competing ZX-11 and GSXR-1000 and every bit as fast.  It was also fairly comfortable for a sportbike which made it a very capable highway hauler.  It also wasn't shy, as you can see by the colors here.  Love it or hate it, you couldn't miss it.  Pick a color in the rainbow and it's in there somewhere.  The FZR1000 would eventually be phased out by Yamaha's game changing YZF-R1, but not before being dubbed Cycle World's "Bike of the Decade" at the end of the 80s.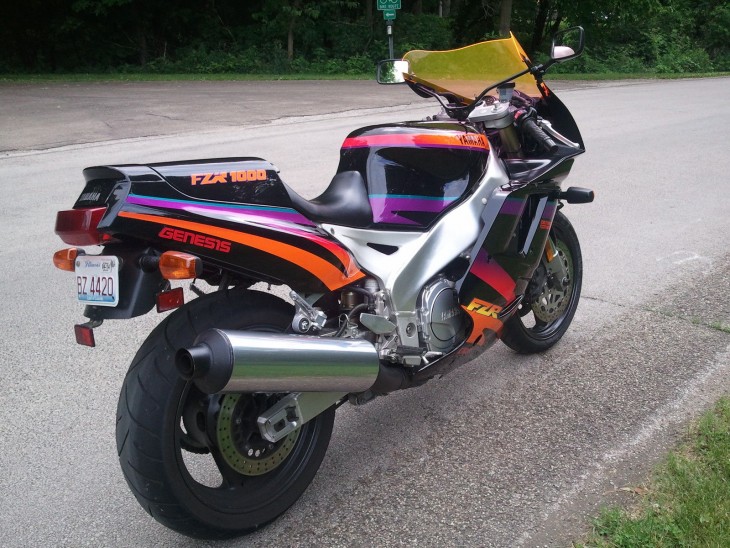 This particular example appears to have been well cared for during it's 20+ years, only amassing about 1000 miles per year in the process.  The owner lists some basic maintenance and history in his eBay listing seen here: 1994 Yamaha FZR1000 on eBay
Hello, and thank you for viewing my listing.  Up for sale is my 1994 Yamaha FZR 1000.  I've owned it since 2009, and it's been a great bike!  The only maintenance that I've had to do is to fix the speedometer shortly after I purchased it, and replace the fork seals (2012), other than that it's just been tires, batteries, and oil changes.   It runs great with no issues whatsoever.  The plastics are in near perfect condition with only a very small blemish here or there.  It has the solo seat option, which I think makes the bike look much sportier.  The pad on the solo seat has worn through a bit from riding (see photos).  It's been stored indoors the entire time I've owned it, and I'm pretty sure, for it's entire life.  The original owner of this bike was a certified Yamaha mechanic, and he was very meticulous about maintenance.
The more I see these FZR1000s, the more I find myself wondering why I don't own one?  It's fast, it's comfortable, it's affordable and those colors just make me smile.  I think I need to start making space in the garage…