Update 6.2.2017: Sold in just 12 hours! Congratulations to buyer and seller!
If you have a rare sportbike for sale, model years 1980ish to 2004ish, consider our Featured Listing service for $59. Email me to see to get started: dan@motoringblogs.com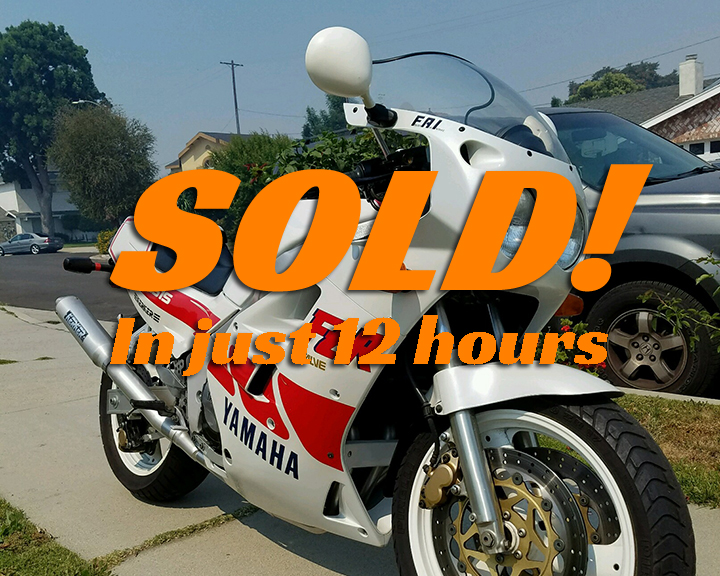 When you think of Yamaha's homologation specials, you probably picture their extremely exotic OW01, but this very nice FZR750RU fulfilled a similar purpose: to homologate the 750cc FZR for racing, in this case the American AMA Superbike series. Spec is far lower than the OW01, but so are current prices and if you're looking to get into a collectible Yamaha, this would be a far more affordable proposition, and one you could actually ride.
The FZR750RU weighed in at around 460lbs dry, had the typical 17″ front and 18″ rear wheels of the era, used a close-ratio six-speed gearbox, and was powered by a 749cc version of Yamaha's five-valve "Genesis" inline four. Interestingly, the very limited-production RU was the only 750cc Yamaha imported during this era: there was no "normal" version, at least here in the USA. Of course, if you wanted a Yamaha sportbike during the late 1980s, you had plenty of other options to choose from: the light and nimble FZR400, the everyman steel-framed FZR600, even the big-bore FZR1000.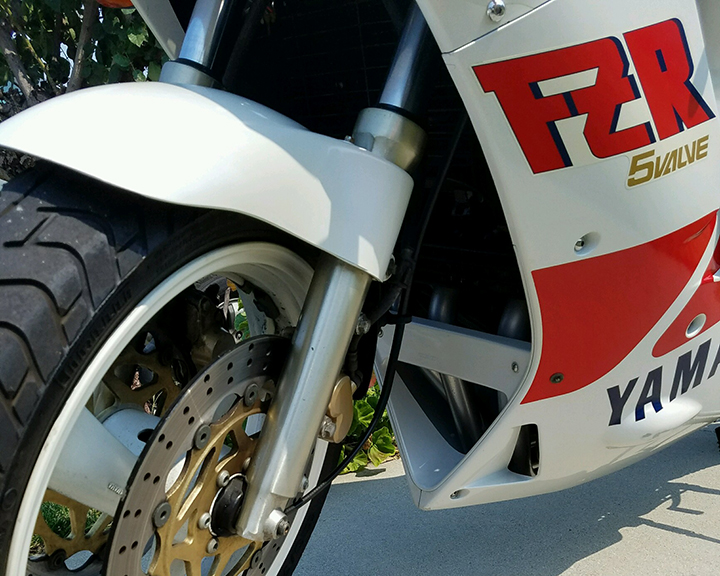 Five-valve engines are pretty rare and, although Volkswagen and Ferrari have dabbled in the technology, it was Yamaha's calling card for years. Typically, you're looking at three intake and two exhaust valves, and although complexity is increased, there are multiple theoretical benefits. The three smaller valves flow fuel and air more effectively and fill the cylinder faster than two larger valves that would fit into the same space, and the configuration creates a compact combustion chamber so the mixture can burn more efficiently. In addition, the smaller, lighter intake valves have less inertia and put less stress on the springs that close them.
This particular example of the FZR750RU looks very clean and well cared-for, with original parts, owner's manuals, and lots of quality photographs. It's especially nice that the seller includes several pictures of the bike without its bodywork, showing off the aluminum Deltabox frame and other bits that can accumulate grime and significant wear. What is the price for this bit of Yamaha history? The seller is asking $7,500 and can be contacted here: Bike is SOLD
It should also be noted that Jay has been an RSBFS regular for years, buying and selling nearly 10 bikes through the site in that time.
From the Seller: 1988 Yamaha FZR750RU for Sale
One owner 1988 Yamaha FZR750RU limited edition homologation motorcycle.  One of 200 imported into the US, only  4420 original miles, a rare bike that will continually rise in value.  The single owner took great care of this bike, it was a weekend rider for the for the first few years then it was parked and stored, last registered in 1995.  I have most of the original paperwork and documentation, including the original owners manual, service manual, warranty manual and I have the original title.  The owner is a retired engineer, he documented and cared for the bike as you would expect.  I have a stack of index cards filled with notes about the care and service of the bike. The factory service manual has signs of use and a few hand written notes. 

I have serviced the bike and ridden it about 50 miles.  The service included replacing all fluids (brake/clutch fluid, coolant, fuel and oil), ultrasonically cleaned and rebuilt carbs, drained and replaced the fuel.  I put a lot of time into cleaning the brake caliper pistons and seals.  I also replaced the rear brake pads, a few pieces of factory hardware and re-installed the stock screen.  The bike includes a few oil filters, a NOS set of tires, a aftermarket screen, a rear stand and some other small bits.  This bike is ready to ride except for the potentially original tires currently fitted.  Everything felt good when I rode it around but I haven't pushed it very hard. 
Targeted for the American market, the FZR750RU is not especially valuable yet and may never achieve the desirability of the OW01 but, with just 200 examples of the 1988 model built to exactly meet AMA minimum production numbers, it certainly has the potential to appreciate significantly, and it's a very handsome example of 80s sportbike style.
-tad