Bikes today are faster, lighter, better-handling, and safer than ever before. But while there have been huge advances in terms of electronics and the materials used to build them, they use basically the same layout and suspension since motorcycle design became codified sometime in the late 1980s. The familiar telescopic forks are most definitely a compromise, but one designers and suspension tuners have become accustomed to working around. Simply put: when motorcycle forks compress under braking it upsets weight distribution and changes suspension geometry. So if you're developing a suspension system that gets around those issues, you'd think you'd create some sort of exotic hypersports bike to show off the advantages of your high-performance design, right? Well if you're Yamaha, you put your radical Omega Chassis Concept in a stylish, buy heavy sports-tourer like this GTS1000.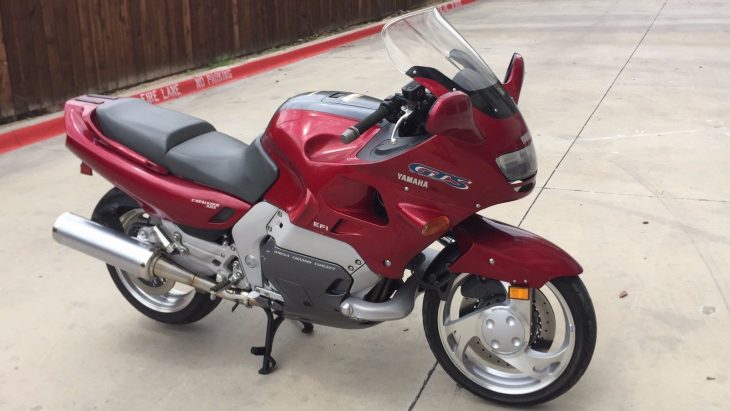 It's a shame, because the GTS might otherwise have made a great case for this alternative, swingarm front end: simply put, the design works very well.  Oh sure, there isn't any huge advantage over a conventional front end in a sport-touring application like this, but there's no real downside either. And the single-sided front end should make tire swaps a breeze, although the lack of a second front disc might give faster riders a bit of pause… At least it's vented and equipped with a six-piston caliper, and period tests don't complain about stopping power.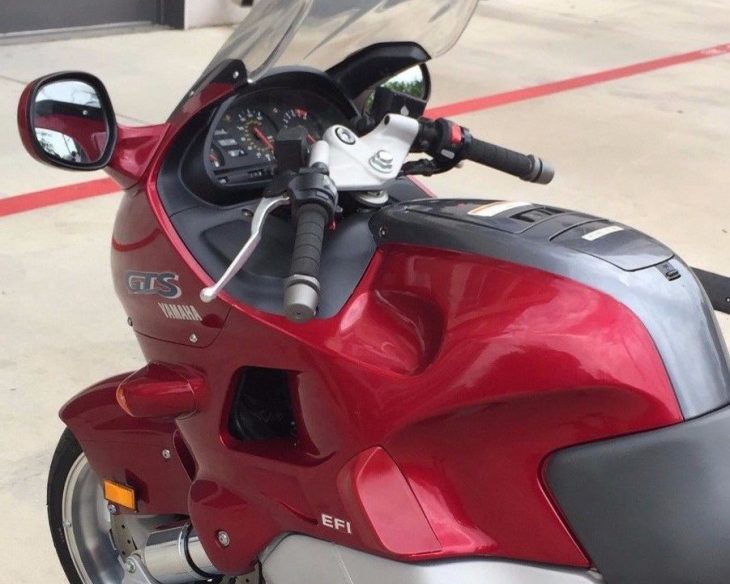 Yamaha licensed James Parker's forkless RADD front end to create their radical grand touring machine, and installed their five-valve, 1002cc inline four and five-speed gearbox, here tuned to produce a torque-rich 100hp. So the GTS was far too heavy and underpowered to be a legitimate sportbike, but limited fuel range and luggage options meant it leaned hard on the "sport" elements of sport-touring. Only available in the US from 1993-1994, the GTS1000 didn't sell very well, as the odd suspension, high price, and relatively limited touring capabilities scared potential customers away.
From the original eBay listing: 1993 Yamaha GTS1000 for Sale
Selling a very rare GTS1000A with a very low low miles. 

Bike is in a beautiful condition, kept in the garage for years , recently serviced with all new fluids and filters. New fuel pump. Left mirror has a small crack from moving in the garage, not even noticeable. Please feel free to ask me with any questions . 

New tires are needed. 

Treat yourself with a beautiful gift for the holidays. 

Bike starts and runs like new. 
The Buy It Now price is set at $6,500 which is pretty steep for a GTS1000 but, with just 4,400 miles on the clock, it's probably one of lowest-mileage examples in existence.  The problem is that, unless you're a collector of oddities, there's really no point: these things can rack up crazy miles so there's really no need to find one in such unused condition unless you plan to keep it as a museum piece. And that'd be a shame, since the GTS1000 is an amazingly competent mile-muncher.
-tad