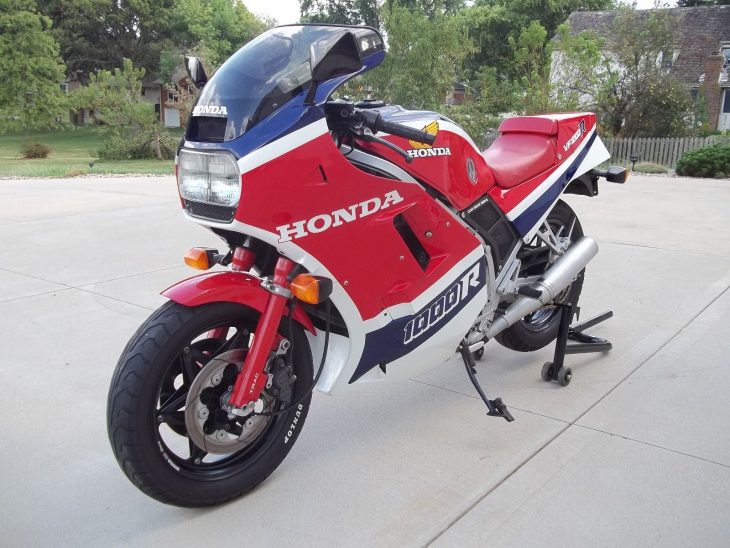 The popular conception of homologation specials is one of thinly-veiled racebikes, competition bodywork with a couple holes cut in it for headlights, close-ratio gearboxes, and racebike power just a remap/rejet away. The reality is sometimes far less exciting. Sure, the Honda VF1000R may look like an endurance-racing bike with lights, but at a portly 600lbs with fuel, plenty of other bikes of the period could show it a clean pair of heels. Ultimately, the bike was a bit of a misfire as a performance machine: it was just too heavy and offered no real advantage in terms of power or handling over the more common VF1000S. But that wasn't really the point, since an homologation bike is mainly designed to include specific components so that those same bits can be utilized by production-based racing teams. And anyway, the same criticisms could be leveled at both the RC30 and RC45: out of the box, they were incredibly exotic, but some fast guy on a standard GSX-R750 could probably take your candy.
The VF1000R's 998cc V4 ditched the S-version's cam chains and replaced them with a more precise gear arrangement, something that eventually became the V4's distinguishing characteristic. It made a claimed 117hp and the slippery fairings allowed a near 150mph top speed, while Honda's Torque-Reactive Anti-Dive Control meant cool acronyms and improved manners under heavy braking. Wheels are often overlooked and considered pretty unremarkable on a motorcycle: they're round and covered with sticky, black rubber things. But as the point of contact between the bike and road, they're critically important components.
In the VF1000R's case, they were Honda's modular Comstar wheels and came with radial tires, something very new to motorcycles at that time. Axles were clamped in place with a quick-release system, the rear brake disc was vented, and the bike featured adjustable bars to help set the bike up for the rider's individual preferences. Obviously, many of those parts serve no real purpose on a road bike, except to admire for their innovation and craftsmanship, or to brag about at your local bike meet.
Today's example has low miles, appears to be in excellent condition, and features the desirable dual-headlamp setup often missing from the 1985 bikes: worried that it wouldn't pass federal regulations, Honda developed a simpler, single rectangular unit often seen on these bikes.
From the original eBay listing: 1985 Honda VF1000R for Sale
Not perfect, but a very, very good original survivor condition 1985 Honda VF1000R of sufficient quality that that it won its division at a large AMA sanctioned/ judged show (see below). It was originally purchased new in Indiana.  The 2nd owner purchased it in 1990 with about 5000 miles and eventually moved it to Kansas City.  I purchased this VF1000R from the 2nd owner in 2012 with 10,077 miles.

In 2012, I rode to one of the largest motorcyle events in Kansas City – The 20th Annual (and final) "Ralph Wayne Backyard Nationals".  It is an insane confluence of two-wheeled wonder that includes thousands of bikes including Ariels, Aprilias, Vincents, Victories, Hodakas,  Ducatis, Gammas, RZs, BMWs, Harleys, R1s, CBRs – you get the picture.  There is a tent in Ralph's back yard that only holds about 30 of the most unusual and/ or outstanding bikes at his event.  When I got there, one of the marshals waved me to the tent and this VF1000R was the only Honda under the tent that year.

In 2013, I entered this bike in the Clymer Manual Sponsored, Heart of America Motorcycle Enthusiasts (HOAME) Vintage Midwest AMA sanctioned and judged show.  This a huge regional show and this VF1000R won the "Best Modern Superbike "Division.  Several of the AMA judges asked me if I still rode it (by looking at the tire wear patterns).  I responded "yes" and they expressed mild amazement that a bike this nice would still be ridden regularly.   Clymer posted a video they took of this bike at the show on Youtube.  It can be viewed with key words "Clymer VF1000R".

The bike is nearly 100% survivor excepting the following:

When I initially rode the bike home after the sale, the OEM fork springs were shot, causing the front end to dive and scratching the front fender and left/ clutch side fork tube with the left lower metal blinker mount.  The scatches were touched up with correct, color-matched Honda "Fighting Red" paint.  The worn OEM fork springs were upgraded with Race Tech 1.05 Kg/ mm single-rate springs with new seals and synthetic Motul fork oil.  This fork upgrade dramatically improved front end tracking and feel.

The OEM/ survivor carbon fiber backed bodywork was touched-up with correct, color-coded paint prior to above shows and apparently looked good enough to the judges to win. It has the optional (for 1985 models) endurance racing dual headlamp fixture that came standard on the 1986-later models. It was shown with the F1S aluminum mufflers as seen in the photos, but the bike also comes with very good condition original/ OEM mufflers that could easily be cleaned up and reused if you want to sport that "Big 80s Big Muffler" look.  The F1S pipes on it now sound great. The OEM chain was replaced with RK X-Ring chain on the original/ OEM sprockets.

Prior to my ownership, some brake fluid leaked onto the external clutch cover and damaged some of the paint on the lower edge.  The damaged clutch cover paint has been colored with black marker.  See photos. There are a few scratches on top of the original aluminum/ OEM/ survivor fuel tank.  Otherwise the original paint looks deep and glossy except for minor/ normal mars on this 31 year-old survivor sportbike.

CONDITION:

The original 998 cc, V-4, 16-valve motor runs as well as any VF1000R.  It starts without issue and idles smoothly, does not smoke, shifts smoothly and accelerates linear and hard all the way to redline. No oil or hydraulic leaks.  The gear drive sound is marvelous.  There is no undue mechanical noise.  It purrs. The pictures closely demonstrate the overall, excellent condition of this 1985 VF1000R. Comes with (most of) the original Honda VF1000R tool kit which is otherwise unobtainium

I've enjoyed absolutely gawking at this very low mileage amazing condition VF1000R in my garage for the past 4 years and putting a few miles on it, but now it's time to pass it on to somebody who will hopefully enjoy it as much as I have.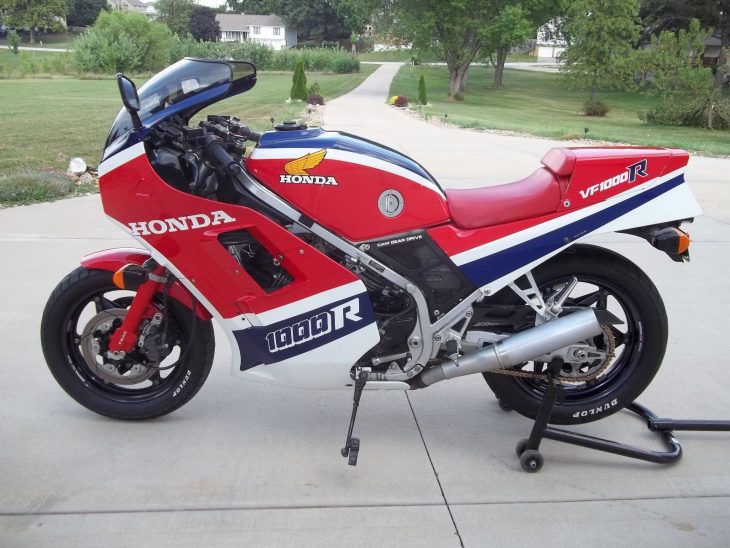 The seller includes a ton of information at the original listing and includes his personal history with the bike, a few minor cosmetic issues, and a listing of everything that was changed or updated, along with reasons why. It's pretty clear that the owner is an enthusiast, although the price is on the high end for these: the starting bid is just south of $7,500 with no bids yet, but plenty of time left on the auction.
If you're looking for a Honda homologation special and can't spring for an RC30 or RC45, these are rare, feature exotic specification, and can still be had for relative peanuts. It's not, and probably never was a cutting-edge sportbike, but that just makes it more practical as an affordable bit of HRC history: something you can ride and enjoy, not something that needs to be stored away for alternate, sunny Wednesdays in June.
-tad