Buell's last model under the H-D umbrella was the 1125CR, a space-age café racer with a high-tech Austrian V-twin.  Despite the prominent scoops to cool the radiators, the 1125CR makes room for Buell's many innovations.  This two-owner example seems cared-for and maintained.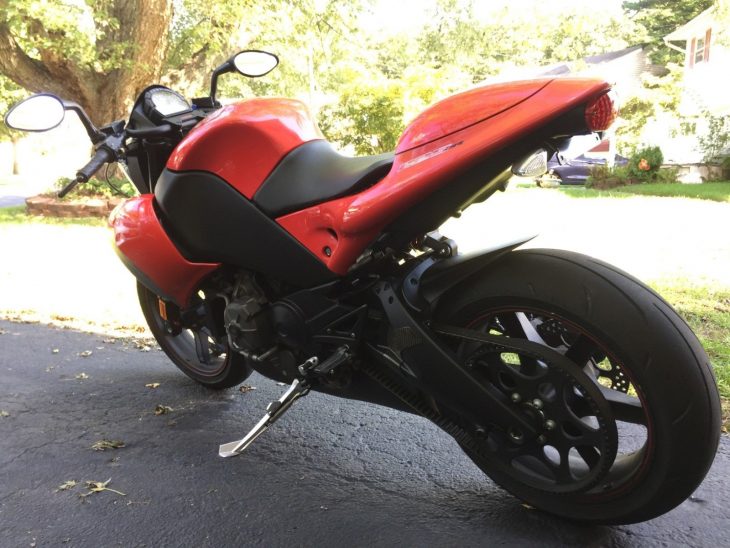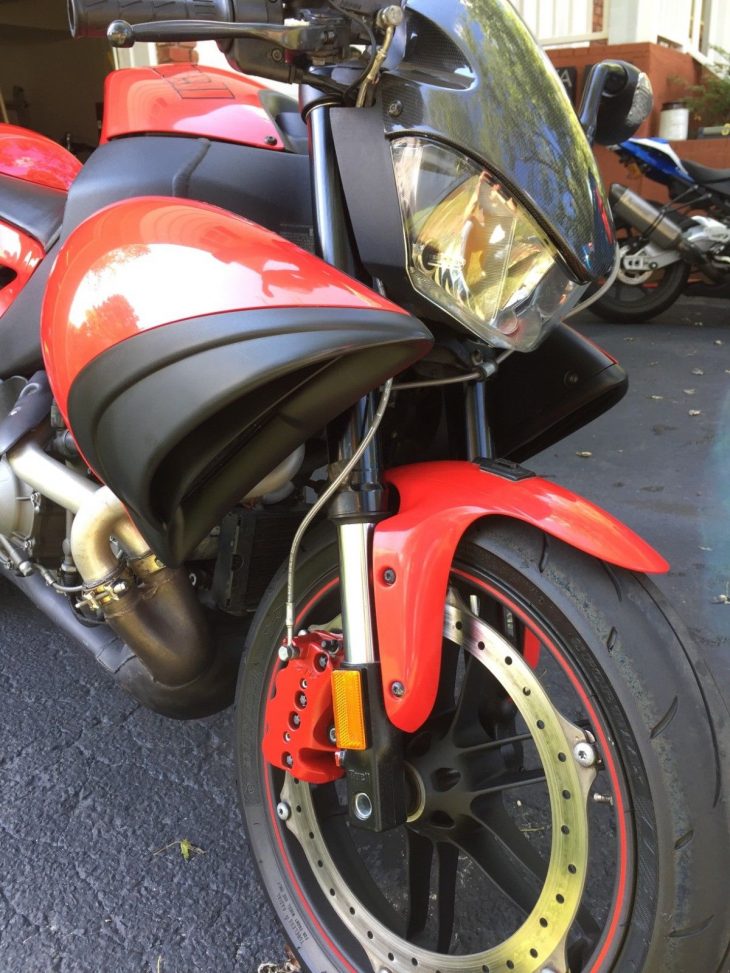 With its up-to-date gear-driven double overhead cams and fuel injection, Buell's choice of Rotax-based power got them to the 150hp doorstep.  Water cooling also brought the engine under current noise regulations.  Buell fans will recognize the frame with 5-plus gallons of fuel tankage, zero-torsion-load front brake, mass-centralized underslung muffler, and maintenance-free belt drive.  High-end Showa suspension was specified, with fully adjustable 47mm forks and monoshock.  A vacuum-actuated slipper clutch helped keep things organized when downshifting.
No apparent damage on this Long Island native, with an on-the-low-side 13,500 miles.  An upgraded charging system is a mod with value, and the carbon headlight fairing adds some more visible interest.  Otherwise stock with recent battery and tires.  From the eBay auction:
Second owner and owned for the past 4 years, meticulously maintained, with tasteful aftermarket additions, garage kept its whole life. 135xx miles. Dunlop Q3's installed last fall with 500 miles on them. Have spare key and buyer is welcome to whatever parts/accessories I have specific for this bike including: Castrol 4T 20W-50 synthetic oil (6 qts?), oil filters, o-rings, washers, and anything else I find around.  Bike is in excellent used condition.

Aftermarket parts include:
– Ricks Motorsport Stator
– EBR Oiling Rotor
– Factory ECM with race map programmed
– Clubman handlebars
– HID low beam
– Fender eliminator
– New Deka battery this year
– Carbon fiber front cowl which adds an obvious 57whp

I have taken the bike on 250 mile trips to upstate NY and it has never missed a beat.  Any charging issues the 2009 1125's were known for are resolved with the installed stator and rotor.  I have receipts for the stator, rotor and new rotor nut purchase, I did the installation.   Passenger sets are not installed, but are included.  Only selling as I am getting a new bike and I have learned from past experience to keep the seat to arse ratio at 1:1.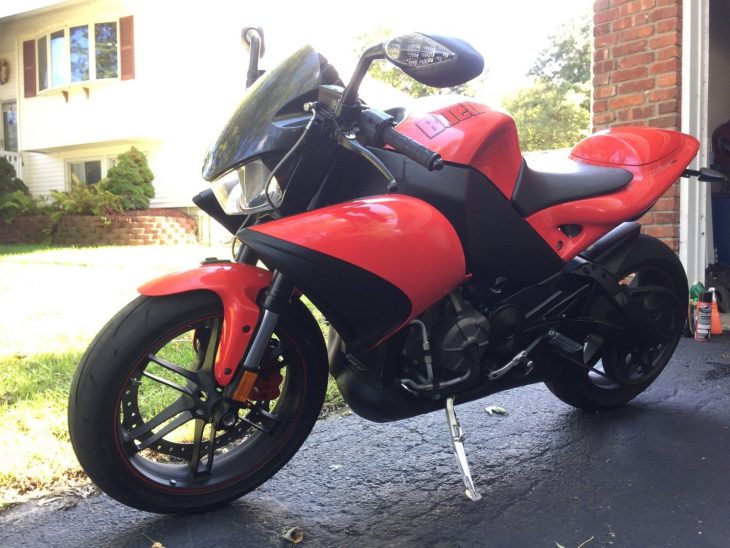 Reviewers found the -CR's fuel injection much better than the introductory 1125R's, and despite its light weight and tight dimensions, handling with the top-shelf Showa dampers was composed.  The design might take a little getting used to, but not the performance.  A more modern V-twin was a change-up for Buell, but the experience no doubt helped EBR after Harley retired the Buell brand late in 2009.  A serious Buell statement, and the buy-it-now attempts to address long term concerns with Buell and EBR both retired…
-donn