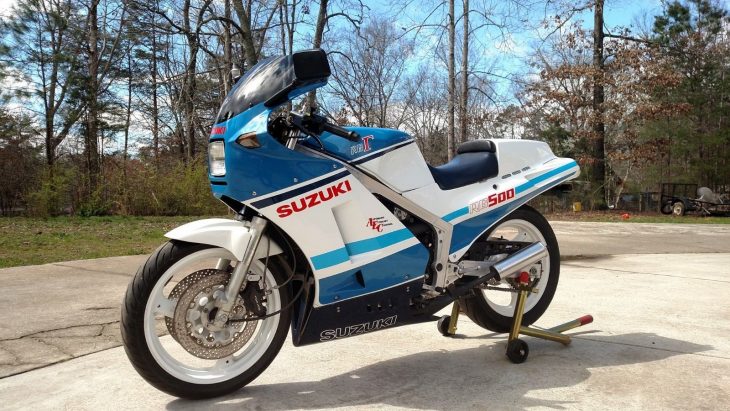 The problem with owning classic sportbikes is that even in their best shape, they perform like they would have 30 years ago, which can be a terrifying affair if you're used to modern suspension and tires. Couple that with a take-no-prisoners 500cc two-stroke powerband, and you're really playing with fire. This 1986 Suzuki RG500 has had those concerns addressed, with mods to allow it to run modern tires and reworked suspension and brakes.
The work was done by renowned RG500 tech Rick Lance, and the seller says no stone was left unturned. The bike was taken down to the chassis and gone over from top to bottom. The forks have been rebuilt and the anti-dive bypassed, and the engine has been treated to a mild tune, including a rare set of aftermarket expansion chambers.
From the eBay listing:
1986 Suzuki RG500 Gamma. Full Rick Lance Gamma build "resto mod" from the frame up, in excellent condition, mods inc 17 inch wheels, GSXR brakes, Fox remote shock, upgraded forks internals, anti dive block off, plus all the usual Lance Gamma mods, filters, taps, clutch. Rare Tommy Crawford expansion chambers, motor has stock bore with mild tune, lightweight bodywork with single seat with excellent stock style paint scheme, less than one thousand miles since full build including the engine, suspension, gearbox, etc etc, as you would expect from a Rick Lance build it runs and rides perfectly, carburation is spot on pulling cleanly from idle to the red line.

Hard to find these now especially in this condition with everything being practically new, gets lots of attention where ever it goes, sounds amazing, from an era when GP bikes were 2 strokes and four cylinders there will never be anything like it again, own a piece of history!

Clean GA title in my name, located in North Georgia USA Can assist with shipping
The price is an eye-watering $26,500, which is staggering even as the price of nice stockers is climbing. That said, if a modern-style two-stroke superbike is your thing, we doubt you could build your own for cheaper.