Update 5.17.2021: eBay shows this auction has sold at $28,500. Congratulations to the buyer and thanks again to Andy for support the site! -dc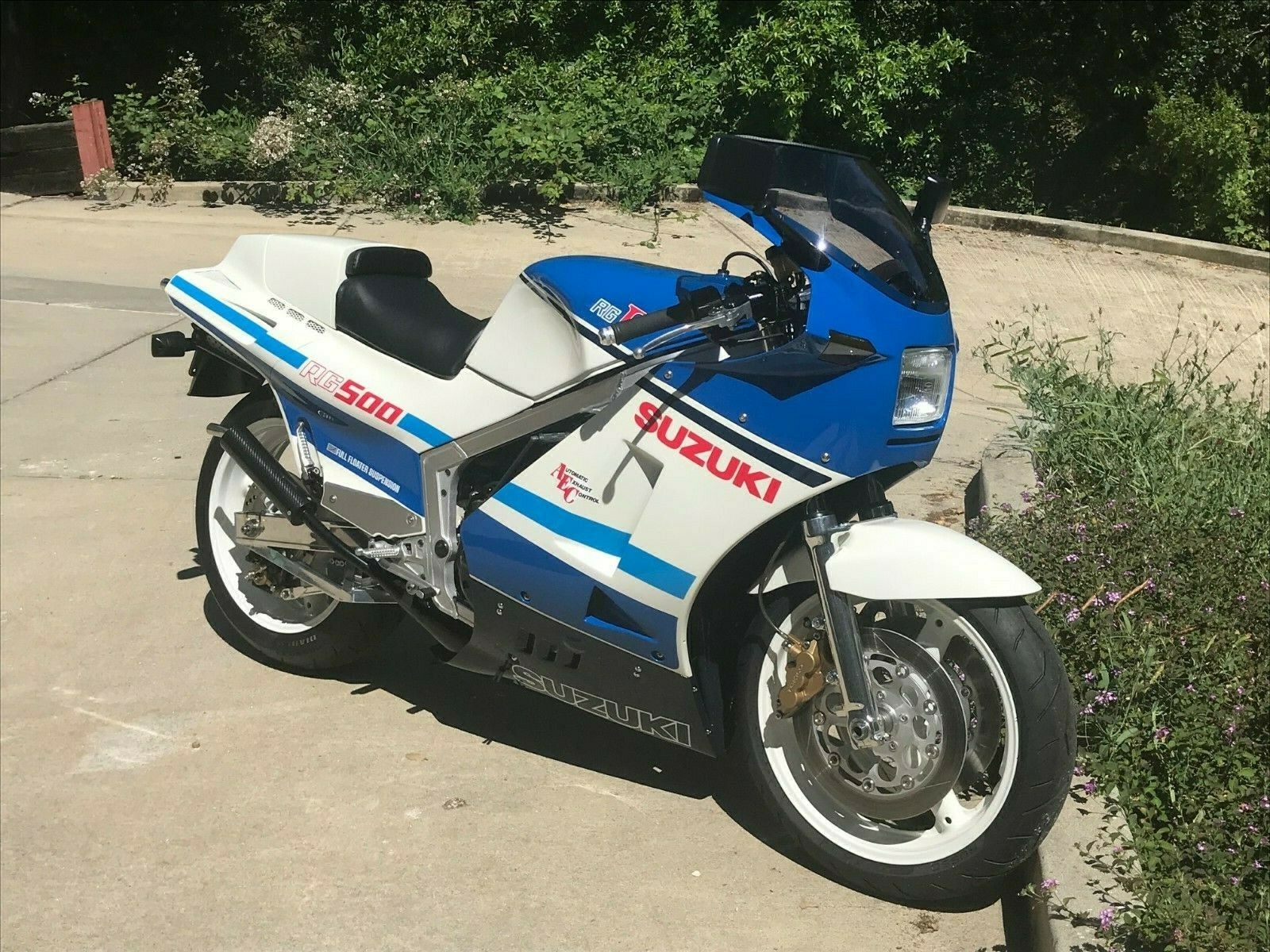 There are few more iconic motorcycles than the mighty Suzuki RG500 Gamma. This bike is the essence of a 500cc GP machine when two strokes ruled the racing circuits. Never imported into the United States, the big twin crank, square four rocket remains a rare find for smoke hungry American riders. Today's Featured Listing is not only a rare RG500, it has been breathed on by none other than Rick Lance (RIP) who is known to be the ultimate guru of these machines, it has been the subject of a complete and comprehensive refurbishment AND it carries with it a CA plate meaning that it can be legally owned and ridden on the street. This is not just a unicorn. This is a unicorn carrying a leprechaun while towing Santa's sleigh. The seller is known to RSBFS readers thanks to a gorgeous '87 Suzuki GSX-R Skoal Bandit replica that sold on these pages last year. You will find this 1986 Suzuki RG500 to be of the same high standards and quality.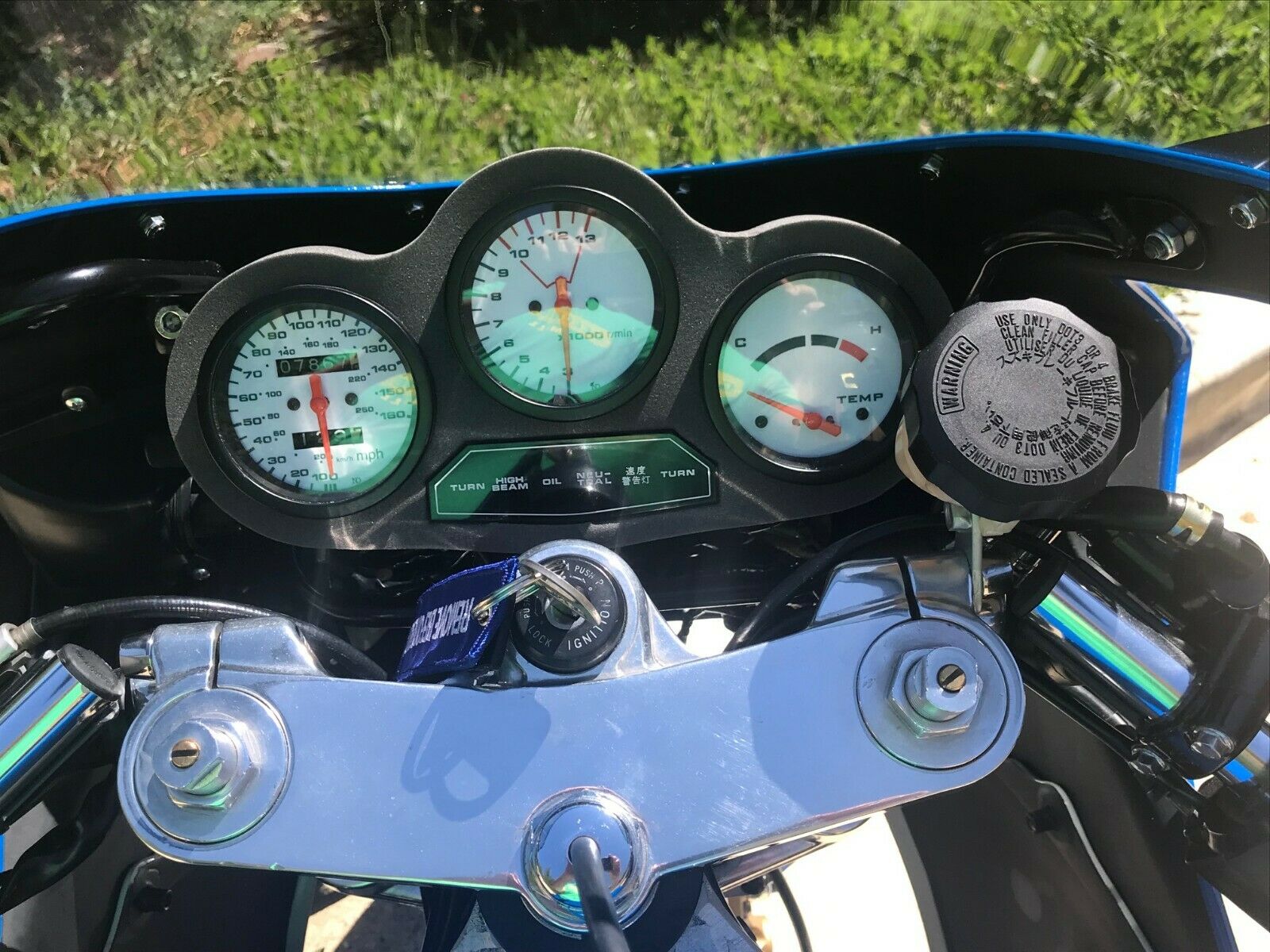 From the seller:
This extremely rare and pristine RG500 completed a 2-year frame off nut and bolt restoration in June of 2019 and comes with a clean unobtanium California title in my name. The bike is currently registered and enjoys the odd sunny afternoon out in the California mountains. This is a Rick Lance bike built in his California workshop in the early 90's. Before Rick sadly passed away, we were able to exchange several emails about the bike and talked at length on the phone, his passion for these bikes still evident after all these years. Originally imported from Canada, the bike was kept in an LA collection for most of its life and has extremely low miles. However it had lost much of its original bodywork and had been severely neglected, so the decision was made to give it a full OEM restoration while retaining its original period correct Lance Gamma modifications. The bike was stripped to the frame and every single component refurbished, painted or plated before reassembly. The engine when disassembled confirmed the low mileage, but was rebuilt with new components to ensure reliability and maximum performance. As with my other restorations this bike was built to ride and I've included a link to a recent canyon carving video as evidence of that. The bike handles beautifully with its more modern GSXR750 running gear, and the engine pulls strongly through the entire rev range, peaking with that heart pumping powerband you anticipate but are never really ready for. Alternatively you can just sit back and admire it as a piece of beautiful art and for the motorcycling history it represents.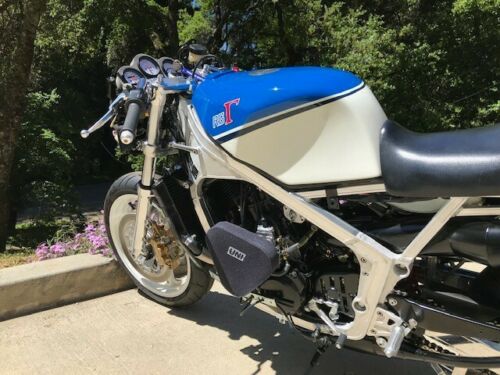 Restoration Details:
Chassis/Suspension: Frame fully stripped, cleaned and all new bearings fitted. While the frame has the Rick Lance oil tank and battery box conversion within the original airbox location, I did convert the oil tank back to OEM with additional heat shields because I wasn't a big fan of the oil level sighting tube and wanted the comfort of an oil level sensor. Its easy enough to convert back if you prefer. All running gear including forks, headstock, wheels, brakes and radiator were originally converted to 1990 GSXR750 by Rick. Forks were fully stripped and fitted with new seals. The rear is fitted with Rick's iconic braced swingarm and period correct Fox Twin Click remote shock. Swingarm and front forks were re-polished to maintain period correctness.

Brakes: Front and rear calipers fully stripped, refinished & rebuilt with new seals/pads, rotors refurbished/refinished, all brake masters rebuilt with new seals. The 6-pot Tokico calipers are a little overkill for such a light bike, but stopping is not an issue! Wheels were fitted with new bearings, painted and shod with Diablo Rosso II tires. New chain and sprockets. All fasteners replaced with NOS or re-plated.
Restoration Details :
Electrics: Wiring loom gone through, rewrapped and in perfect working condition. Switchgear and gauges refurbished, speedo converted to MPH. Fitted Japanese OEM turn signals with smoked lenses, because they look cool! New battery.

Engine: Stripped to the cases, new seals, gaskets and complete top end rebuild (Cylinders still on their original bores, were honed and well within tolerance!). Rebuilt power valves and rotary intake valves, replaced clutch and reconditioned auto lube pump. Power valves and auto lube work exactly as they should from factory! Carbs ultrasonic cleaned, rebuilt with new gaskets, and Lance Gamma ball valves, then balanced. Lance Gamma jet kit and TriPod air filters. Bike has original Tommy Crawford chambers and has been tuned to give the best compromise between rideability and performance. Fuel tank petcock rebuilt, tank internals in excellent condition, zero rust.

Fairings/Body Panels: All OEM with the exception of the screen. No missing tabs, poppers or cracked mounting holes. All panels taken back to plastic and sealed with two stage primer. Traditional Suzuki Blue/White base coat from RS paints in the UK. New decals from RD decals. 3 Coats of clear, then 3 flow coats, wet sanded and polished for show quality. Seat and butt pad recovered.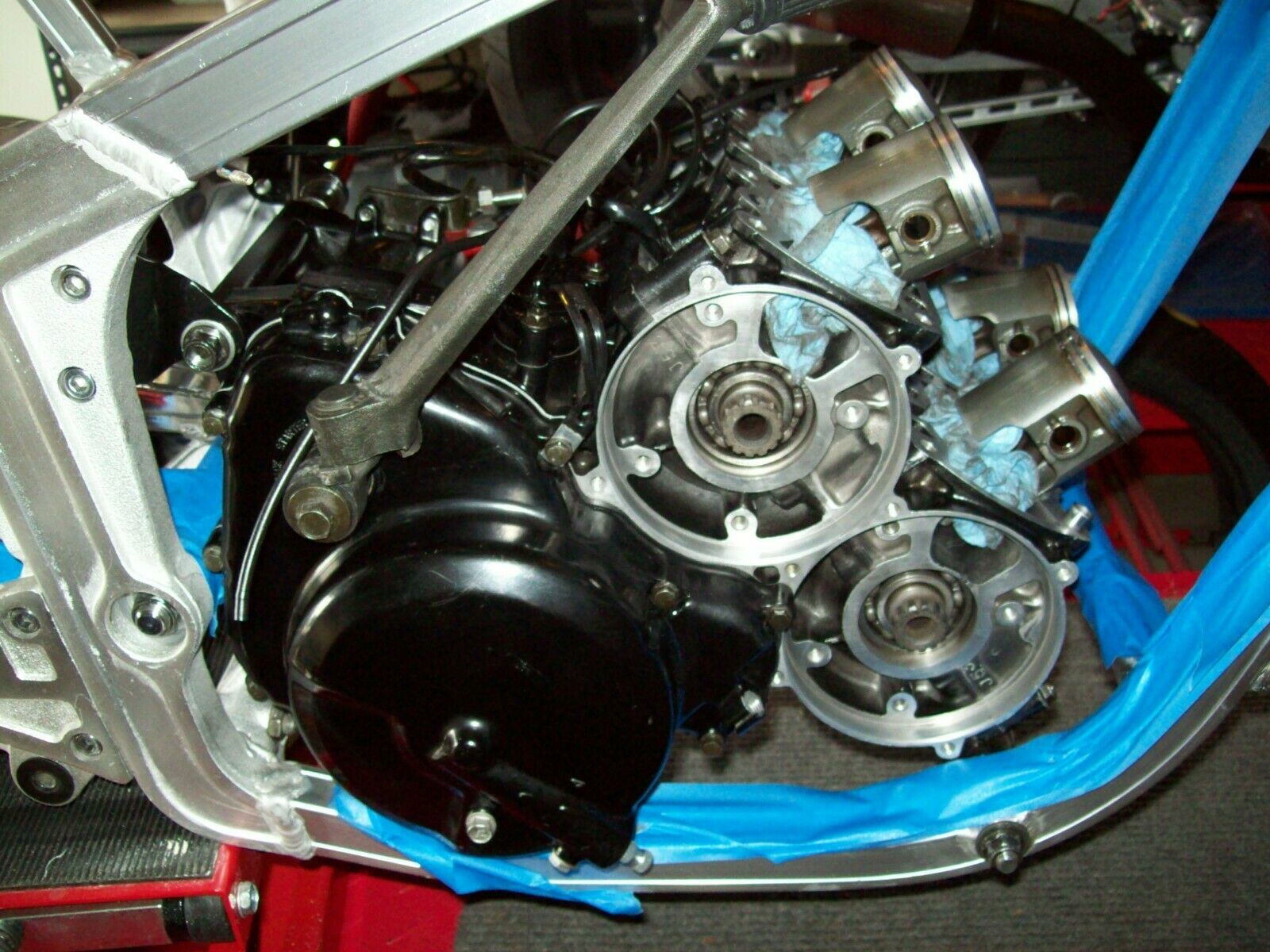 More from the seller:
This could be one of the best examples of a Rick Lance RG500 in the country but you are more than welcome to see for yourself, I am located in the San Francisco Bay Area, contact me if you would like to view before the auction closes.

Restoration photographs and a running video can be found here
And if all of that detail, all of the photographs and the documented restoration is not enough, how about a little absolute proof in the way of an onboard ride-along? Check out the fun (and function) in this video of the actual bike:

As seen with the previous Skoal Bandit bike, the work done on this RG500 is impeccable. This is a man cave bike ready to soak up the views from inside, but equally prepared for some hard riding in the real world. It is rare, it is gorgeous, it is Rick Lance-ified, and it is street legal in the most forbidding of DMV bureaucracies, the state of California. The starting bid for this one is right in line with what it is and how it looks, and although early days the watchers are filling the bleachers to monitor the fireworks. Check out all of the details of the auction here, grab yourself a case of castor oil, and Good Luck!!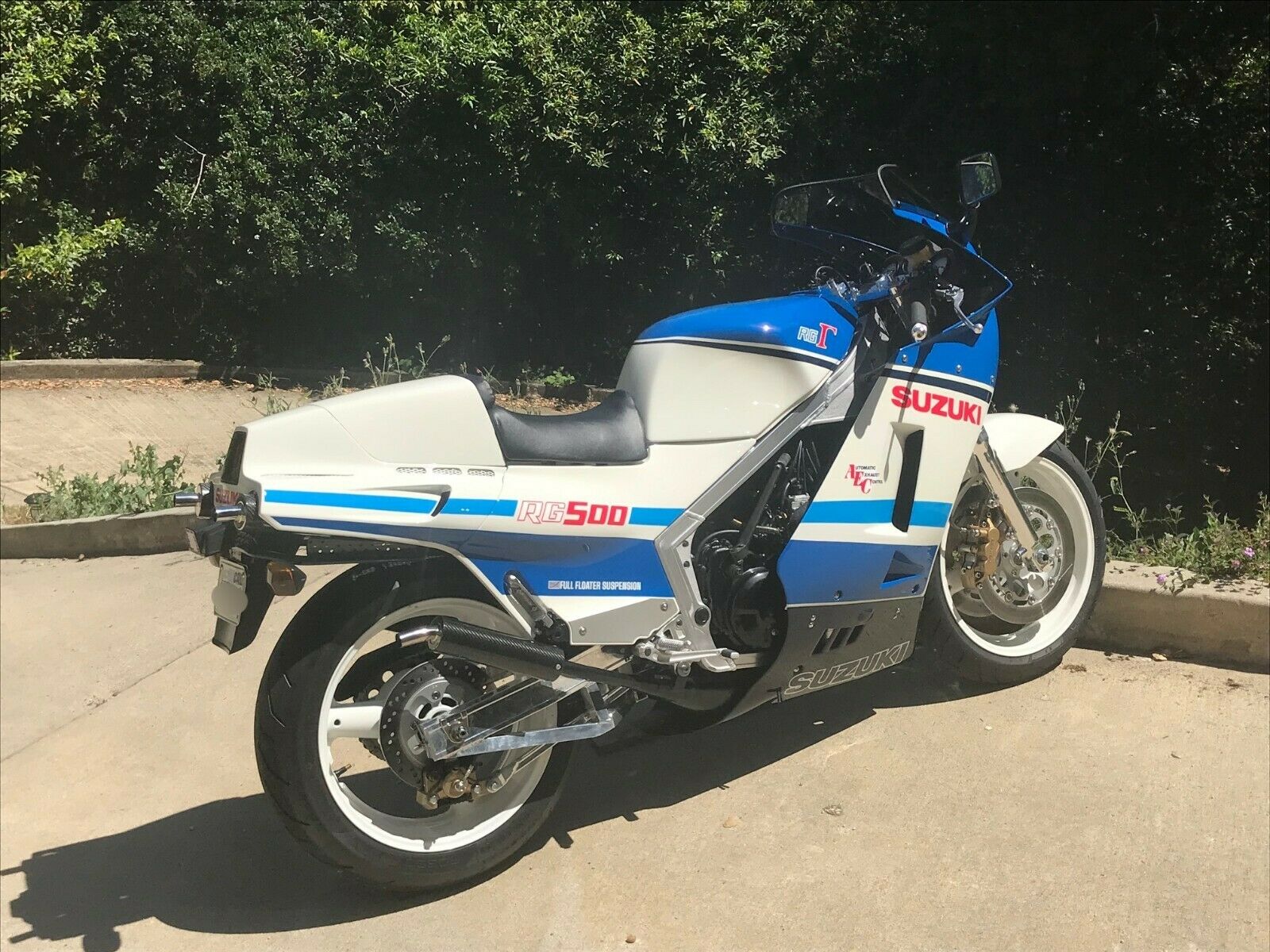 MI