For Sale: 1988 Bimota YB4 750 E.I.
Update 4.3.11: This listing was pulled by eBay but is back. Link updated.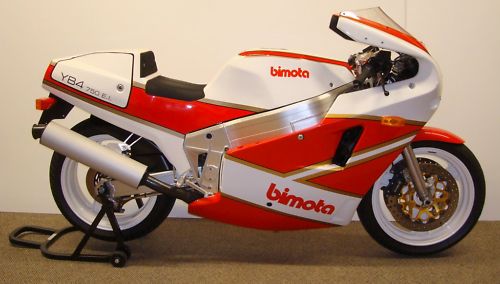 It seems to be the season for rare, vintage Bimotas. First we saw Phil's post on the legendary SB3 (click here for more details), and then sharp-eyed RSBFS reader Zach pointed out that this 1988 YB4 is back on the market. This is not the first time we have seen this bike: the seller posted his entire collection of homologation racers on RSBFS last year (click here for the original post). While some bikes from the collection sold, the YB4 did not.
So what is a YB4? Take a Yamaha FZ750 5-valve Genesis motor, augment it with custom fuel injection, stuff it into a stout, twin-spar aluminum frame, wrap it in voluptuous, hand-laid 'glass, suspend it with the best Marzocchi forks of the day, and stop it with top line Brembos. Bimota built just enough of them in 1988 (200) to qualify for homologation status, allowing them to compete in World Superbike Championship. It didn't hurt that it was a winning package.
From the seller:
1988 BIMOTA YB4 e.i. 750cc
For you Bimota collectors and 80's – 90's superbike enthusiasts out there, on offer is this beautiful condition YB4 e.i. with an amazingly minimal 1,985 miles.

FYI: This homologation superbike special is for sale locally – so I reserve the right to end the auction early.

Yamaha FZ 750 Fuel Injected Engine
Marzocchi Forks
Brembo Brakes

If you have questions regarding this machine or would like to see additional photos, please contact me through eBay and I will send additional information to you.
With typical Bimota artistic attention to detail, this is a very beautiful motorcycle. Great handling, good power and exceptional light weight make this a very desireable collectable. Ultimately, Bimota created just over 300 of these YB4 machines over a two year run – and finding one in the U.S. is a rare event.
This bike is available on eBay again, and interest has been moderate. The current bid is up to $7,100 at the time of this writing, which is still below the reserve. There are lots more pictures and more information offered by the seller, and I encourage you to check out this rare bird if you are at all interested. document.write('');Click here to jump over to the auction.
Good Luck and tell 'em you saw it on RSBFS!
MI
8 Responses.