1986 Yamaha FZ750 For Sale
Location: Manhattan Beach, CA
Mileage: 17,000
Price: $4,000.00
Selling from: 2007 Daytona 200 AMA winner Steve Rapp's personal collection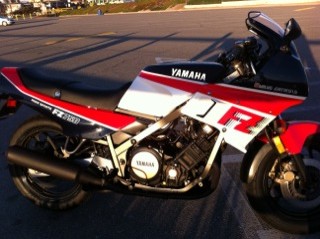 Introduced in 1985, the FZ750 was a solid performer, but as we all know it was quickly outpaced by the GSX-R's in 1986. The FZ's sported some of Yamaha's modern era technology and utilized the Genesis 5 valve cylinder heads which helped pump out a whopping 75hp at the rear wheel. Granted, not much by today's standard, but in 1986 that was kik'n some ass!
1986 Yamaha FZ 750. If you have been looking for a nice FZ,This is it! Its has been gone over and is ready to ride or store in collection.It is all stock, just replaced clutch, battery,tires, oil,filter, chain, sprockets, spark plugs etc. 17K miles runs great!
As "days gone by" come full circle, bikes such as this one have found a special place in many hearts and garages. I can remember spending hours in the local Yamaha showroom drooling over the latest offerings from Yamaha in 1986. All the while knowing good and well that I couldn't afford the brochure I was holding in my hand.
If any of you have a spot in the garage for a now 'classic' Cafe' style sport bike with a sprinkling of exclusivity added for good measure- Click here to pick this one up.
Cheers!
doug