"Ram air" was a very 90s gimmick with dubious benefits, especially on the road, but they gave bikes of the 1990s like this Suzuki GSX-R750 SRAD a distinctive style, with oversized fairing nostrils and large intake tubes that curved through the rider's view and into the top of the tank to pressurize the airbox. Well "ram air" implies airbox-pressurization at least, but the reality in this case was more form than function. But that minor point aside, the new model was a significant milestone in the history of the Gixxer, and there are very few remaining in this kind of clean, low-mileage condition.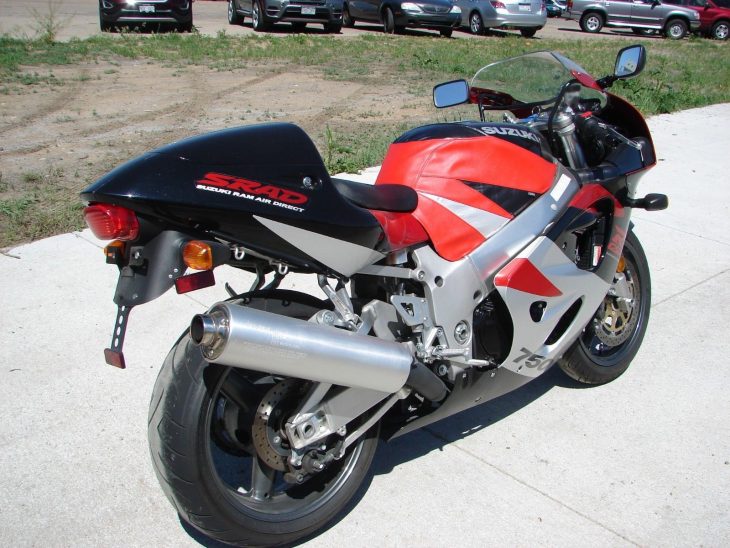 After generations that saw Suzuki's range of sportbikes getting more refined, but ever heavier and slower, the 1996 GSX-R750 SRAD and the smaller 600cc version finally reversed that trend. Suzuki's new Ram Air Direct model was really a complete overhaul of the existing GSX-R: an entirely new aluminum beam frame with claimed ties to Suzuki's GP bike replaced the cradle design, the liquid-cooled engine was narrowed by moving the cam-chain to the end of the block, and basically everything was made smaller and lighter, more compact. It debuted with a bank of carburetors, but the 1998 version seen here added fuel injection.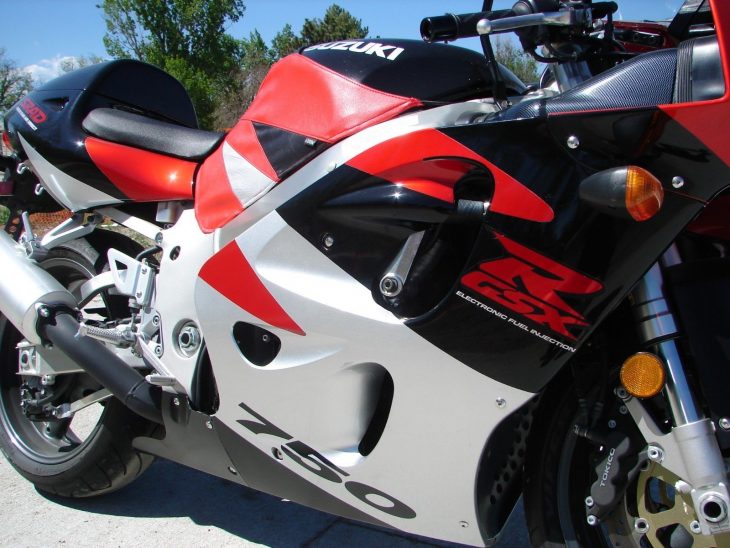 The result? A bike that was, marketing hype aside, as light as a contemporary 600: 395lbs dry, almost 45lbs lighter than the previous version, with a screaming, 128hp rev-monster motor and a very slick six-speed box that you really needed to abuse if you wanted to make good progress up to the new Gixxer's near 170mph top speed. But that wasn't a problem because the new Gixxer liked abuse. Fully-adjustable upside-down forks helped the bike handle and the six-piston calipers up front may have fallen out of fashion, but certainly look pretty trick.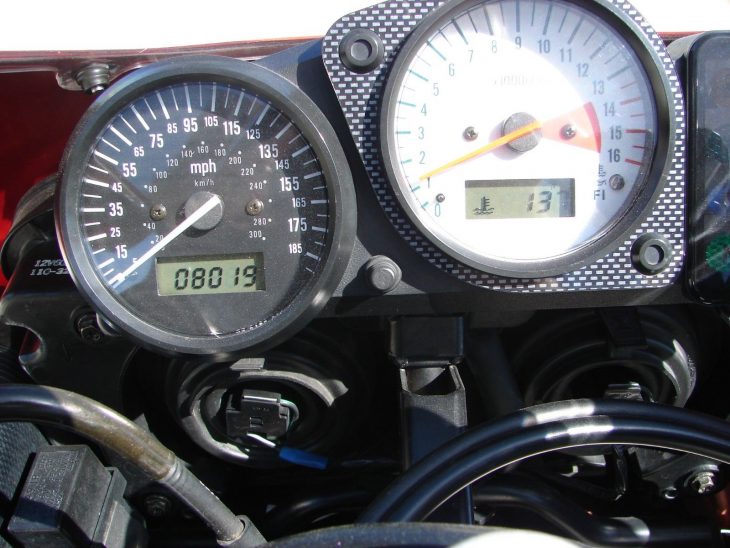 No one I know seems to be able to clarify for me: do you say "es ar ay de" or do you say "srad" when talking about these bikes? When I ask people keep looking at me like, "Hey, I thought you were supposed to be the expert." However you say it, the SRAD is a nearly classic sportbike with the handling, if not the outright power, to take the fight to modern machines. But throw on some fresh rubber, modern brake pads, and a set of steel-braided lines, and this could be one fun bike with the performance to go with all that nostalgic 90s style.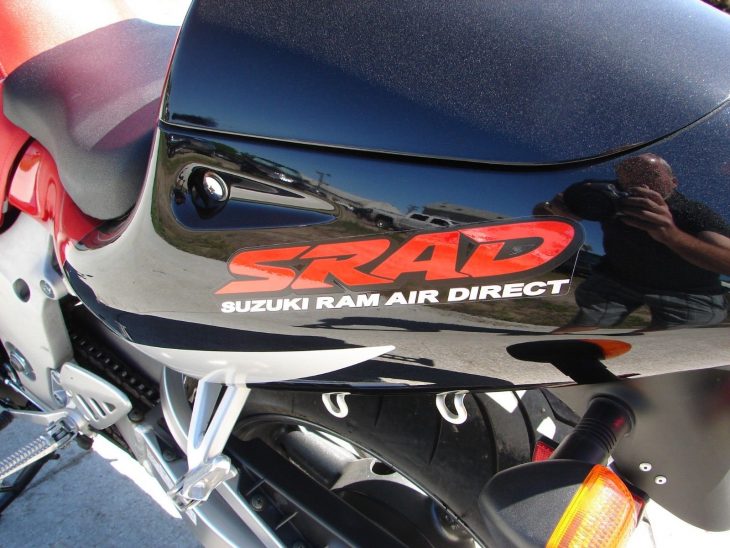 From the original eBay listing: 1998 Suzuki GSX-R750 SRAD for Sale
1998 Suzuki GSX-R750 fuel-injected with only 8,000 actual miles! 100% stock. Adult owned! Looks and drives like new! Never dropped! Always in a garage! Has a factory Suzuki bike cover, rear seat, tie-down strips, color-coded tank bra. This is a must see! Turns heads wherever it goes!
I've spared you the all-caps listing and deleted a whole bunch of extraneous exclamation points. You can thank me later. The seller's enthusiastic writing style aside, this is a very clean bike with a clean title and just 8,000 miles. It'd probably be even more desirable in classic Suzuki blue-and-white, but I'm sure the more subtle red-silver-black seen here has its fans.
-tad