The 1980s were an amazing decade for motorcycle development, from cruisers to tourers, from sport tourers to all out sport bikes. Every manufacturer made strides during this time, and what you are looking at today is a 1984 Yamaha FJ600 – the middleweight king (for a short while, anyway). This was the ultimate evolution of the air-cooled sport bikes, but thanks to technology advancements it already had one foot firmly in the next generation of advancement; it was a capable sport tourer and a dominant club racer in the day. As a mass produced UJM, the smaller of the FJ series (Yamaha released the FJ in 1100 and 1200 models as well) was never very expensive, nor very rare. So why post this one? 1984 is long past, as are the best days for most FJ600 examples. But rare is the day you find one in this type of condition. Sure, everyone wants to lovingly restore and care for an RC30, but not many will do so for a more, er, pedestrian model. This is a unique opportunity to pick up what has to be the best conditioned FJ600 out there.
The FJ-six was a little bit of a parts bin special, and a whole lot of evolution. Based on the 550cc Seca that preceded it, the 600 was air cooled and aspirated through only two valves per cylinder. This was the norm for the day, and compared favorably with the Suzuki GS550 and Kawasaki GPz550 designs. Of course the displacement advantage and Yamaha's focus on overall power certainly helped the little FJ, and with 72 ponies on tap and a 10,500 RPM redline, the FJ600 was ready to rumble. The chassis was conventional round-section steel, and little of the GP-inspired racer tricks of the time are evident, save for the rising rate rear monoshock (adjustable for preload), and triple disk brakes (267 mm all around). Wheels were a conventional 18″ front and back, and even the bodywork was simple, with a main fairing and a large chin spoiler. Overall, the FJ600 worked very well as a commuter, a weekend canyon companion, and was a force to be reckoned with on the racetrack (until the other manufactures introduced technically superior 600cc models).
From the seller:
"I owned the same bike in the 80's and thoroughly enjoyed it.
Last image is me in 1990 leaving for a ride to Cape Breton Island, Nova Scotia.
This is not the same bike. This is my passion project.
I still have the Eclipse bags (from 1990) and tank bag if you're interested in them."
More from the seller:
A beautiful example of the classic Yamaha FJ style

1. Cherry condition (some wear/touchups)
2. Super low miles
3. Stored in the living room
4. Matching numbers
5. Original key
6. Straight in every way
7. New tires with less than 50 miles (nubs still on)
8. New brakes front/rear
9. New front brake master cylinder
10. Rebuilt calipers front/rear
11. New brake fluid
12. New steering head bearings
13. New wheel bearings front/rear
14. New fork seals and dust caps
15. New fork oil
16. New grips
17. New period mirrors
18. New battery
19. New oil+filter
20. New petcock, also have factory petcock with rebuild kit
21. Newly replaced factory shock
22. New chin cowling still in box (primer grey-requires paint/decals)
23. New clutch cable
24. New throttle cable
25. New intake manifolds
26. Newly rebuilt carburetors
27. New spark plugs
28. Fuel removed from tank and carbs in 2018
29. Clean cases
30. New front sprocket
31. New rear sprocket
32. New DID 520 O-ring chain
33. Clean Florida title in hand
Motorcycle collections tend to take on a life of their own. And while many collectors wish for a well-rounded class of bikes – say the homologation machines of the 1980s-1990s – there is little doubt that this beautifully kept FJ600 would fit right in to any gathering of motorcycles. Whether you are collecting one or dozens, a clean example such as this should always have a home. The best part? A mere $3,500 will buy it now. Parts are plentiful, there is nothing so unobtainium that you cannot ride and enjoy it, and it is a great motorcycle to boot. Welcome to the cheap seats – where only the price of admission is low; the standards are still as high as ever. Check it out here, because this 1984 Yamaha FJ600 is a beaut that deserves a loving home. Stay safe, and good luck!!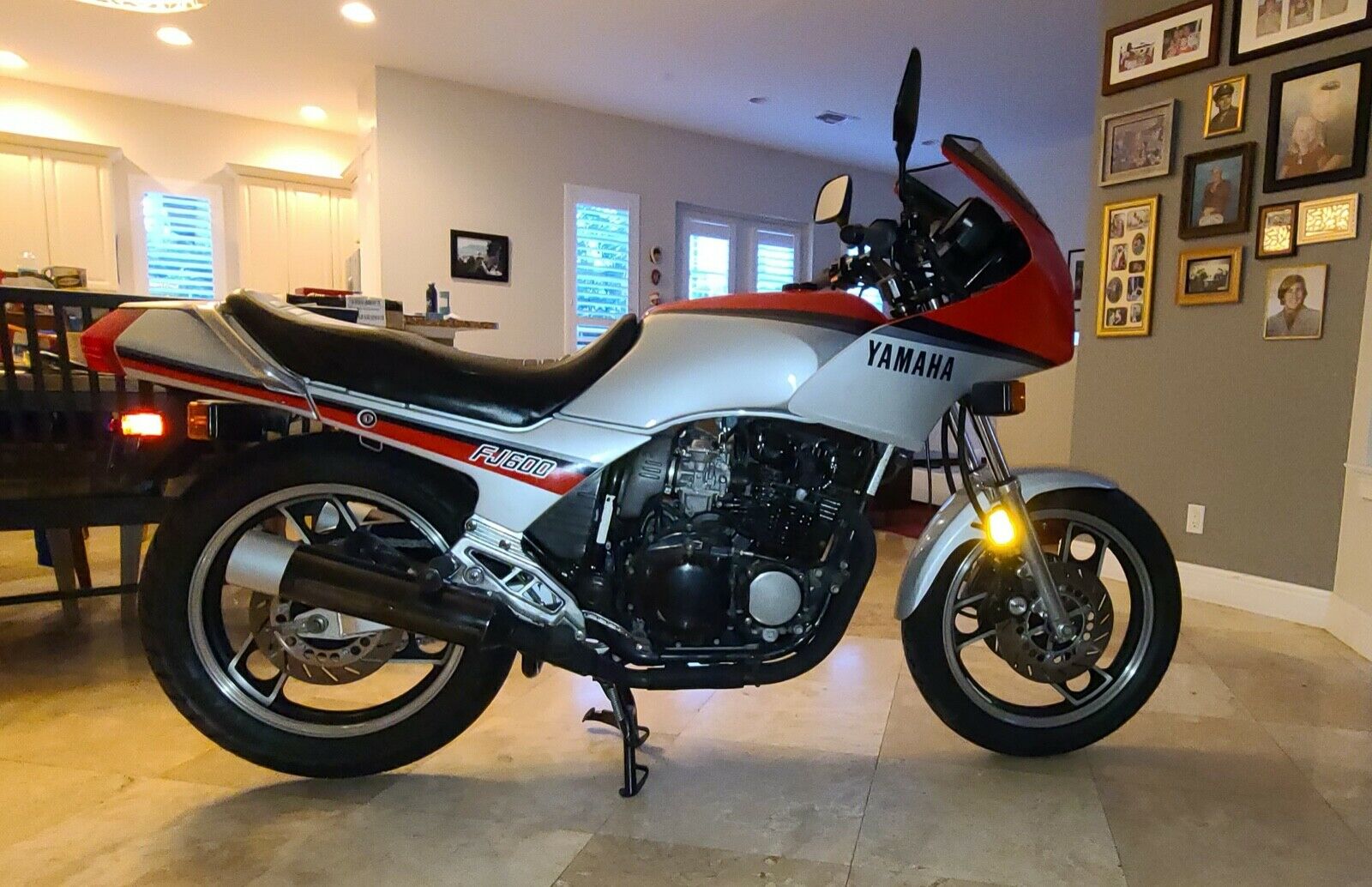 MI