If an unwritten manufacturer's agreement hadn't limited its speed to a mere 186 mph, the ZX-12R would've been the most powerful and fastest GT in the early oughties.  This example has some miles, but has clearly been pampered and thoughtfully upgraded.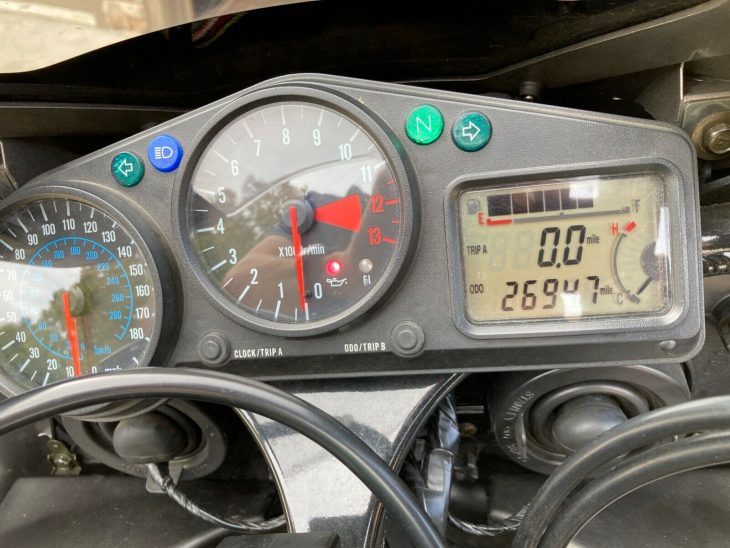 The ZX-12R's air of superiority started right in the engine room, with the 1199cc four using 46mm throttle bodies looking almost straight down on their way to 178 hp.  The airbox and chassis wanted to occupy the same area, so Kawasaki engineered an alloy monocoque frame, which serves as the plenum.  Stainless headers lead to a four-into-one collector and titanium silencer.  Multi-adjustable suspension is fairly conventional but the attention to detail is such that spoilers are cast into the fork legs.  The ram air intake funnels air in behind the headstock and keeps the power coming at higher speeds.  Winglets inhabit the fairing lowers, pre-dating the winglets that are more common these days.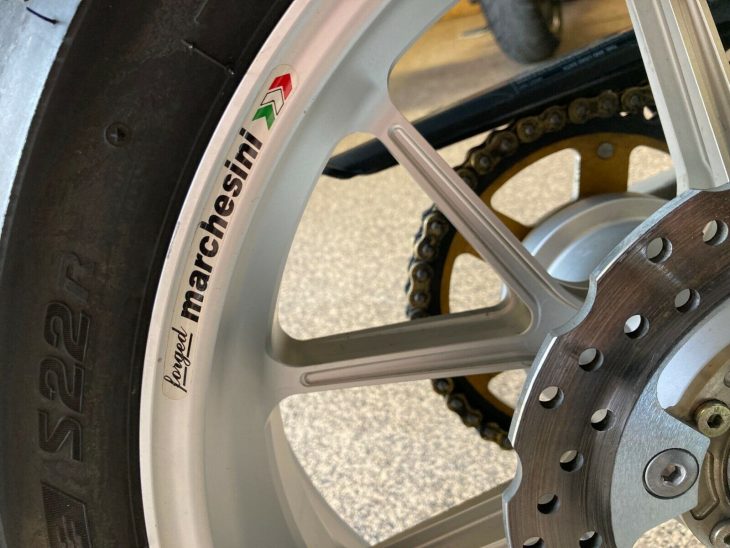 This original owner looks to have taken fine care of his Ninja, setting it up for some higher-speed touring with Power Commander, Marchesini alloys, and Sargent seat.  Corbin bags are shaped to accommodate a co-rider, but passenger pegs have been removed.  Notes from the eBay auction:
2001 Kawasaki ZX1200 A1. This rare one-owner ZX-12R is in excellent condition. Most of these bikes have been drag-raced into oblivion. Here's your chance to own one never raced, never dropped. Mechanically unmolested, the only extras are Corbin Beetle bags, Marchesini forged wheels, a Power Commander, Sargent seat, and a Muzzy's clutch hub. The bike will come with owners and factory service manuals. Stock rims are available. The chain and sprockets are less than one year old, and the fork seals were just replaced. The bike needs nothing except a new owner that likes to ride FAST!
Besides too lean fuel injection programming ( which the Power Commander solves ) and mirrors big enough for an endurance racing Porsche, the ZX-12R got high marks and held onto the speed-limited throne until the ZX-14 came along.  The package was more trim than competing uber-bikes and carried the ludicrous speed flag without forgetting it was a sportbike.  Bidding has been active early on and it'll be interesting to see at what point the reserve falls.
-donn