The second generation of MV Agusta's superbike as exemplified by this F4RC was more sophisticated, more refined, but no less dangerous. It's not really a question of power: there are obviously plenty of other literbikes with similar [or better] power-to-weight ratios. It's the general sense of wildness, an absolute willingness to murder you if you get too familiar with it. I was speaking with a husband and wife over the weekend about one, describing how it just feels far more serious than something like an Aprilia RSV4 that makes similar power and weighs about the same. At the end, she said, "It has no pity." Which I think pretty much perfectly sums up the MV Agusta F4: it does not suffer fools gladly.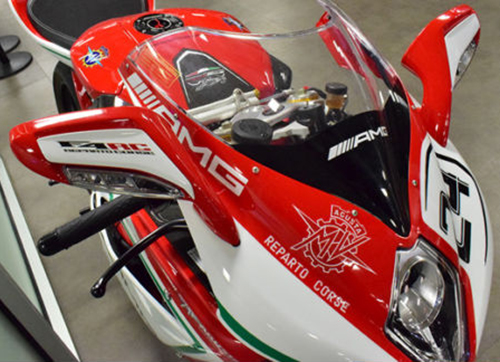 The team working on the second generation of the F4 faced a big challenge: how do you update a motorcycle that is widely considered to be one of the most beautiful designs of all time? How to you revise it so that it looks noticeably more modern, yet still maintains clear visual links to the earlier bike? I do prefer the original Tamburini bike, but it's hard to argue that MV didn't knock it out of the park: it's a bit more angular, a bit more technical, but still retains the overall shape and proportions that made the previous design so iconic.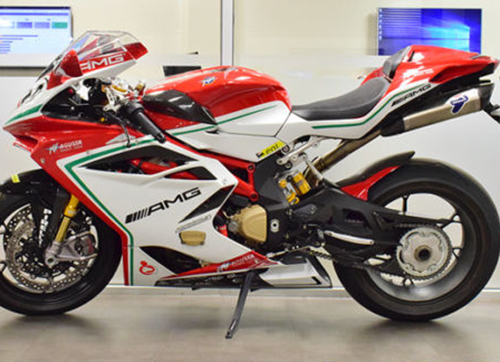 Perhaps most importantly, the electronics are far more sophisticated and a huge leap forward for the bike, with 8-level traction control and multiple engine power maps for throttle sensitivity, torque, engine braking, and response. Your ego might make you think you need whatever the equivalent of "RACE" mode is, but for most riding, I'm sure a less-aggressive map would help the bike's tendency to wheelie and generally try to kill you. Honestly, with the kind of power this thing makes, it will always feel fast. Power was up significantly: even the "entry level" F4R made a claimed 195hp at the crank, and this 2016 F4RC was supposedly good for an outrageous 212hp. From cold, it still has the distinctive loping idle and a hard-edged, exotic wail when revved, but overall it feels far more refined than the earlier bike.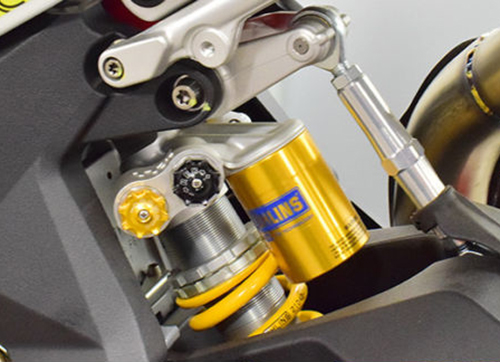 Ergonomics were improved as well, although that really isn't saying much and the bike is still pretty uncomfortable for anything like regular riding. Unfortunately, heat is still a significant problem and the F4 will still roast your thighs and try to boil over if you get caught in traffic. Keeping an eye on the temp gauge is difficult though: the updated LCD gauge cluster and blue lighting looks very sophisticated, but is difficult to read at a glance.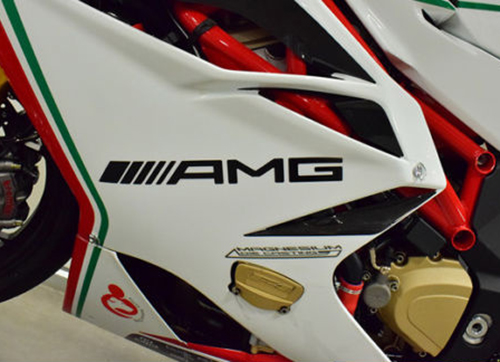 Interestingly, the bike wasn't even all that expensive when it was introduced in 2010, comparatively speaking. Sure, there was a premium to be paid for owning and Italian exotic, but the new F4 was priced just a few thousand dollars higher than a Yamaha R1, and while performance was similar, there's no comparison in terms of the bikes' styles. These days you can pick up a nice, low-mileage F4R for $12,000 and people will still think you're riding a bike worth ten times that. Seriously: I've overheard those conversations. Unfortunately, this particular F4RC is much closer to what the hoi polloi might be expecting, and the bike's asking price is a cool $35,995 although maybe those are Canadian dollars…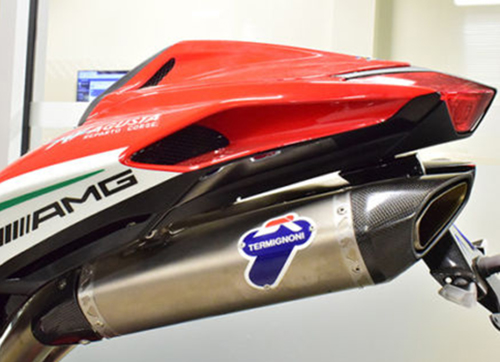 I'm generally not a fan of race-replica graphics, especially on a premium Italian motorcycle, but I think the RC red-white-green looks pretty sharp. The biggest draw for me is that stunning Termignoni exhaust that addresses the only real design element of the second generation F4 that I find disappointing. The organ-pipe setup on the first generation bike is terrific, but the revised design tried to maintain the four undertail pipes with an updated style that used squared-off tips, and generally looked like it was trying too hard. The twin Termignoni cans suit the bike well and sound amazing.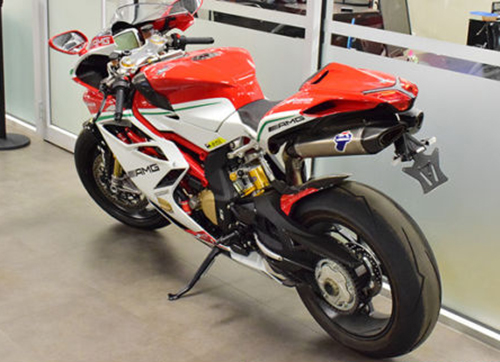 From the original eBay listing: 2016 MV Agusta F4RC Reparto Corsa for Sale
Used like new, very rare motorcycle MV Agusta, F4 RC Reparto Corsa AMG, 2016, 237 miles (380km), must see.

WSBK Ready, 212 Hp, Only 250 built around the world in 2016. Limited warranty available, not included, call us for details.

Price based on local pick-up, shipping available worldwide.

Contact us to check the shipping and/or customs fees according to your location.

Applicable sales tax.

Race ready motorcycle, it is up to the buyer to take the information according to his locality for the possibility of road registration.

We are not partners with Uship and do not confirm the accuracy of their quotation, call us for a more accurate price.

http://www.motosillimitees.com/fr/powersports/occasion/mv-agusta-f4-rc-reparto-corsa-amg-212-hp-2016/10766748/

Motos Illimitées
Well this is obviously being offered by a dealer and there isn't much information about the bike's history. But as usual with a bike that has so few miles, there probably isn't much to tell. If you want a nice F4, you certainly don't need to pay this kind of money, although it's pretty comparable to top-shelf Ducati Panigales and a bargain, compared to the Superleggera. Modern MV Agustas don't get much more collectible than this.
-tad