Development of the FZR1000 had about reached its culmination in the early 1990's, and development of the succeeding Thunderace had begun.  The flagship continued consuming road miles by the ton, as it had since 1987.  Offered as the alternate livery from the team-inspired white/red/blue, the subdued flashiness of the 1994 model hangs together in a 90's kind of way, but the performance – 20-plus years old and a sub-11 second 1/4 mile – is ageless.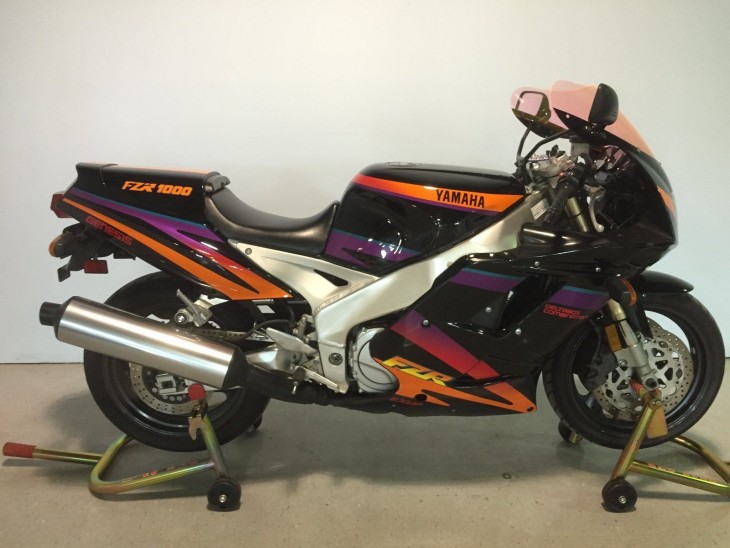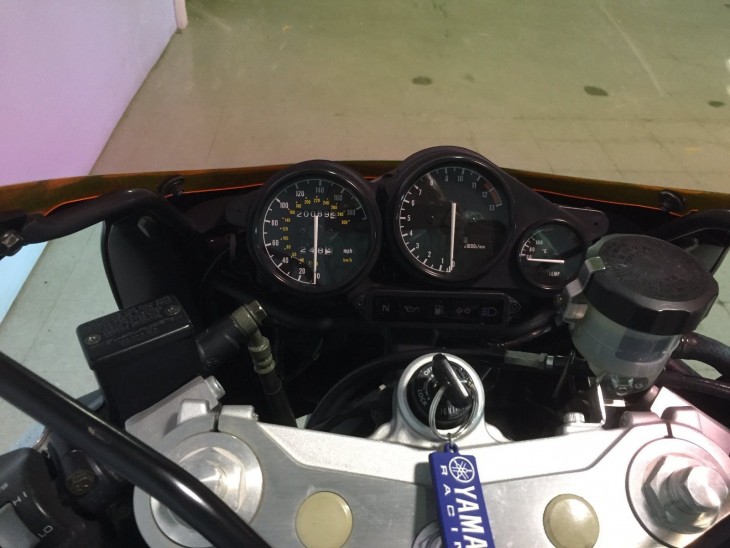 Using the stamped and heli-arced aluminum for the perimeter frame and swingarm, Yamaha engineers provided enough rigidity to contain the irresistable 145 hp and 79 ft-lbs torque.  Adjustable for preload at both ends, 43mm upside-down forks and monoshock rear.  Yamaha's EXUP, a servo-controlled exhaust collector, provides a wider torque curve for the powerhouse.  Brakes are Porsche-like, 320mm dual disks in front with 6-piston calipers, and the rear of 267mm is commonly seen on the front of smaller bikes.  But we are talking triple-digit speeds and 1/4-ton weights.  Full fairing helps the rider hide from the gale, and sends ram-air down to the engine room.
Previous riders must've been very careful as there is barely a mark divulging the 20,000 miles, and it appears completely stock save the orange windshield.  Nothing about past owners or maintenance history, but here's what's in the eBay auction:
Pictures speak for themselves! All stock, NO modifications!

Adult owned and gently ridden.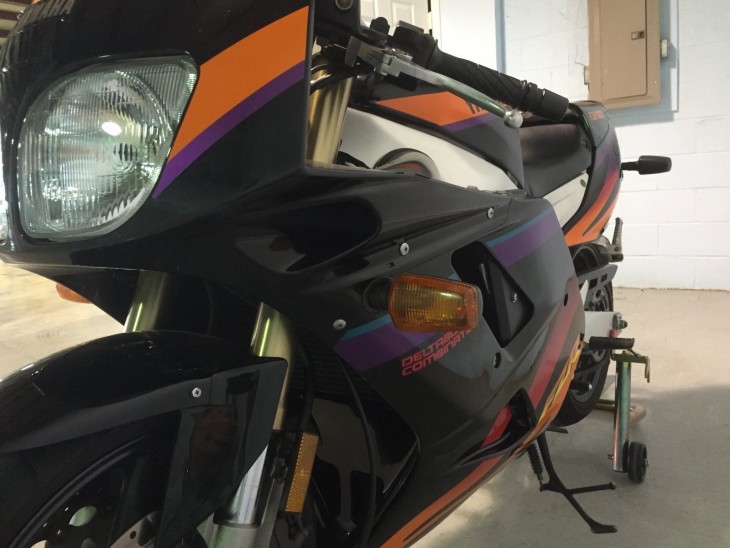 Reviewed as a heavyweight road weapon, it's a stable high-speed platform, only real squawk being the lack of anti-dive up front.  No reason to zing the big motor with the amount of torque available, and it should be fine for another 20K miles.  With the fairing providing the feeling that the rider is glued to the bike which is glued to the road, they should go by quickly…
-donn