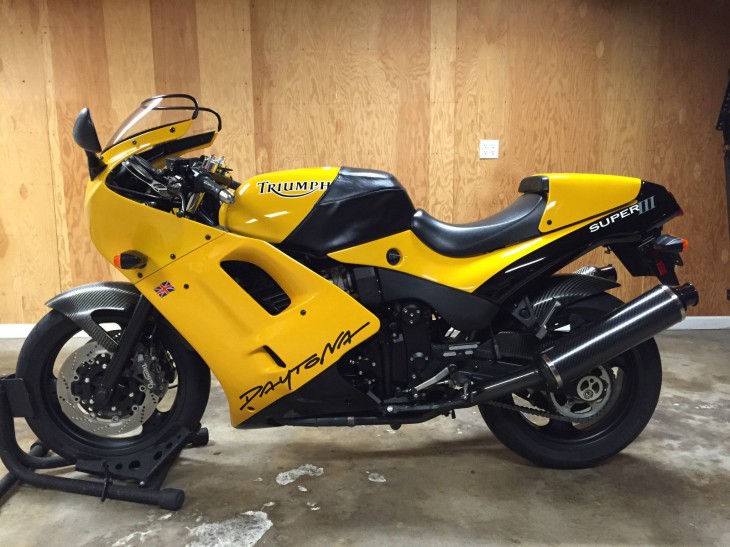 Triumph Motorcycles Ltd. is the largest surviving British motorcycle manufacturer but it hasn't been an easy path for the Uk-based manufacturer.  The entire British bike industry basically collapsed back in the early 1980's and  Triumph went into receivership in 1983.  After a few years and a lot of legal wrangling, British businessman John Bloor ended up acquiring the name and manufacturing rights and his "new" Triumph motorcycle company re-started sportbike production in the early 1990's.
Between 1992 and 1997 Triumph produced the much appreciated but ultimately underpowered 3 cylinder Daytona 900. This bike was a successor to the 0riginal Daytona 750 and boasted a more acceptable riding position designed to increase its sporting ability.  But the power to weight ratio was still a problem, especially when compared to other bikes at the time such as the GSX-R and the ultra-light Fireblade/CBR.  So for the 1994 model year Triumph produced the Daytona Super III, a very limited production run of 150 bikes designed to help re-balance the power/weight issue for the big Triple.
The Daytona Super III had a host of changes from its predecessor, with the major one being a significantly more powerful engine. The power improvements were due to a collaboration with the tuning gurus at Cosworth and was accomplished by using higher compression pistons and a redesigned cylinder head. The end result was a power increase from 97 bhp to 115 bhp.  Overall the Super III was a more responsive and higher performance ride, and also had many parts switched to carbon fiber and improved brakes.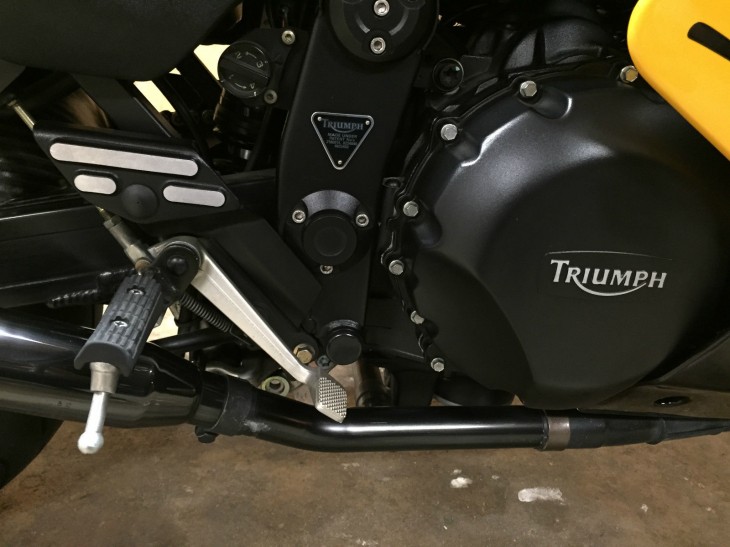 While the new Daytona sill wasn't as light and agile as the CBR/Fireblade, it was certainly a big step forward and it offered something the ultra-light hyperbikes did not; the ability to be used for both blazing speed runs and medium duty touring.    Almost immediately after being introduced, the Super III was identified as a speed touring monster; consider the following review from the August 1995 issue of Motorcyclist magazine.
 First thing you notice is it isn't in the same mold as Japanese race replicas such as Suzuki's GSX-Rs,  it feels long, tall and still a bit heavy.  It can't flick through chicanes like a repli-GP machine and it doesn't rev way into five figures. But the Daytona is deceptive; its point-to-point performance is superb, with most of the credit for this belonging to a new engine that ticks over with a slightly cantankerous rumble that tells you 'I'm an engine'.  From the instant you press the button, the Triumph exudes the sort of engine character that Japan largely designed out years ago. 

There are no bottom-end flat spots, just a rising tide of willing revs. The Daytona Super III is content to potter at slow speeds but useful power begins to swell at 3000rpm, continues unabated until the 9500rpm red line and at no point does it ever feel remotely stressed.  Peak revs equates to 148mph in top gear which might not seem impressive in an age of 150mph 600s but it is how the new triple's getting there that sets it apart.  While most engines of comparable range are either bland or plain slow, the 900 is a speed touring monster, an unburstable projectile from A to B. 

The rest of the package is of the same high quality.  The gear changes are positive, with no under-selection, the truck-sized clutch practically redundant once on the move. Six speeds is overkill, but allows relaxed top gear ratios. In almost every area, the bike seems over-engineered. 

The Super III does a superb job of filling a segment that seems to have been vacated except for the ZZR; charismatic sportbike that can also be used as a daily rider and medium distance touring machine.   No doubts that this bike will become an important piece of the reborn Triumphs legacy and a future classic.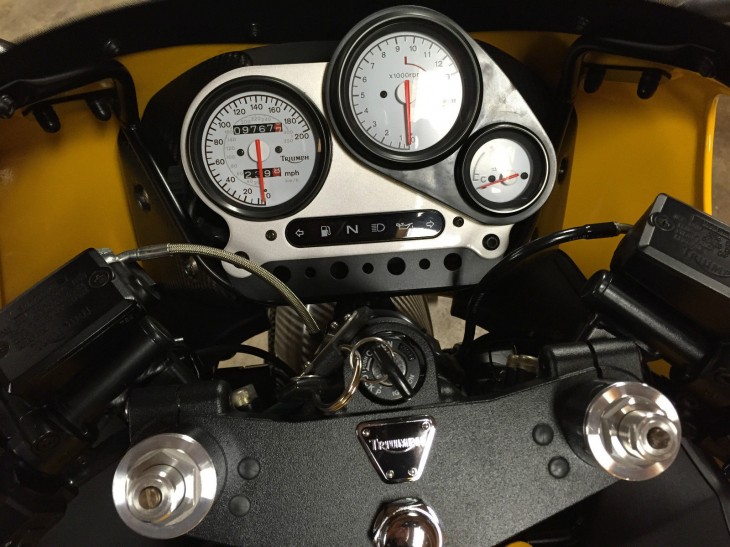 This particular Super III looks to be amazingly pristine.  The seller includes excellent hi-res photos on the ebay auction and also a link to a youtube video.
Here is some of what the seller has to say about this particular Super III.
If you have been looking for a collectable Triumph from the modern era, this is the one!   There were only 150 of these bikes worldwide.Bike only has 9767 original miles, has always been garaged and has never been in the rain. Special features include carbon fiber fender and sub-fender, carbon dash, 6 pot calipers, and seat cowling. Paint and carbon fiber look as new. All fluids are fresh and bike has been maintained perfectly.Tires are almost new with 95% tread remaining. Lots of extras (see auction for details)
So what's this particular Super III worth?  The KBB website doesn't have a price for these which is a common problem if the bike is produced in small numbers like this one was.  A few Super III's previously posted here on RSBFS seemed to go for around 3-5k USD, which is pretty cheap for a bike that gives you this much performance and versatility and given the outstanding condition of this example, I would expect price expectations to be at the upper part of the range.   This bike seems like an excellent opportunity for a collector to acquire a pretty rare bike that they could also use on a regular basis without having to go to the chiropractor afterwards.
MG