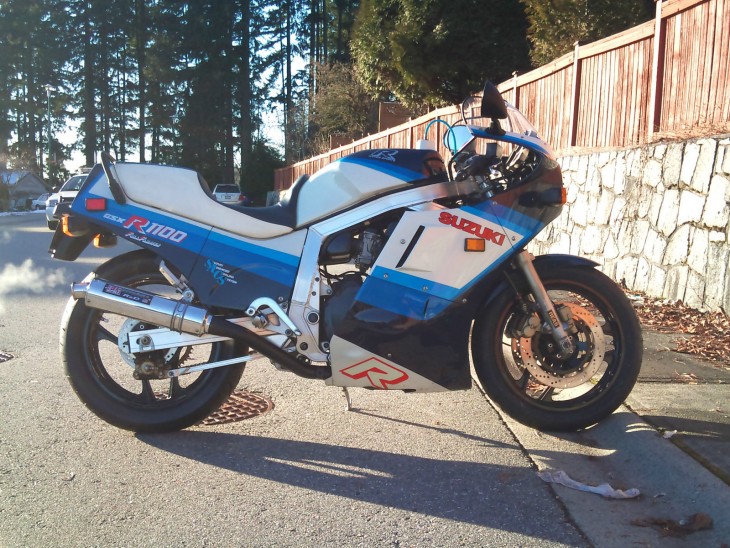 Often overlooked by collectors focused on it's 750cc little brother, the 1986 Suzuki GSXR-1100 is just as important in the evolution of superbikes.  Suzuki started the GSXR family on the other end of the spectrum, with their 400cc model while gradually working all the way up to the 1100cc masher that we see here.  Even by today's standards, the performance numbers are impressive.  Powered by an air-cooled 1052cc mill producing a claimed 137hp and weighing just 434lbs, the competition was left in the dust.  The biggest problem was that the square tubed aluminum from was susceptible to distortion from the big power and the braking and handling of the era wasn't really up to the task either…. but that's half of the fun, right?
This example is probably the nicest one I have seen since my very early riding days and it's almost impossible to believe that's it's showing 80,000km on the clocks.  Much of bike is original, but a few bits have had some well deserving love.  The seller's eBay ad is very detailed and can be read here: 1986 Suzuki GSXR-1100 on eBay
1986 Suzuki GSXR 1100. First year original restored condition. Full service history from day 1. Full Yoshimira exhaust circa 1989. Original exhaust in perfect condition come with the bike as well. Fully tuned for pipes with dyno at 114hp at rear wheel. All new OEM switch gear purchased direct from Suzuki while they still carried it. New screen in original box. Never installed it because I used the bike and didn't want to get it dirty! New rotors, chain, chain guard, tires almost new. Has period correct Corbin touring seat circa 1980s but original seat and passenger seat cowl in fantastic condition included with bike. Paint is original in near perfect condition. Don't be fooled by mileage. Entire top end redone with recent valve adjustment.
Did I mention that it's clean?