Update 8.10.2022: SOLD! -dc
Dissatisfied with the 1990's WSBK rulebook, Honda channeled their inner Borgo Panigale and surprised Ducati on their own V-twin turf. RSBFS reader Joe started with an excellent RC51 in storage, and went over it with an eye on the long haul.
2000 Honda RVT1000R / RC51 asking $13,500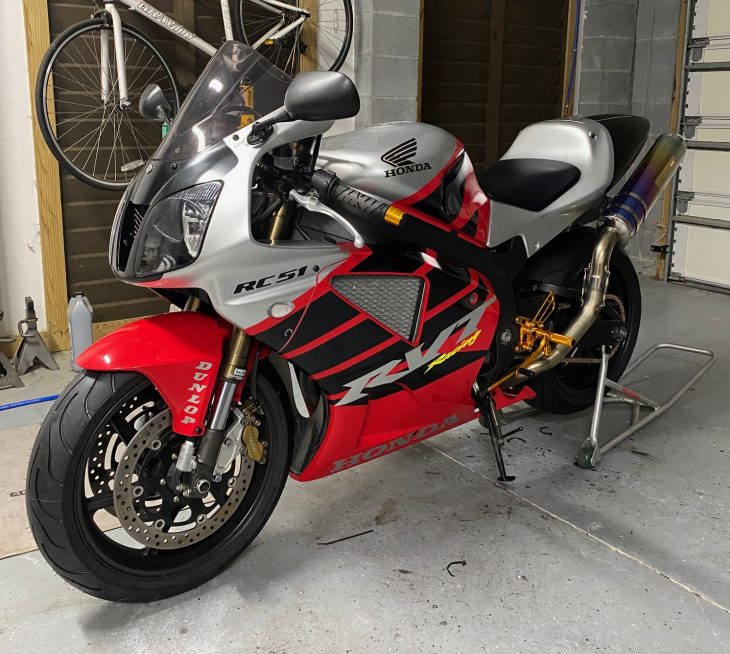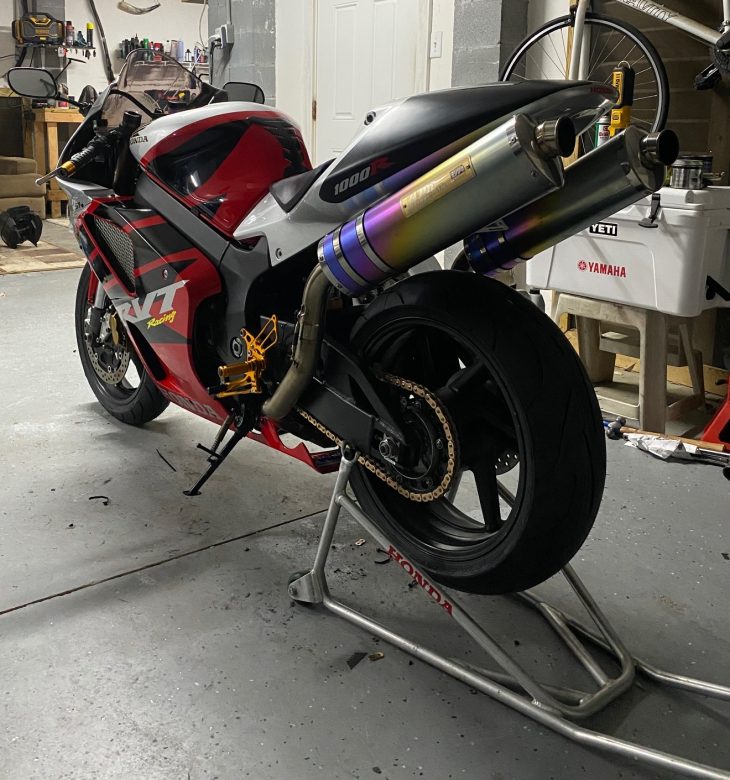 More oriented toward the track than the previous Firestorm, the RC51 was built to homologate the design for racing, with the quite oversquare 996cc tuned for 136 hp and 77 ft.-lbs. of torque.  The alloy twin-beam chassis used the engine as a load-carrying stiffener, and the side-venting rads kept frontal area low.  A scoop between the headlights delivered fresh air to the engine, and individual exhausts sent used air aft.  Components on the homologation special included the 320mm Nissin brakes and wide six spoke alloy wheels.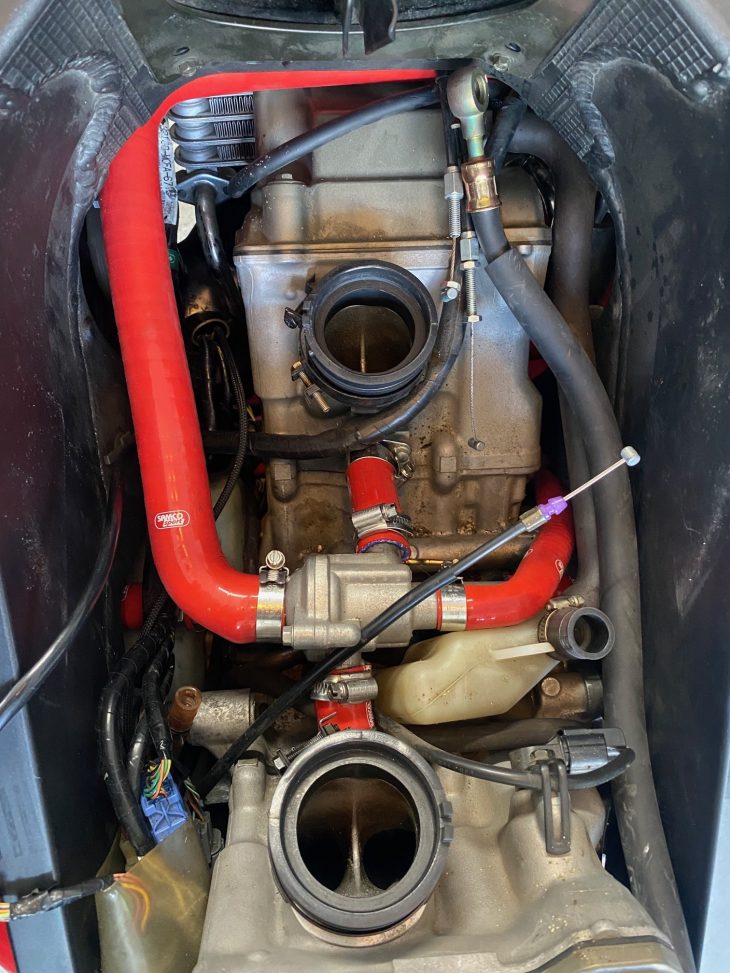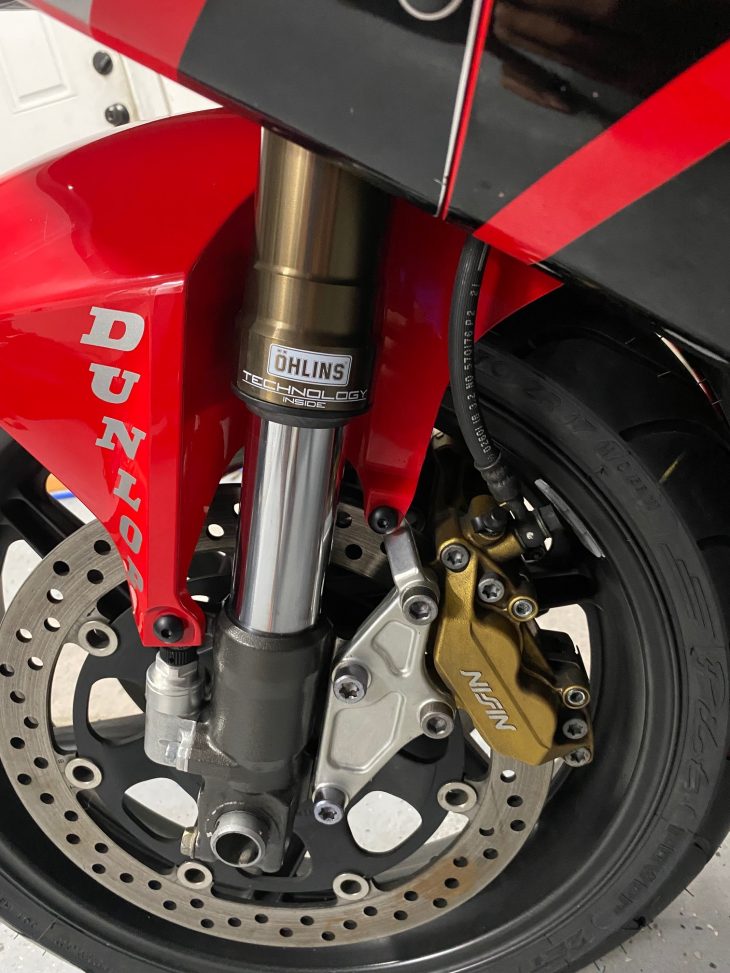 Beside returning his RC51 from the back of the garage, Joe improved every significant corner of this very clean example.  Just a few highlights are the race tuned Öhlins front and rear, full Moriwaki exhaust with Power Commander, and Sato rearsets.  Here's how Joe described the build –
Previous owner let it collect dust for 12-ish years. Bike was in stock form with Erion slip-ons (that come with sale). Parts list included in pics. I spent three months refurbishing and building to what it is now with an open check book. About $8,500 in receipts. All paperwork from new, roughly 500 miles on completed bike. It's too nice and too rare to abuse or damage. Ready for the track or a museum, no excuses. I hope somebody will appreciate the history and opportunity as much as I did to preserve this machine. I got lucky sourcing the full Moriwaki system that never came in country. 4K in Öhlins setup, I typo-ed the gearing in the pics, it's 15/41 geared and a calibrated speedo healer so the dash is accurate. ALL stock parts plus additional '04 Hayden bodywork come with the sale along with front and rear stands, original hang tag from the showroom floor, etc.  The history and story of the bike are better told in person or over the phone – cannot be duplicated.
Joe asks $13,500 for his RC51.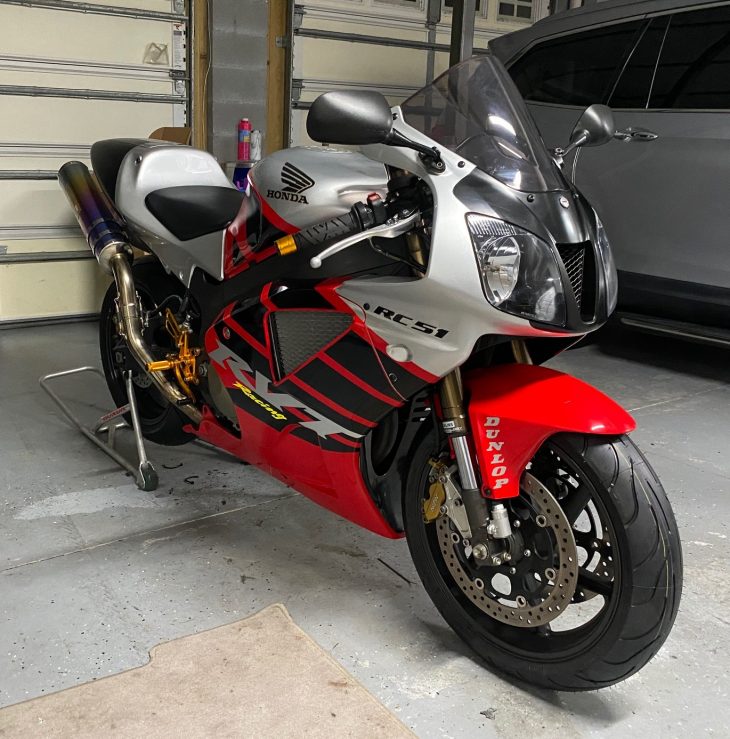 Racers and Honda fans liked the narrow light feel of the new RC, and the gear-driven cams on a liter twin had a sound completely different than anything at the time.  It had instant success on the race track as well, taking the Superbike crown in 2000 and then again in 2002.  By then FIM was thinking to increase displacements, and Honda returned to the inline four that had built so much of their showroom success.  Joe's SP1 marks an interesting chapter in Honda history, with a lot of well-chosen upgrades.
-donn