Though RSBFS mostly posts carefully tended originals, some models will attract major league attention no matter the condition.  Today's subject is a venerable RC30 which was apparently parked and forgotten after just 62 miles !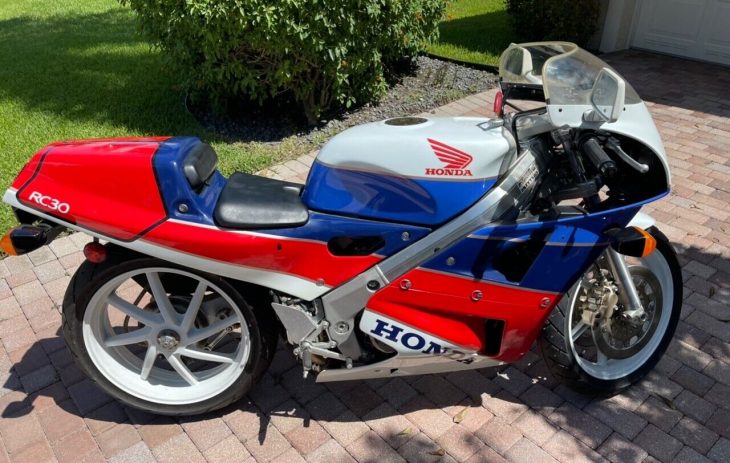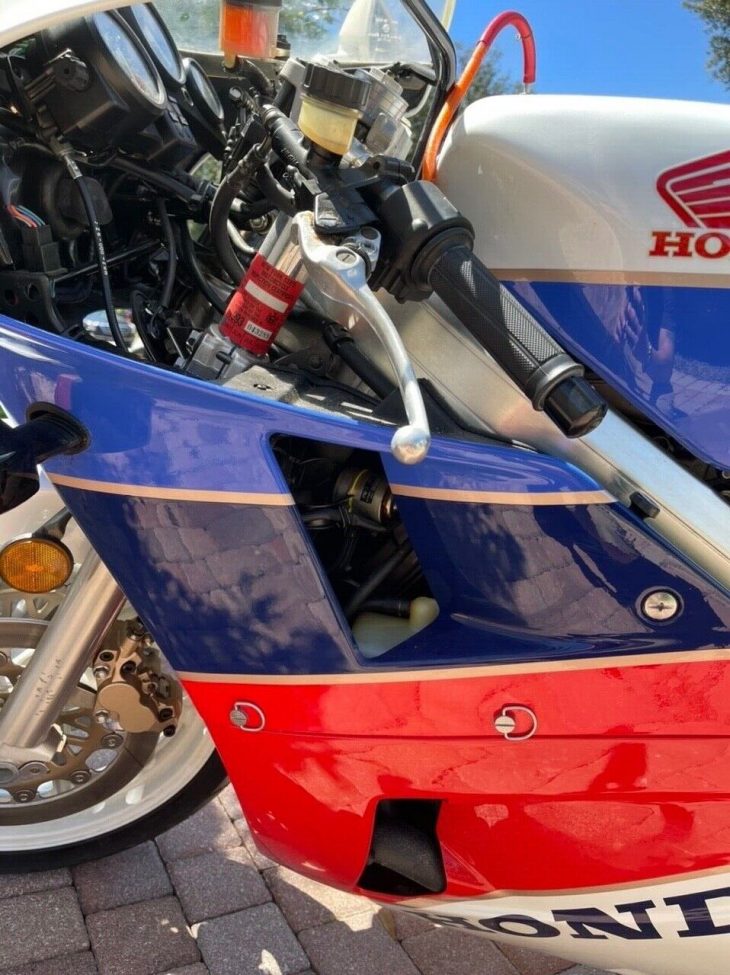 Not sure what else can be said about the RC30, already the subject of much attention and well-deserved interest.  It was made in just enough numbers to homologate the build for the Superbike World Championship, which it won the first two years.  Using HRC-designed parts for most major components, it had very little in common with the rest of the VFR line-up, and at $15K in 1990 it was well out of most riders' reach.  Many of the details wouldn't have been considered for a more sales-oriented machine, like the titanium connecting rods, camshafts running in needle bearings, the oil cooler sending heat to the engine coolant, and the single nut retaining the rear wheel.  Even with all that, a race kit was available which gave an alternative exhaust, radiator, gearsets, race wheels, brake calipers, axles and steering damper.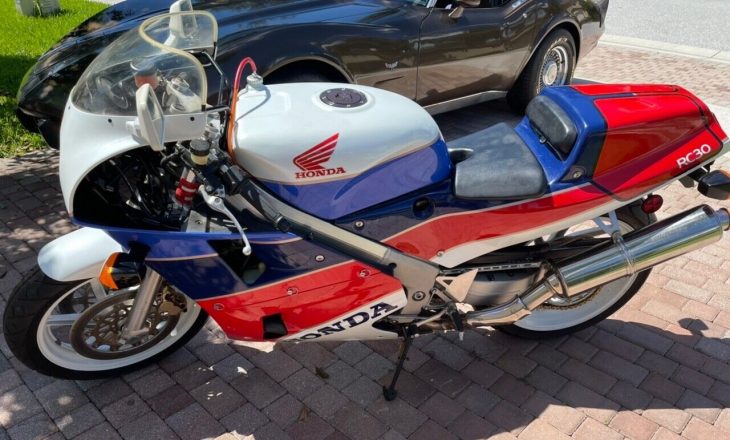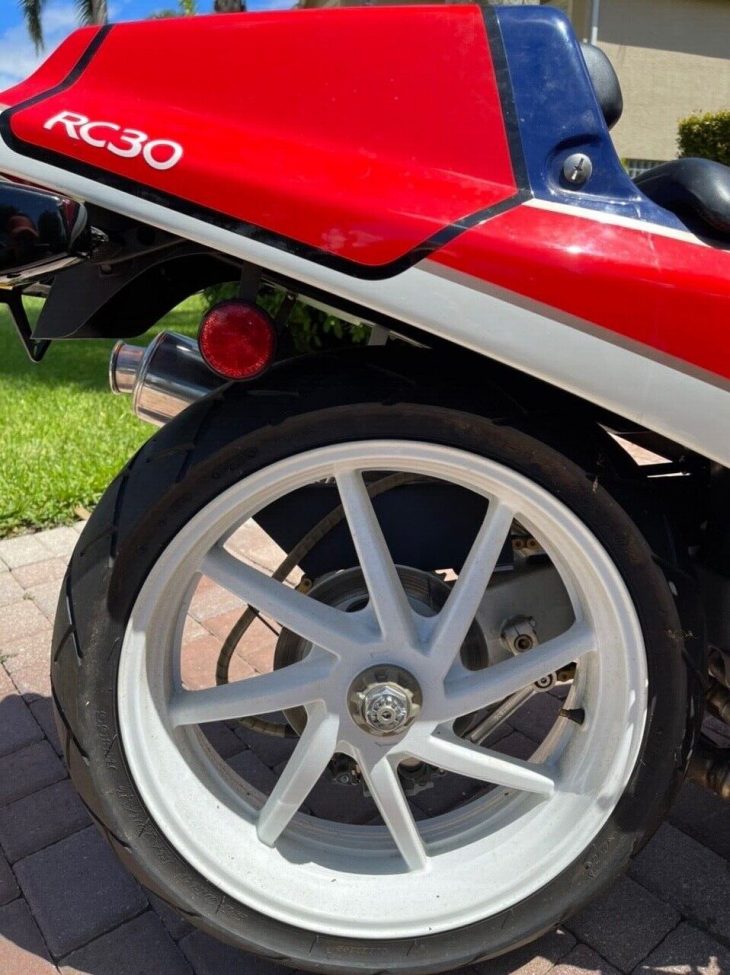 Though it might be fascinating to hear how this RC30 came to be parked so soon, the NY inspection and Florida location will have to do for now.  For all the inattention, it looks excellent with no apparent damage and only a minor amount of corrosion.  Every system that ever had liquid in it ( and some that didn't ) await the next owner's attention.  The original accessories are a great addition, being otherwise unavailable.  Notes from the eBay auction –
Yes, only 62 miles. The motorcycle has been in storage for the past 30 years and is located in South Florida. One owner, all original, no aftermarket accessories or modifications. Note that the motorcycle has not been touched or cranked over in 10 years. At that time, it was running until all the gas was out. All documentation and everything that it came is included such as the race stand, tools and New York State title.   Noted issues (not all inclusive) –

Pitting on both forks
Scratch by the back seat rest
Scratch on gas cap 
Gas cap will not unlock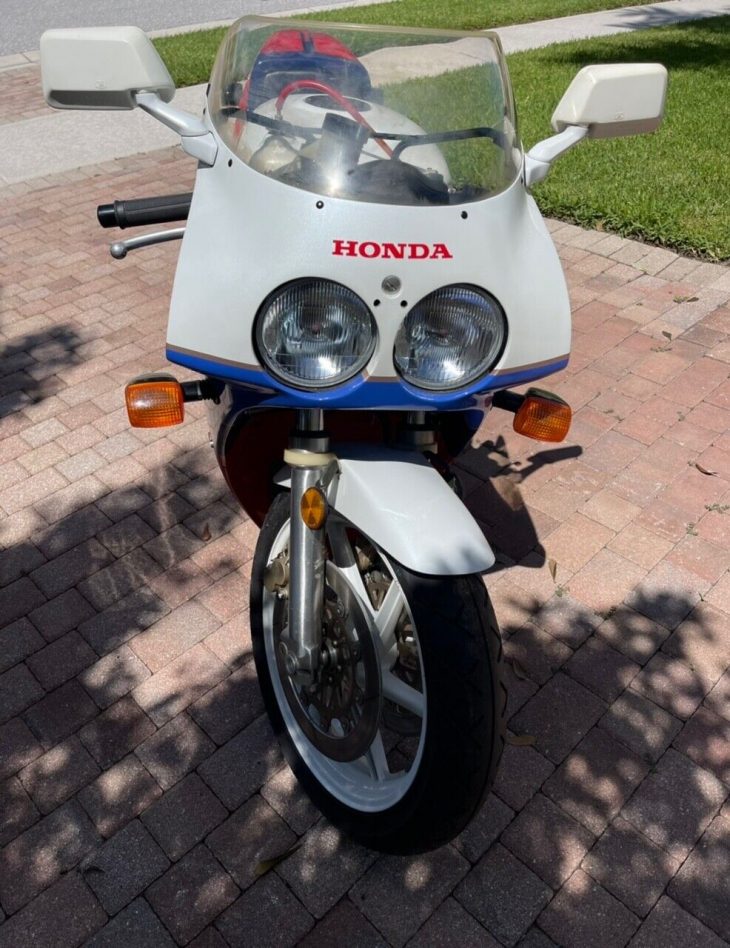 While that fork corrosion wouldn't normally be worth tending to, in this case the forks will probably be disassembled and re-finished.  It's easy to predict a full restoration for this RC30, but harder to say whether it will ever turn a wheel afterward.  Too bad because just the sound of the 360-degree crankshaft engine would be worth it.  Seems like each one of the estimated 4,885 RC30's ever made has at least the potential for a spot in a museum or stadium auction.
-donn