Update 8.6.2021: This bike has SOLD! Congratulations to buyer and seller. -dc
The checkered flag is somewhere in the background of every sportbike worth the name, and BMW put their signature blue and white checker right on the R1100S Boxer Cup Replika fairings.  Owned by a veteran rider, this BCR doesn't have a mark or needless farkle on it.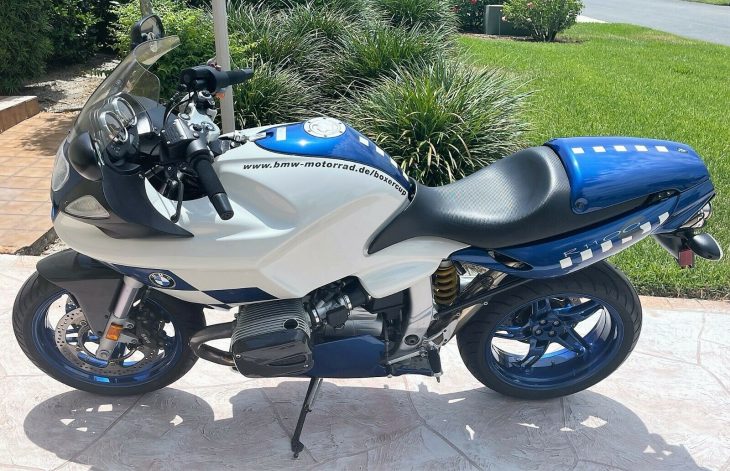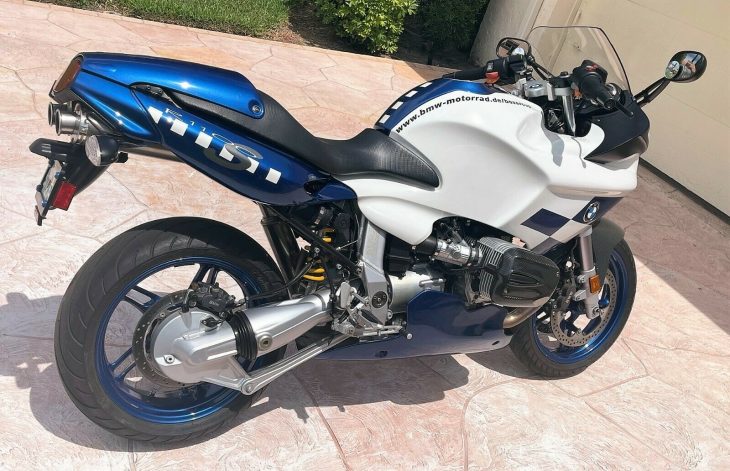 2004 was midway through the three year BCR reign, and the special edition had a host of updated components aboard.  Though the 98 hp flat twin was shared, it's the latest dual-spark engine, with 6th gear was a bit lower, and the light titanium Z-Technik exhaust.  Suspension was also an area of interest, with longer fork tubes and shorter rear torque arm borrowed from the GS model, allowing more lean angle.  Special Cup components like Öhlins dampers, braided brake lines, wider rear wheel, and profiled carbon valve covers – all optimized cornering power.  The upper fairing / tank combo flows to the seat console which hides a small pillion, balanced by the painted carbon engine fairing.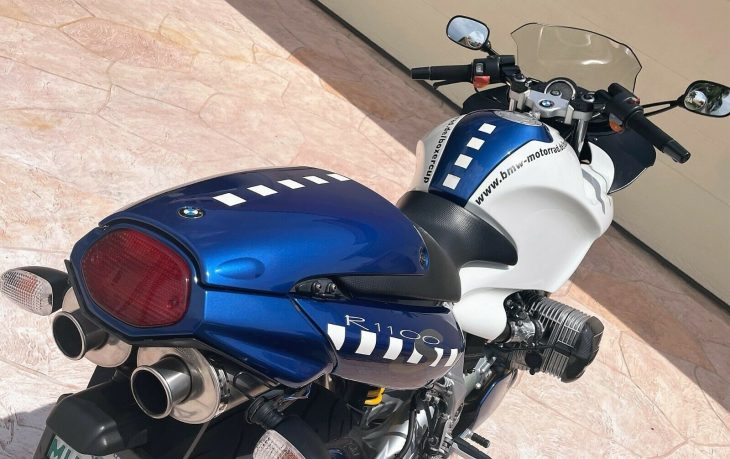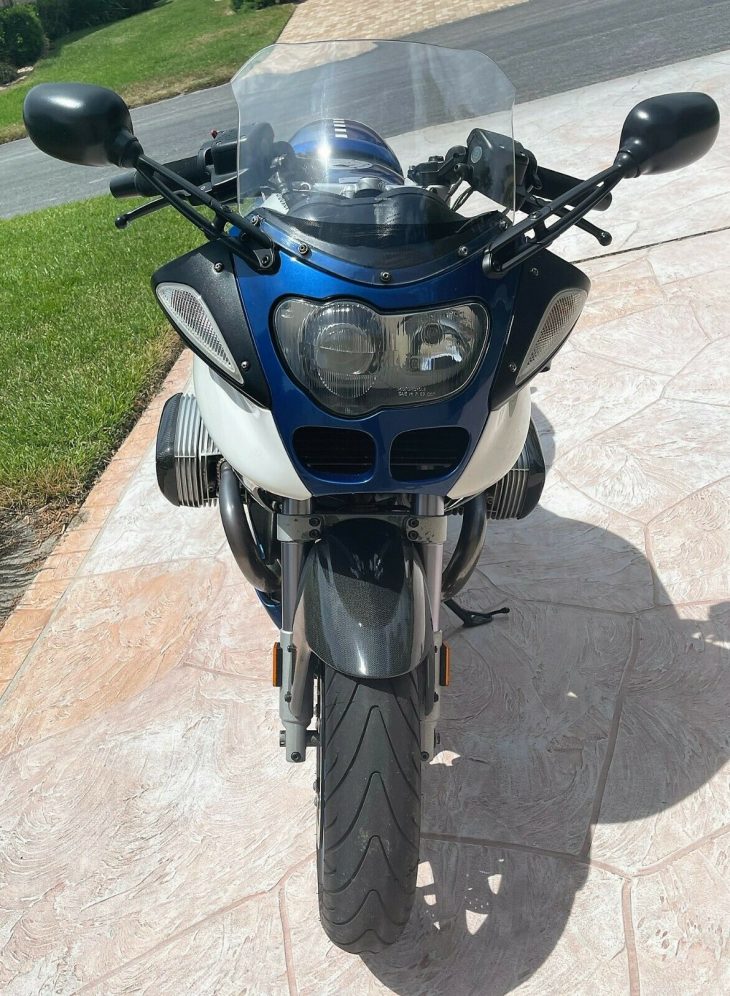 Just from the pictures, it's easy to see that RSBFS reader Scott is passionate about the BCR, showing beautifully in the Florida sun, without the slightest flaw.  It came with ABS, which might not be the choice for expert rider on a race course, but is worth it if it makes just one save over the life of the R1100S.  Scott picks up the story from here:
This is arguably the best looking BMW motorcycle ever produced – inarguably to me!  And I'm including the R69S and R90S.  Here's my mint 2004 BMW R1100S Boxer Cup Replica (BCR) one of 300 imported in 2004, in spectacular immaculate stock condition as it left the Munich factory in April 2003 per the VIN sticker.  This one has just 21.7K miles since new, or just 1,500 pampered miles per year.  It has been garaged since day one.  Unlike most of these, it also has factory ABS brakes which are always a nice safety addition if you plan to install some bags on it and tour.
NOTE:  BMW Boxer Cup Replicas (BCRs) were limited production versions of their popular boxer twin 1100cc 98 HP / 75 Ft. Lbs. torque sport machines with the cool Ducati-esque under-seat Titanium ZTechnik exhaust pipes.  They also had the sports options offered at the time of the higher suspension and beveled carbon fiber valve covers for added ground clearance in the turns, and therefore slightly taller seating position, with other carbon bits such as the front fender, a 5.5″ wide rear rim, and the lovely blue and white custom factory livery on body and wheels. Neither the rear fender has been chopped nor any other part of the bike modified that will detract from the intrinsic value this fine machine possesses.
The factory paint and finish on my BCR are a solid 9.5 out of 10.  You will be astonished at the condition of this bike both visually and technically.  It handles, starts, stops, shifts, and brakes as new.  There are zero issues or concerns with this fine machine, and I welcome anyone local to check it out or have it checked out professionally prior to bidding or purchase.  Of course it has NEVER been dropped or laid down at any stage in its life.
The bike is fitted with sticky Michelin Pilot Sport tires with lots of grippy meat left on them.  I also have the original passenger BMW footrests and mounts in mint condition.  I ride solo and prefer the cleaner looks without them installed – they are very easy to install back in their original positions – I can do it prior to your pickup.  The factory seat is in flawless condition, firm and supportive.  The factory handlebars are mounted above the top triple clamp and therefore provide a more relaxed riding position.  If you need more, the aftermarket can provide handlebar risers and rider footrest lowers to fine tune the fit.
These bikes are only getting harder and harder to find and will go up in value as time marches on.  I'm 63 years old and have been into bikes, mainly BMWs, since I was 11 years old.  I've owned over 40 BMW bikes and this is the best of the best that I've owned.  I guarantee you will NOT be disappointed with this fine machine.
Scott asks $6995 $5,995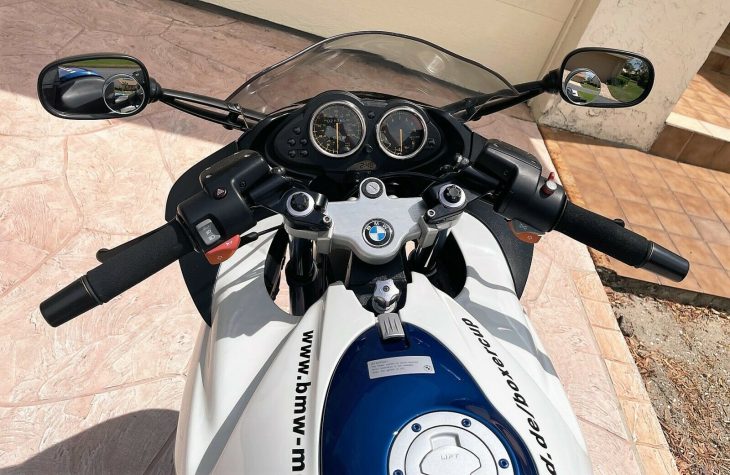 The R1100S had a nice run 1998 through 2005, with Sport, BCR, and Boxer Cup Prep special editions.  The company took the model up-market with the R1200S, HP2 Sport, and the current R1250S.  With all things BMW, there is a very high engineering standard and baseline practicality to the BCR – as Scott says, his R1100S BCR could be very sporty tourer with its ABS and a set or bar risers.  It's even ready to accept bag mounts and panniers if a longer trip is for you.  Asking $6995 $5,995.
-donn