BMW brought the Boxer Cup to the showroom with the track-oriented Boxer Cup Replika.  This owner invested in all the dealer-installed upgrades and then parked it after just 92 miles, but has photographed it beautifully for the next owner.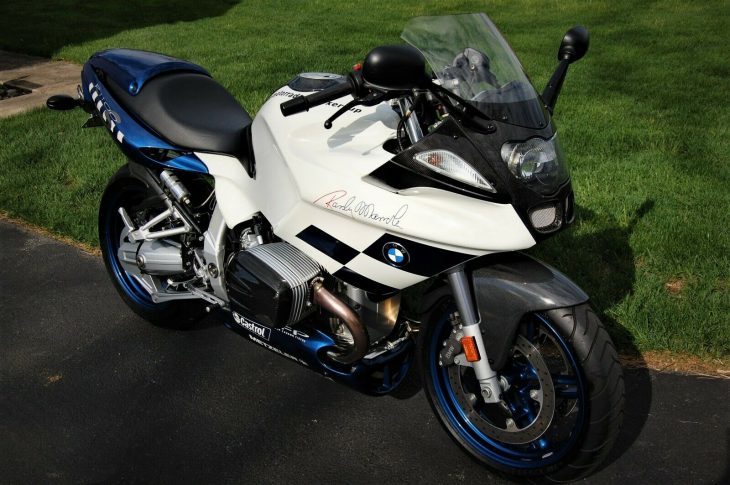 BMW had a nice success going in their 1085cc -S, though even with its final twin-spark engine, the original 98 hp was on tap.  The three part chassis used the engine as a stressed component, with Telelever hung out front and Paralever driveshaft aft, both using Öhlins dampers.  Somewhat counter-intuitively, the Cup gained speed using taller suspension to gain ground clearance and allow more lean angle on the race course.  BMW had developed a servo-assisted brake system for early 2000's road bikes, but used their legacy brakes on the Replika, with 320mm front disks, 4-piston calipers and braided lines.  Just below the carbon valve covers, an optional belly pan shows sponsors from the race series, which was primarily European but ran Daytona in 2003 and 2004.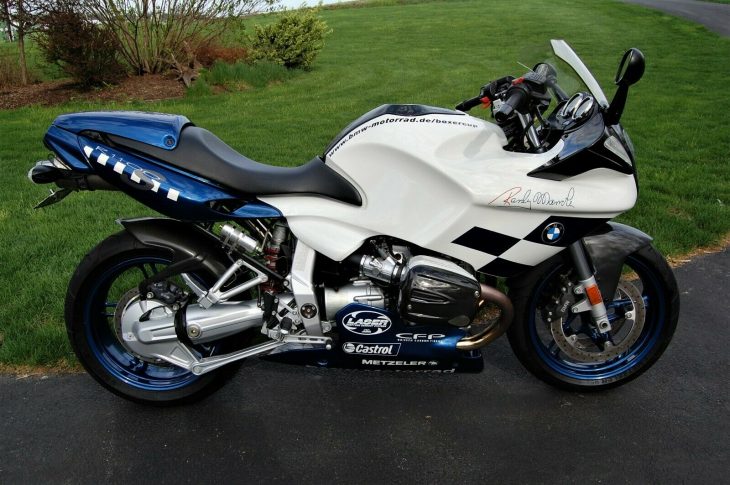 This Pennsylvania fanatic went all in on blue, adding all the carbon farkles BMW had, replacing the upgraded Öhlins with Racetech shocks, and pulling the Laser exhaust in favor of a Two Brothers titanium system.  Otherwise it's merely spectacular, and though new rubber and liquids are required, the new owner might hang on to those OEM tires for the next collector.  From the eBay auction:
BMW full carbon kit – headlight surround, front fascia, tank strap, rear hugger and multiple smaller pieces, Two Brothers titanium exhaust, Racetech adjustable suspension…again, the best of the best, in that day. This bike has been in on stands and under cover all of it's life. It sits on it's original tires, even. I see this as a collector's item. If you intend to ride this, you will want to mount new tires and have the fluids changed, at a minimum. My loss is your gain. This is likely the lowest mileage 2004 Boxer Cup Replica on the planet. I also have an entire box of memorabilia and related collectibles that go with the bike, including original CD still in the wrapper, Certificate of Authenticity, numbered badges with location template (never installed), Dealer locator, BMW atlas, key-ring, tire pressure gauge, hard bound BMW motorcycle history book and more.
Sporty as it is, the Replika took demerits for its high seat, stiff suspension ( the owner addressed these issues with bar risers ), and the 500-plus dry weight.  But there were no sportier BMW's then, and the fan base is deep.  If a time machine is desired, and you've been quite successful investing the money you saved not buying a BCR back in the day, this one might have a new rider in a little over six days.
-donn