Yamaha ventured out to the edges of feasibility with the MT-01, and presented the 1,670 muscular cc's in select ( non-U.S. ) showrooms from 2005 to 2012.  This MT-01 spent an afternoon or two at the accessory counter and looks show-ready despite almost 10,000 miles.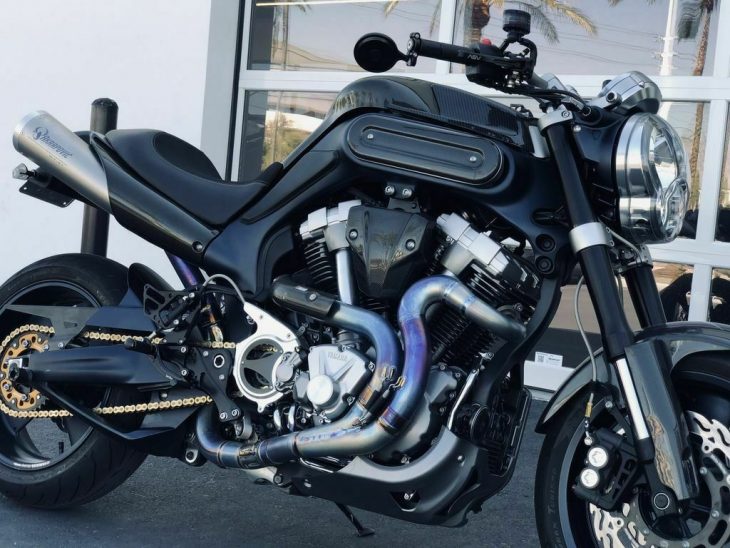 The MT-01 engine is rather a stroker, and boasts 111 ft.-lbs. of torque at just 3,750 rpm.  The four overhead actuators each push two valves and are tickled by long pushrods, resulting in 90 hp at a leisurely 4,750 rpm.  Engineers might have been thinking direct drive or a torque convertor, but cooler heads and a 5-speed prevailed.  The chassis is die-cast aluminum and incorporates a sub-frame to make engine removal possible if not easy.  The forks and exhaust pipes are big enough, but the mufflers look to be artillery-sized.  Plenty for the mission, 3.2 gallons of fuel are arranged around the air intakes.  It's a monochromatic presentation in silver, black and grey, with a vaguely late Monster headlight.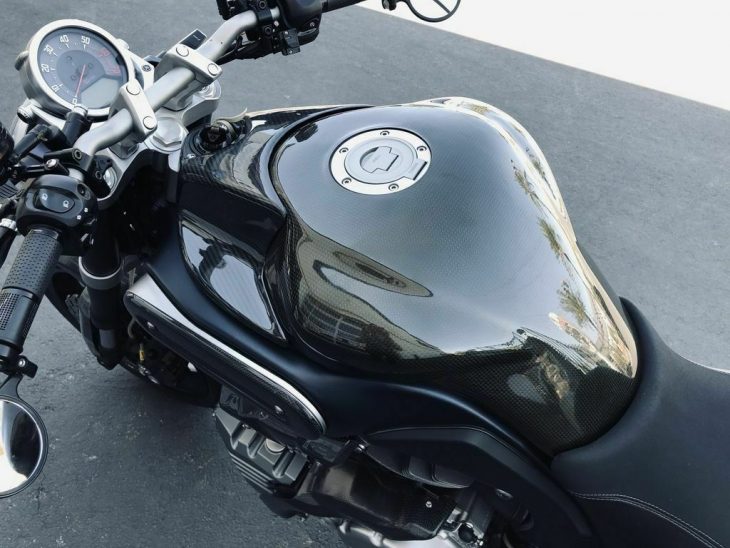 No history is related by the Las Vegas dealer, but this MT-01 is ready for a close-up, with most of the brushed aluminum details replaced by carbon fiber,  and the full titanium exhaust lending a splash of lavender to the picture.  Sato foot controls, ASV levers, and Rizoma hydraulics are a nice fit to the design.  A few comments from the eBay auction:
Heavily-Customized MT-01, the only one of its kind. All Rizoma billet components and imported Carbon Fiber throughout the motorcycle. Show condition. Akrapovic Titanium full exhaust custom made for the MT-01 in Europe. Pushrod V-Twin with Akra system produces 100bhp with over 120lb.ft of torque.
Lucky that even if manufacturers elect not to send a machine here, it's still possible to import if you have time for the homework.  This makes the MT-01 that much rarer, and as the classifieds say, you won't see yourself going the other way.  Yamaha's own V-Max is there in the MT-01's family history, a ways down from Willy G. and Arthur, and it's got a traffic light in the design specs, if not a dragstrip Xmas tree.  Not the only bike in the next owner's garage, but a wild specimen for sure.
-donn